Introducing… Formulas & Variables!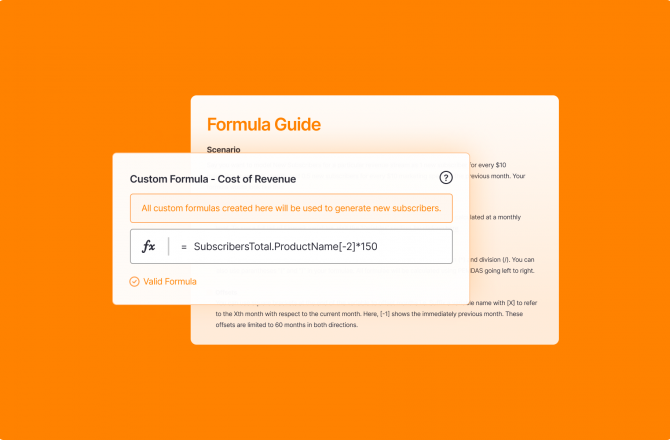 One of our top goals with Finmark is to create an easier, faster, and more collaborative way for companies to build financial models without having to deal with clunky and messy spreadsheets.
We've made a ton of progress towards that goal over the past year, and we're very proud of the simplicity and ease-of-use customers experience with our product.
However, along with being easy to use, it's also important that you're able to do all of the things you can do in a spreadsheet in Finmark as well, since many businesses are accustomed to building their model in Excel.
Those Excel spreadsheets are typically filled with custom formulas and metrics that are specific to your business and use-case. As a result, even if you don't love the experience of building and updating your model in a spreadsheet, you're "trapped" because all your formulas live in that spreadsheet… until now.
Today, we're excited to announce a major update to Finmark that not only makes it easier to switch from spreadsheets, but it also gives you more flexibility and control over your financial model than ever before.
Introducing: Formulas & Variables!
First, let's start with variables.
Variables are the inputs or metrics your financial model is built on. Whether it's your number of customers, cost of goods sold (COGS), salaries, or any other metrics, they're all variables that determine the current and future financial performance of your business.
We've always used a set of variables on the backend of Finmark to build your model. It's how we calculate and forecast your revenue and expenses and create beautiful charts like this:
With our latest update, we're giving you control over how you use those variables to forecast revenue and expenses, as well as the ability to create your own custom variables that are specific to your business.
In the new fx Variables screen, you'll see two sections:
System variables: These are pre-built variables that are automatically generated when you enter your data in Finmark.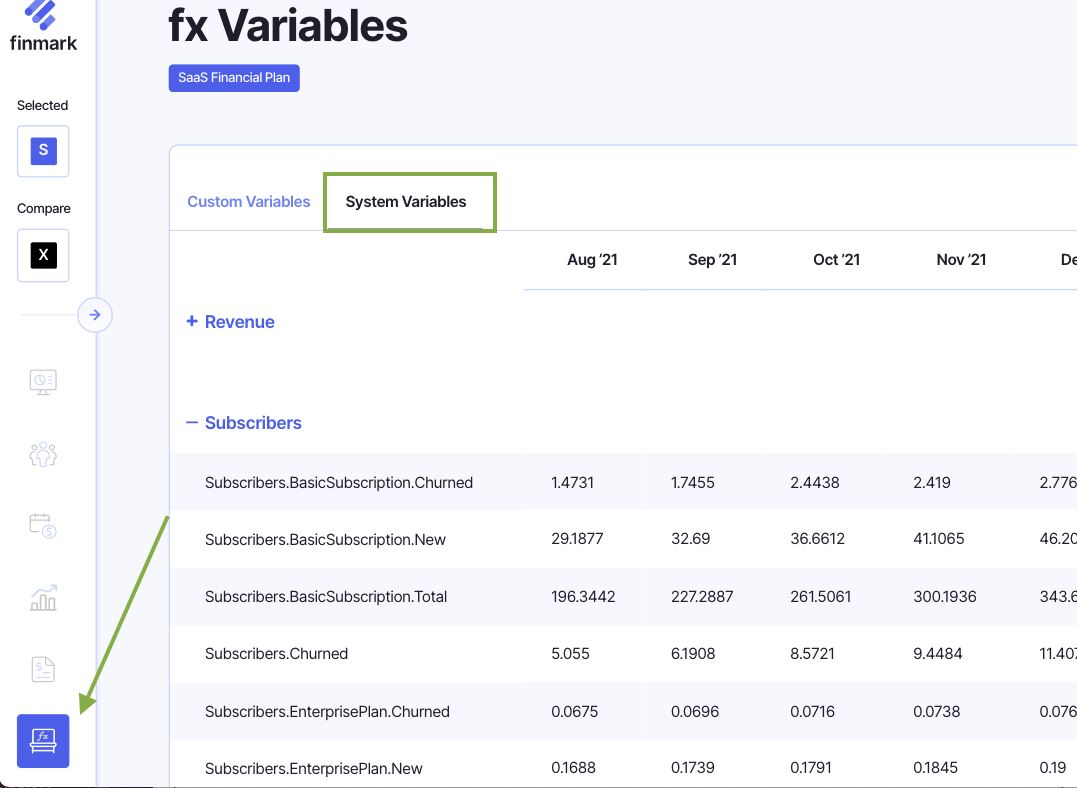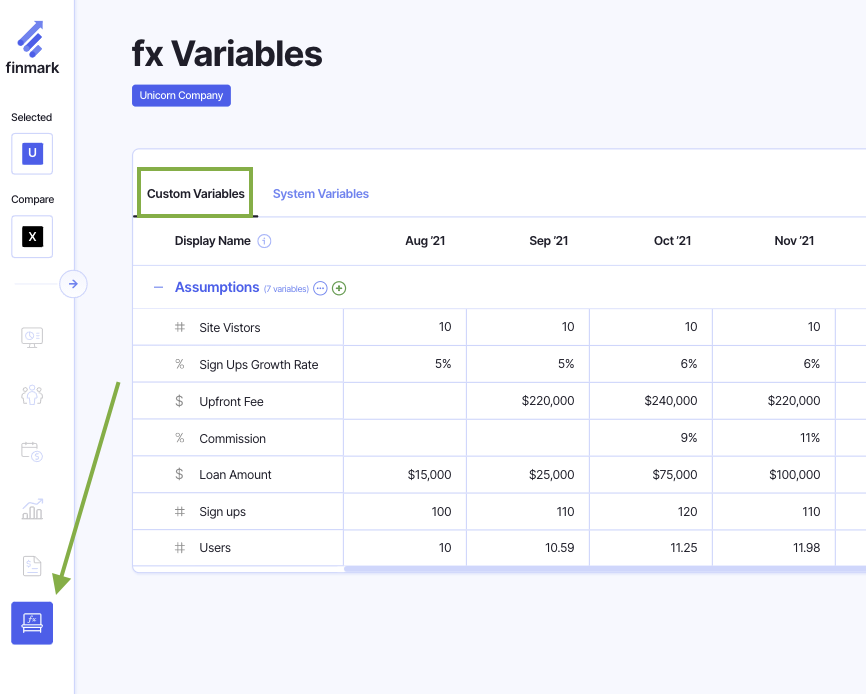 These variables can be used to build custom formulas to forecast your revenue and expenses.
Here's a great video that walks you through how it works in Finmark.
Next, let's take a look at some common use-cases for variables and custom formulas.
What Can You Do With Variables & Formulas?
The list of ways to use variables and formulas to forecast your revenue and expenses is longer than we can include in this article. However, we want to give you a peek into the power and flexibility you now have in Finmark.
Here are some examples of what you can do with variables and formulas:
Forecast Revenue From Add-On Products or Services
If you're a company that has one-time fees or add-ons for each sale, you can now forecast that additional revenue with Finmark.
For instance, some domain name registrars offer SSL certificates as an add-on when customers buy a domain name.

Since the revenue from the add-on products (SSL certificate) is driven by the revenue from the original product (domain name), the company needs to build that relationship into their financial model, which you can do with custom formulas.
Forecast Expenses Driven By New Revenue
Another common use case for variables and formulas is when you have a one-time or recurring expense that's driven by new revenue.
For example, an agency might send a welcome pack to new clients when they sign up. Each welcome pack is an expense that's driven by new customers. Now you can build that into your revenue forecast in Finmark.
Another common example is cost of goods sold, where the expense amount may vary depending on which product you sell.
For instance, SnackCrate sells subscription boxes filled with snacks. Whenever a customer signs up for a subscription, that generates revenue for SnackCrate. However, a percentage of that revenue covers the expenses SnackCrate incurs to create and ship the boxes (COGS).
The COGS percentage varies depending on which size option the customer subscribes to.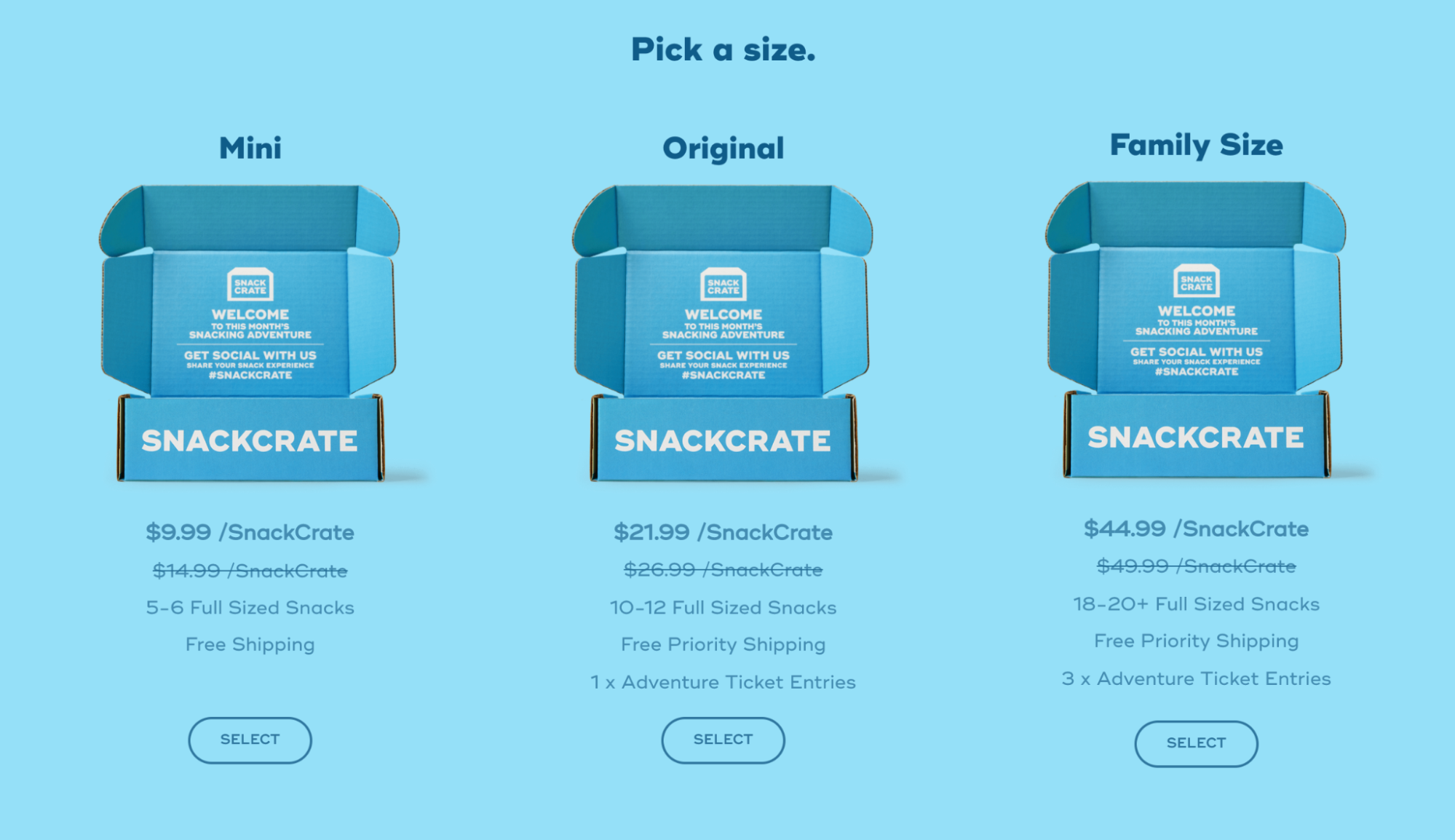 In order to create an accurate financial forecast, SnackCrate needs to include the COGS for each product in their model.
Thanks to formulas and variables, that's now possible in Finmark.
Forecast Expenses Driven by Employees
One last example of how you can use formulas and variables to improve your model is forecasting expenses driven by employees.
A common use-case for this is to forecast expenses incurred when you hire a new employee.
For instance, if you buy employees a new computer and company swag when they start, you can now build that expense into your forecast.
You can also forecast recurring expenses for employees like health insurance.
If you plan on hiring new employees, both of these use-cases will come in handy to help you get a clearer picture of the true cost of growing your team beyond just their salaries.
The Tip of the Iceberg
The examples above were just a short list of common use-cases for formulas and variables. You can also create formulas to build your acquisition funnel into your model, forecast revenue from upgrades and downgrades, and so much more.
The list of reasons to stick with spreadsheets to build and manage your financial model is getting shorter and shorter, and with this latest release, we've made the decision even easier.
If you're interested in learning more about how formulas and variables can help you build a more accurate and customized financial model, you can schedule a demo or sign up for a free trial today!
If you're already a Finmark user and need help getting set up, we have some amazing help center articles, and you can always reach out to our customer success team for more assistance!