How ProvenCFO is Revolutionizing FP&A With Finmark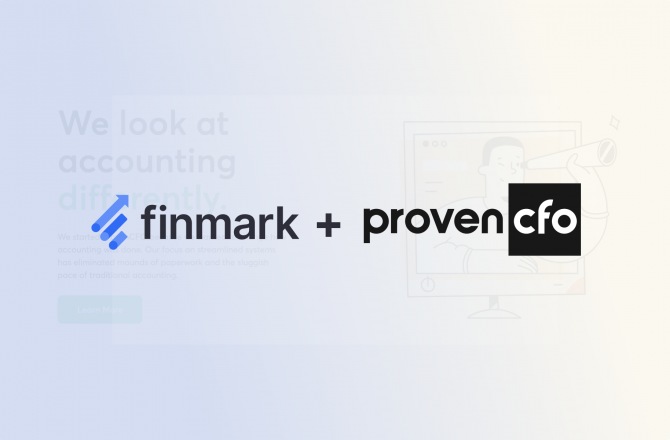 When you think of exciting, forward-thinking, innovative businesses, accounting firms probably aren't high on the list.
However, Dave Willson, CFO at ProvenCFO is on a mission to change that.
ProvenCFO is an outsourced CFO firm that provides bookkeeping, systems architecture, capital advisory, and all the other services of an in-house finance team—without hiring an entire team.
They manage over $350M in assets for hundreds of businesses. On top of that, they've helped their clients raise over $275M of funding.
When Dave was looking for a new solution to build financial models and manage the financial strategy for ProvenCFO's clients, he didn't just want a typical FP&A tool.
Dave wanted to partner with a company that was bringing the same level of innovation and forward-thinking to the finance industry as his company.
That's exactly what he found with Finmark and our Partner Program.
About ProvenCFO
ProvenCFO was founded in 2017 by brothers Jon and Dave Willson.
After successfully growing and selling two other businesses (a bookkeeping firm and a candy store), Jon and Dave were trying to decide on their next venture.
They decided to step back into the accounting business. But this time, they wanted to expand the services they provided beyond bookkeeping and accounting.
We focused on providing higher-level CFO advisory and consulting – to ensure founders were receiving critical financial intelligence to make better business decisions.
According to Dave, ProvenCFO is about more than just taking financial tasks off of a business's plate.
ProvenCFO focuses on fundamentally improving the financial operation within their client's business and helping them scale.
Our goal is to give back to the client in a meaningful way in terms of helping them grow, scale their operations, deal with process changes, and advise them.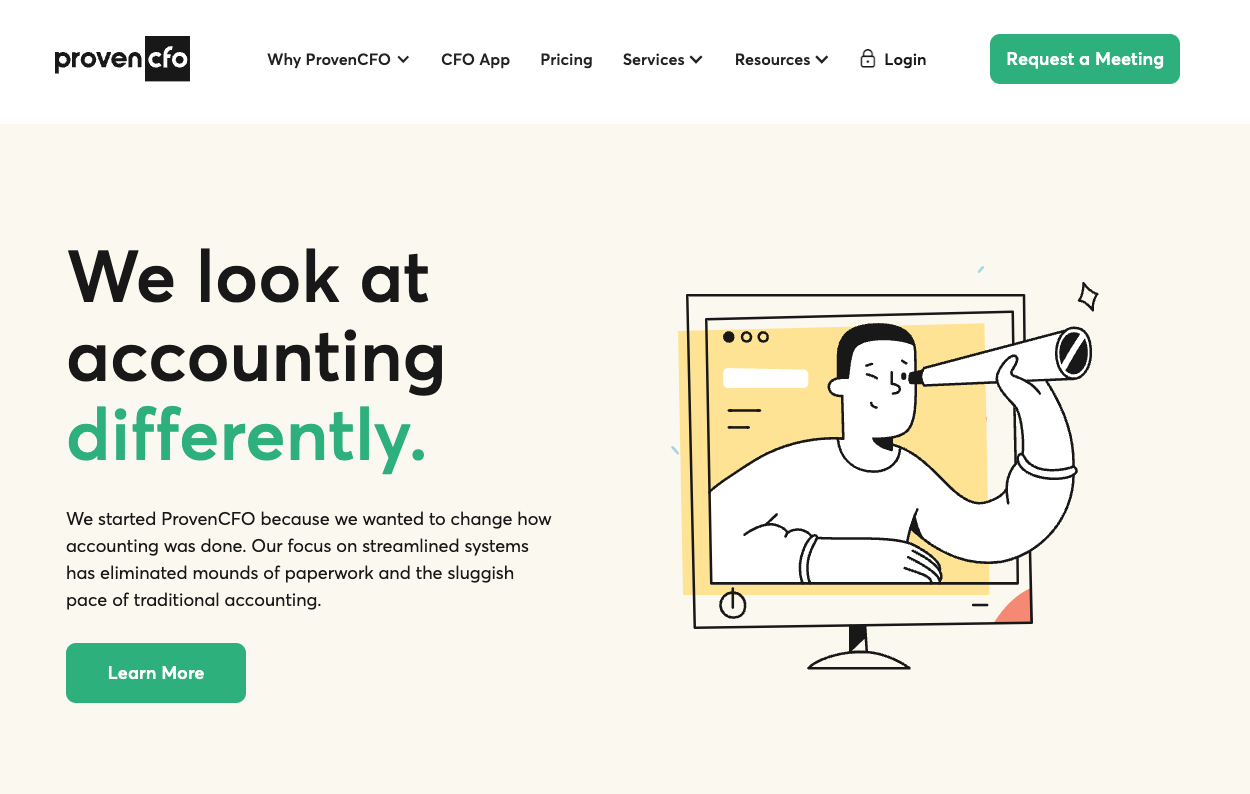 What started as a two-person operation is now a team of 25+ accountants, bookkeepers, controllers, and more.
As a full-service financial firm with hundreds of clients, technology is integral to ProvenCFO's operation.
Part of ProvenCFO's "magic" happens in the backend.
They combine data from payroll, CRM, payment processors, FP&A, accounting, and other systems, analyze it, and provide meaningful insights for their clients.
As a result, Dave and the ProvenCFO team chose their technology partners carefully.
Dave asks a fundamental question when it comes to adding tools to his tech stack.
How easy does it make my life?
When it came to choosing a technology partner to build financial models and forecasts, Dave wanted to work with a company that:
Builds forward-thinking software
Is flexible enough to work for small and large businesses
Values user feedback
Could integrate with the systems ProvenCFO uses
Finmark fit the bill.
Moving Away From Legacy Tools
Dave has worked in the accounting industry for over 20 years. Like many people in finance, he's built models in Excel and used plenty of FP&A software.
At one point, he started using a legacy FP&A tool that worked ok for a while.
However, over time he found the product wasn't evolving. More importantly, he wanted a tool that would make it easier for ProvenCFO to service clients.
Finmark tools are making my life better than the previous tool.
Beyond the software, Dave realized he wanted a true partner that would listen to his feedback and use it to iterate on the product.
In terms of the product, you guys have built something amazing. It really makes my life better. But the real reason I get super excited is that when I give feedback, you guys are taking it and acting on it.
Switching from a legacy tool with less flexibility with its roadmap can limit accounting and outsourced CFO firms.
As Dave points out, these legacy tools often build a product based on how they assume it should work rather than how end-users need it to work.
They are either too big or too abstract, or they're too worried about their products being suitable to the way they perceive their product needs to be.
Too often, accounting firms get locked into these outdated tools for years without realizing better and modern solutions are available.
Luckily, Dave discovered Finmark. Through our Partnership Program, he's found a much better alternative to tools he used for years.
How ProvenCFO Uses Finmark to Work Smarter
Here's how Finmark helps Dave and the ProvenCFO team improve their workflow and better serve their clients.
Save Time
The models that ProvenCFO builds can get complex, often involving multiple products, pricing tiers, and drivers.
Due to the complexity, building these models in Excel used to take 40+ hours.
With Finmark, Dave and his team can build advanced models in as little as four hours.
Not only is ProvenCFO able to save time building complex models, but keeping them updated and making changes is significantly faster in Finmark.
Your out-of-the-box features make it possible for us to build complex drivers a lot quicker than anyone else is able to do presently.
Dynamic Calculations
Like many finance professionals, Dave spent most of his working hours in Excel.
Many of the advanced models ProvenCFO creates involve conditional math, where one formula references multiple cells that each also reference various cells.
Due to the complexity, Dave was forced to use Excel because there wasn't a software solution that could natively handle this level of sophistication.
At the same time, Dave was hoping to break free from Excel because it made his models less dynamic.
I don't ever want to have to use Excel. Because as soon as I use Excel, my model becomes static.
With Finmark, he can build complex logic and automate conditional math thanks to our pre-built and custom drivers and smart formulas written in natural language.
Open Feedback Loop
ProvenCFO came to Finmark after using a competing product for years.
One of the biggest reasons they made the switch was because they see Finmark as a hands-on partner that listens to and implements their feedback.
You guys are listening to me and putting my ideas into your development roadmap. That feedback is something that we're not getting from some of the other software providers.
When Dave has a product suggestion or questions, he can send an email or jump on a call with the head of our Partner Program, a customer success manager, or even our engineers to share his feedback or get answers.
Not only that, but he knows his feedback isn't just heard—it's implemented.
Finmark's Partner Program is precisely that—a partnership. We value the expertise of our partners and use the feedback to improve our product.
Foundation & Structure
Although the ProvenCFO team is accustomed to the freeform nature of Excel, Dave notes that he appreciates the foundation Finmark provides.
What Finmark is doing is instead of it being a freeform environment like Excel, it's creating foundations and helping people understand how to build a model.
While Finmark has everything you need to build a model right out of the box, we also give you the flexibility to customize your model to fit the needs of each of your clients.
Simply put, we provide a solid foundation to build on, allowing you to quickly create financial models that your clients can easily understand.
A Match Made in Financial Heaven
ProvenCFO is innovating how businesses view accounting and finances.
Instead of just focusing on historical performance, they're using that data to predict the future for their clients and provide strategic insights for growth.
Finmark's software is enabling ProvenCFO to accomplish this faster and more efficiently.
Through our Partner Program, ProvenCFO isn't just getting a tool. They have a trusted partner that actively works to make their life easier.
If you provide financial services for your clients and want a technology partner that will transform the way you work, click here to learn more.
And if you're ready to give Finmark a spin, sign up free here.