Founder Story: How Genevieve Ryan Bellaire Turned Real World Problems Into a Category-Defining Startup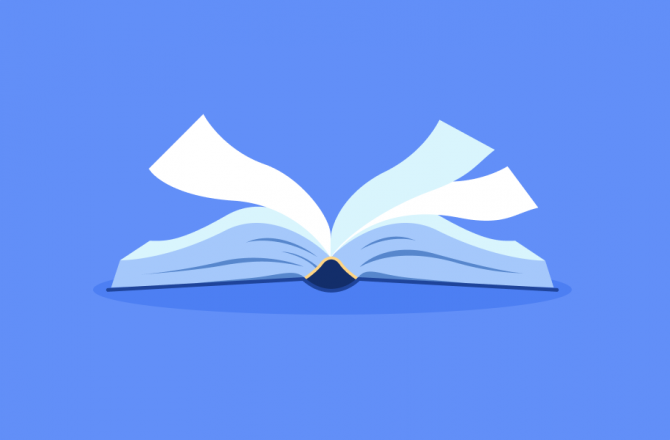 What do Uber, Twitter and Airbnb have in common? Each is, generally speaking, a company that created (or optimized) a new business category.
However, these category creators — while popular today — worked hard to become the well-known entities that people turn to for a ride down the block, an opportunity to share thoughts, or a new place to stay.
Our next Founder Story interviewee — Genevieve Ryan Bellaire — knows that category-creating companies cannot be built overnight.
Her company, Realworld, a personalized platform simplifying decisions around finance, health, work, government, and life for young adults, started out as an idea born from her own experiences. Yet, there weren't any other companies like it in the market.
Keep reading to learn more about Genevieve's founder story and how she is creating a new category to help young professionals entering the "real world".
"Adulting" Is Hard
If you've read some of our previous Founder Stories, you'll know that no two founder journeys are alike.
Genevieve may have one of the more unique origin stories. After finishing her undergraduate degree, she jumped right back into furthering her education with a joint JD and MBA program.
However, during her post-graduate studies, she realized that what started as a passion for public service evolved into something much bigger.
"I initially wanted to go into public service, but quickly realized that the best way to make an impact was through business, including social enterprises and mission-driven companies," said Genevieve.
This pivot from initially wanting to be a lawyer to scratching that business impact itch led Genevieve to her first gig with Goldman Sachs as a Strategic Partnerships associate. This was the perfect opportunity for Genevieve to solidify her business acumen and credentials.
But there was one problem.
"I started my career at 26, as opposed to the typical 22 years old. I realized that because I'd been in school for so long, I was dealing with a lot of real-world problems for the first time — setting up my 401k, figuring out health insurance paperwork, dealing with my personal finances, moving to a major city and signing a lease. And I had no idea how to do any of that, despite being in school for a very long time."
Thus Realworld was born.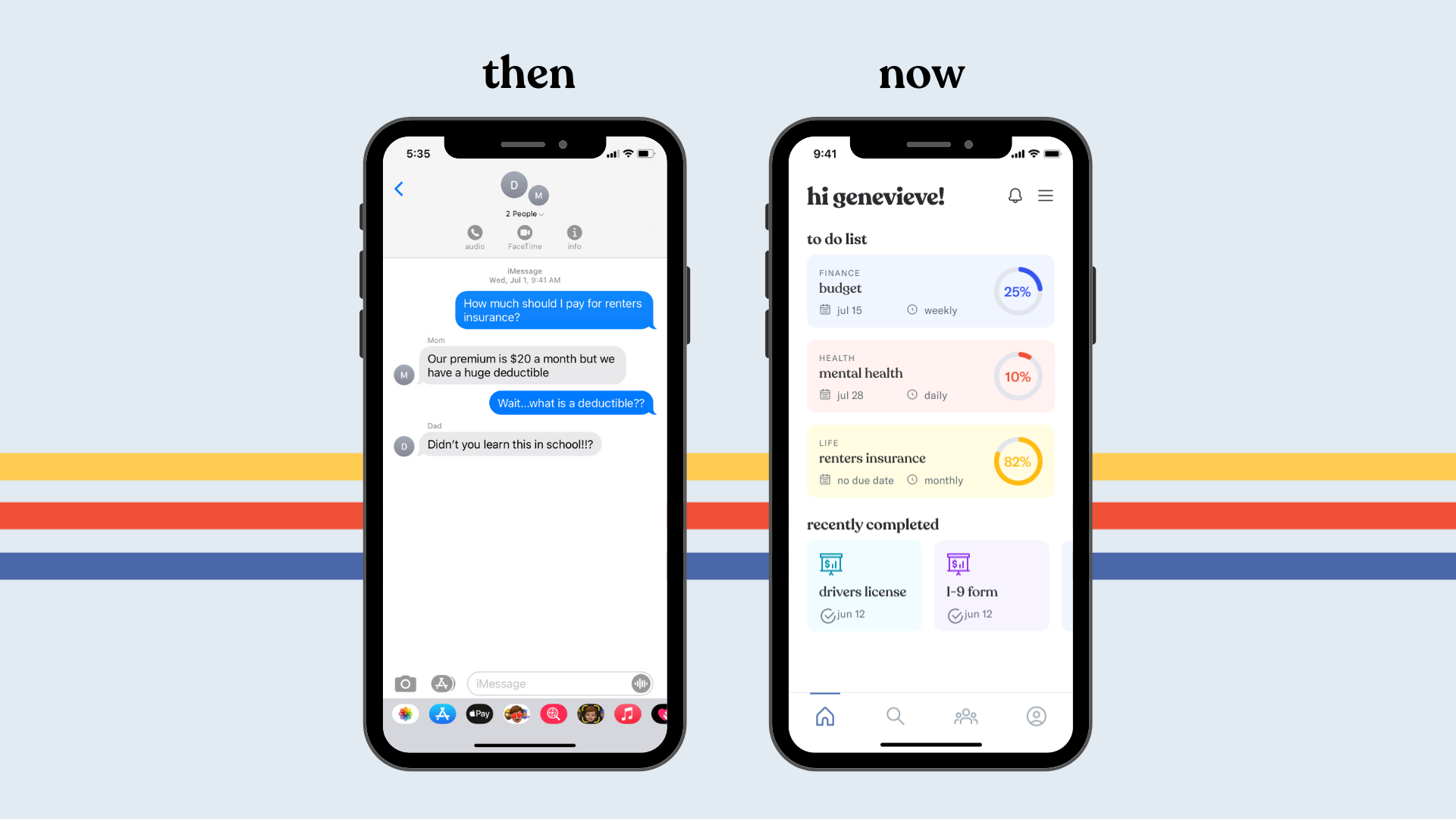 Most young professionals typically turn to an older sibling or their parents for advice when entering the workforce. However, prior to Realworld, there were not any definitive resources for millennials or Gen Z to leverage to navigate the perils of early adulthood.
"There wasn't another product out there that was onboarding people to life as an adult. We wanted to create a centralized platform to navigate both the day-to-day adulting questions and the big moments, like starting a new job or buying a new house. All of those life events that no one ever actually prepares you for."
Related: How Ruben Schultz is Attacking a $30 Billion Dollar Industry With Swoop
Taking a Platform-Based Approach
It was clear — something needed to change in the market.
So Genevieve set out to create a new category to simplify this process. What started out as working on the problem statement on nights and weekends while at Goldman Sachs ultimately turned into what is today Realworld.
However, it didn't happen overnight.
While Genevieve experienced this pain point firsthand, she knew she needed to have the data to back it up.
"I interviewed almost 1,000 people about the space — including recent college graduates, university administrators and parents. This was really important because it helped me understand what we could potentially build to solve the problem of adulthood."
Listen and learn. This can help to truly understand both the market and the need for a new solution.
Click To Tweet
Based on these conversations, it was clear there was a gap in the market. But what wasn't as clear was where to start.
Budgeting. Health insurance. Apartment rentals.
Major players and applications already existed for almost every vertical. But no one has taken a platform-based approach to this category.
Bingo — this was where Genevieve could succeed. This was the hole that Realworld could fill, with a platform that spanned verticals versus going deep in just one category.
"People don't want another budgeting app. They want something that's actually going to help holistically."
As a first-time founder, she knew she had to focus on one thing and do it right, which was the platform. She and her team maintained a focused effort on developing an MVP (minimally viable product) to bring this to market.
Stay focused on your true north -- whether that is developing the product, building your team, or securing capital.
Click To Tweet
Don't Just Build a Solution, Solve the Problem
When thinking back on the early days of Realworld, one piece of advice comes to mind for Genevieve.
"Don't be wedded to a specific solution," recommends Genevieve. "You can't fall in love with the solution you're building because it might not be the right solution. But if you focus on the problem and get to the root of it — then your product will only benefit from that."
However, the platform wasn't always a direct-to-consumer model. Genevieve took her own advice after starting with a B2B solution. She got down to the crux of the issue — helping young professionals — and pivoted her business model to truly solve this problem.
Don't just build a solution you like, solve a problem for your customers and prospects.
Click To Tweet
Finding Your First "Athlete"
While Genevieve was at the helm of Realworld from the start, she didn't go at it alone.
"When you're making the first hire at an early-stage business, when you don't even know what the product is going to be, it's hard to find a specialized hire outside of engineering. So I looked for an 'athlete' — someone who could come in, learn, and have that hustle it takes to work at a startup."
Making your first hire at a startup isn't always easy. Since there's less of a foundation, the process can be scrappy and you might not have a specific role or title in mind. Instead, focus on finding the right person to help strengthen your weak points and someone that can add significant value to your business.
That's exactly what Genevieve found in her first hire, Gillian Katz, who is still at Realworld today more than three years later as the Head of Brand.
As Genevieve mentions, she didn't have a job description or specific set of tasks for Gillian, but she noticed some key attributes that would help take Realworld to the next level.
"She started as kind of like a Jack of all trades and very quickly emerged as somebody who had a really good sense of brand voice and content, and was able to take on that part of the product."
Look for employees that embody the same drive and passion you feel about your business.
Click To Tweet
Staying Patient
As they say, patience is a virtue — especially when it comes to developing a category-defining company.
"If you're going to build something big, something meaningful, then you have to be patient, while also moving quickly to get to that next step," says Genevieve.
This rings true for all founders — from category creators to industry disruptors. Stay patient and keep your eye on the prize.
Both "adulting" and starting a business may be hard, but as seen with Realworld, ample resources are available to help you on your journey.
Interested in being the next Founder Story spotlight? Contact us at hello@finmark.com.