Land & Expand: A Cheat Code For Growth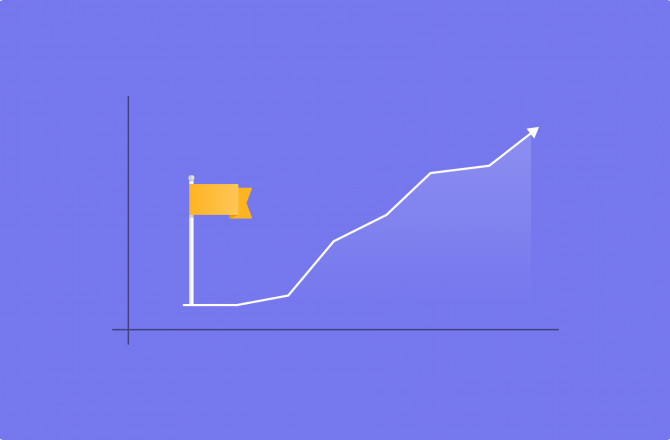 Growing a business is, in some ways, a bit like a video game.
You're gonna sink thousands of hours into it, the missions just keep getting harder, and if you hit "R2, R2, L1, R2, L, D, R, U, L, D, R, U", you'll receive all the weapons you need to kill the competition.
Okay, that last one isn't quite accurate, but we do have somewhat of a cheat code to share with you today:
The land and expand model for growth.
In this guide, we're going to start by discussing why the land and expand model is so important for long-term business growth (consider that your cinematic backstory).
Then, we're going to drop six tips for nailing the model, and, true to form, we'll make sure to start off easy and increase the difficulty as you level up.
What Is The Land and Expand Model?
Land and expand is a sales and business model that aims to close small deals (land) and then grow account revenue through relationship development (expand).
This additional revenue comes from one of three channels:
Cross-selling (where your company sells an additional product, feature, or service that complements what the customer is already paying for)
Upselling (where your company moves the customer to a higher-priced plan)
User growth (your product is doing such a great job that it's supporting the growth of your customer's company, and by proxy, their user count)
The land and expand model is in contrast to more traditional models that try to capture as much revenue upfront.
Let's consider an example.
You're looking to buy a project management platform, and you've decided that ClickUp is your tool of choice.
Of the five pricing tiers available, you've determined that the Unlimited plan is the best fit for your team.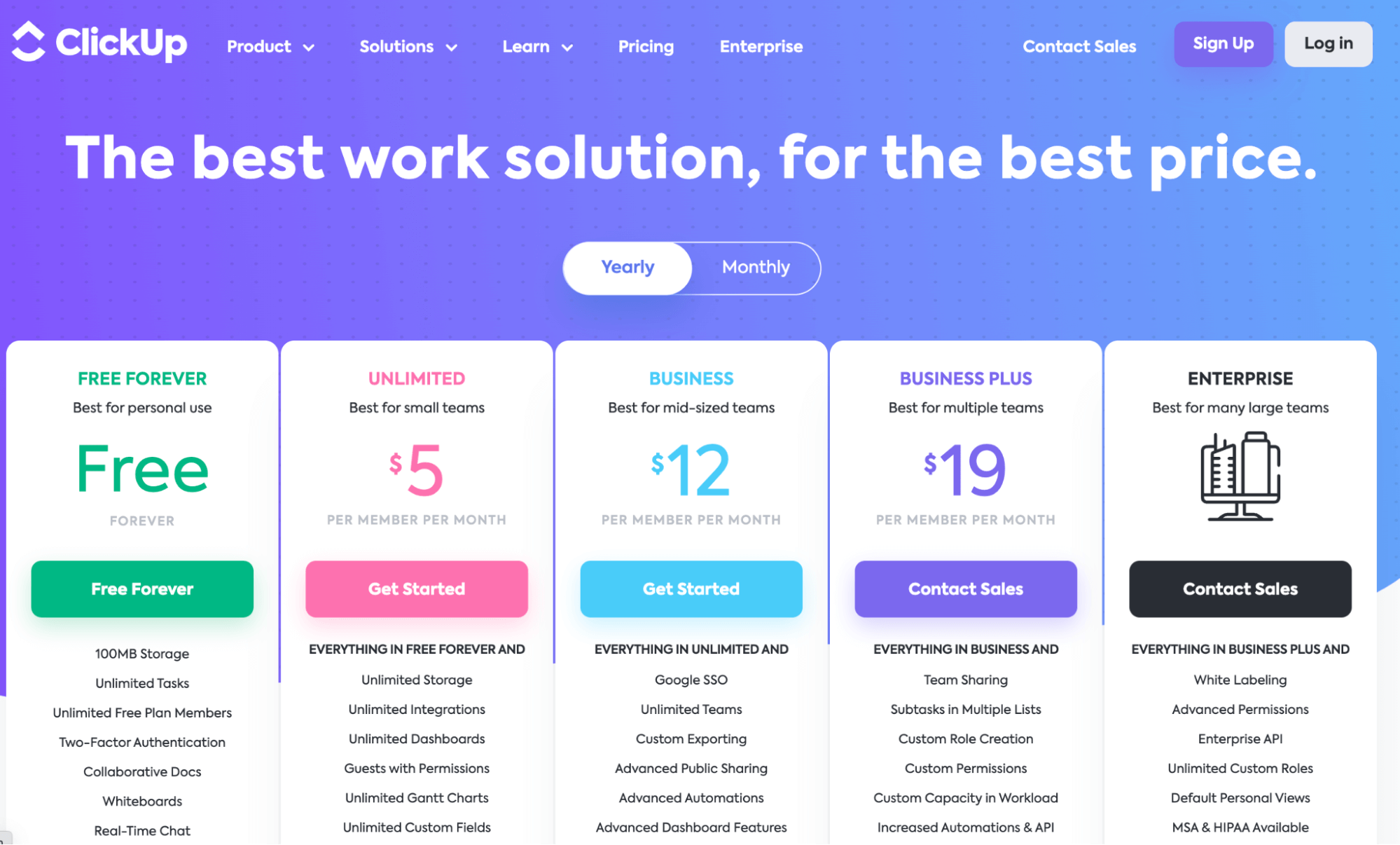 If ClickUp were working on a traditional model, a sales rep would do their best to upsell you to the Business or Business Plan there and then.
In the land and expand model, ClickUp is just going to take your money now, and try and upsell you down the line.
But wait. Doesn't that just mean less revenue? Wouldn't you be better off closing the bigger deal now?
Maybe, but that's assuming that any attempt to upsell at the front end is going to be successful, and that's not always the case.
You've already decided that the Unlimited plan is best suited to your needs, so you'll likely be reluctant to pay any more than that.
However, if ClickUp gets you on board now, shows you just how valuable their tool is, and builds trust over time by nurturing the relationships, they'll have a much easier time demonstrating how features like Custom Permissions and Advanced Automation can be directly valuable to your team's needs.
In short, the upsell process becomes more effective once the relationship is established.
It's important to note here that the relationship need not be with a salesperson exactly; it can be between the customer and the company itself.
That means that land and expand can be a suitable model for those focusing on product-led growth.
In fact, brands like Evernote, Atlassian, and Slack have all seen significant revenue and user growth without a sales team. Instead, they rely on a product-led land and expand approach to drive sustainable growth.
Land and Expand Is Crucial For Sustainable Long-Term Growth
In our SaaS Metrics Benchmark Report, we found that larger and more established SaaS companies (like the three we just mentioned) tend to rely on customer retention and expansion for growth rather than new customer acquisition.
In fact, the largest companies drive more than half of their new ARR from existing customers, nearly double that of smaller SaaS businesses.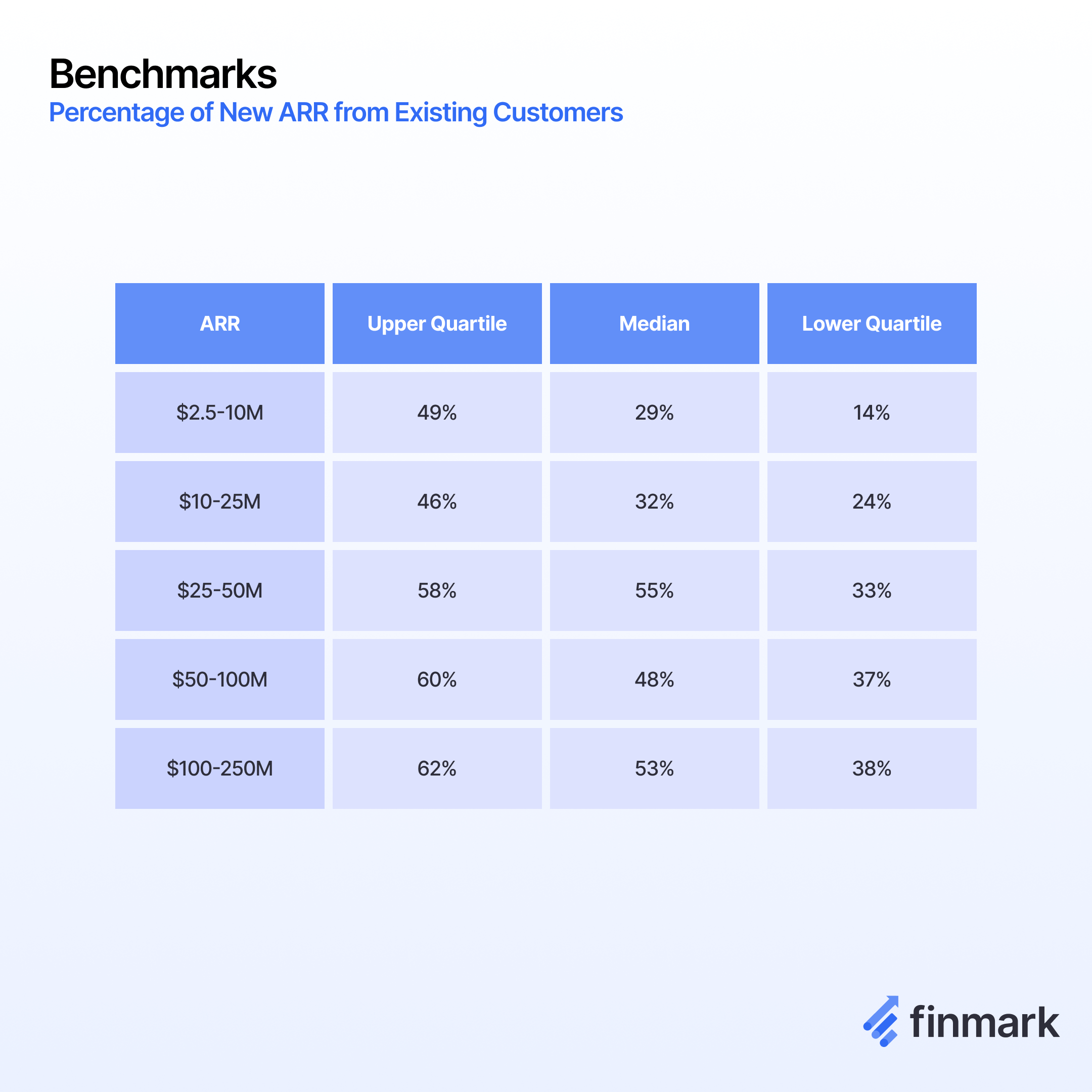 This is the case for a few reasons:
First, it's easier (and often more efficient) to upsell existing customers than acquire new ones. That's just a simple truth, and the land and expand model takes advantage of this.
Secondly, CAC payback periods increase as you scale, another key finding in our SaaS Metrics Benchmark Report.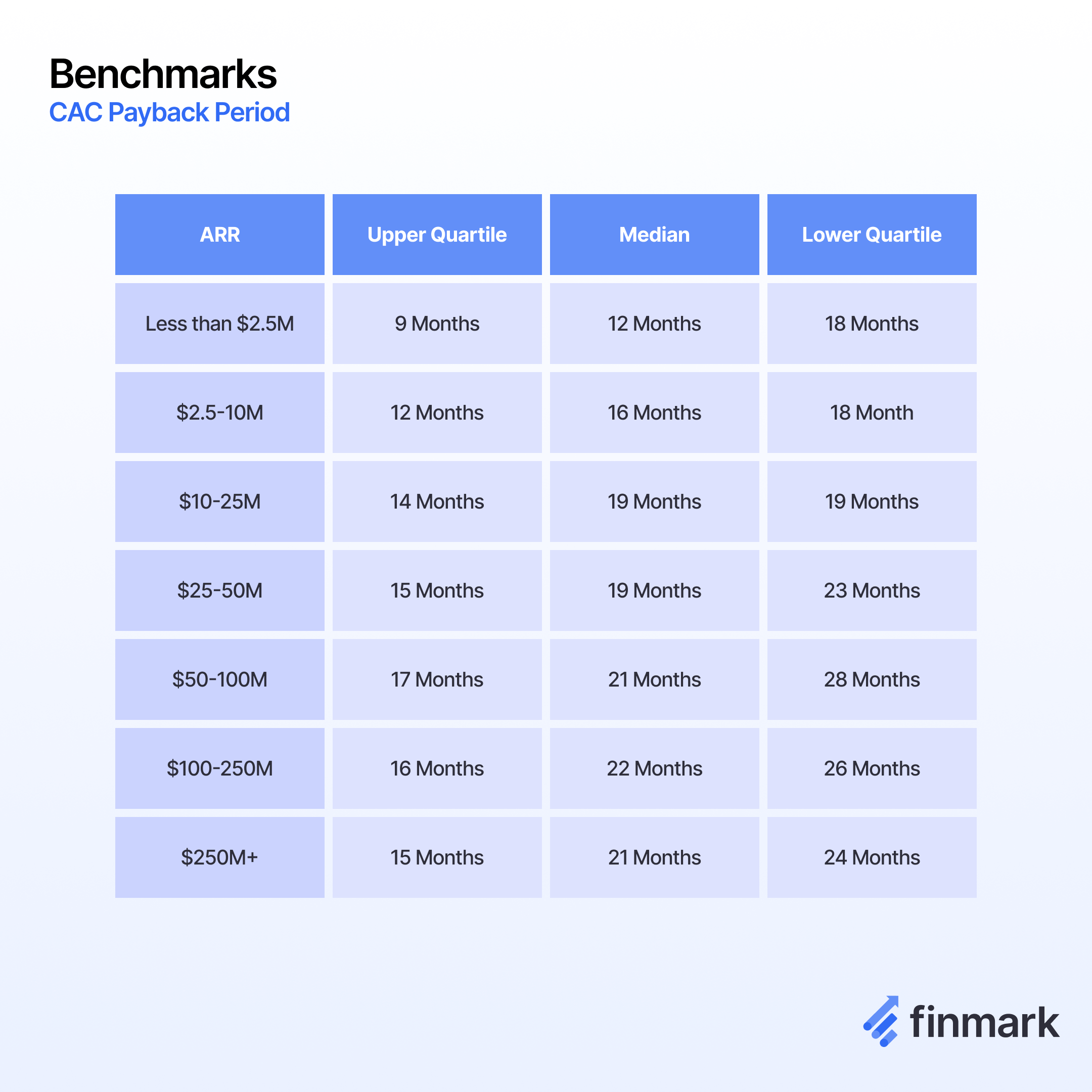 Strong customer retention and expansion are critical to withstand the increased payback period.
Thirdly, built-in revenue growth looks good on paper, improving your ability to access funding to continue growing. VCs like to see that you have the ability to grow revenue several times over without investing significantly in brand growth and new customer acquisition.
Sound pretty good, right? So, how do you do it?
6 Tips For Nailing Land & Expand
The land and expand model is more of a philosophy than it is a process.
As such, there are any number of tactics you can implement, and so long as they focus on closing new customers quick and then leveraging the relationship to retain and expand accounts, you're doing it right.
Here are 6 tips for nailing the land and expand model, whether you decide to drive it with a sales team or through a product-led growth model.
1. Make Sure You Have An Established Product-Market Fit
You're going to find it difficult to sell to existing accounts if your product isn't deeply aligned with customer needs.
It's why the most successful SaaS brands invest in product first, and sales and marketing later.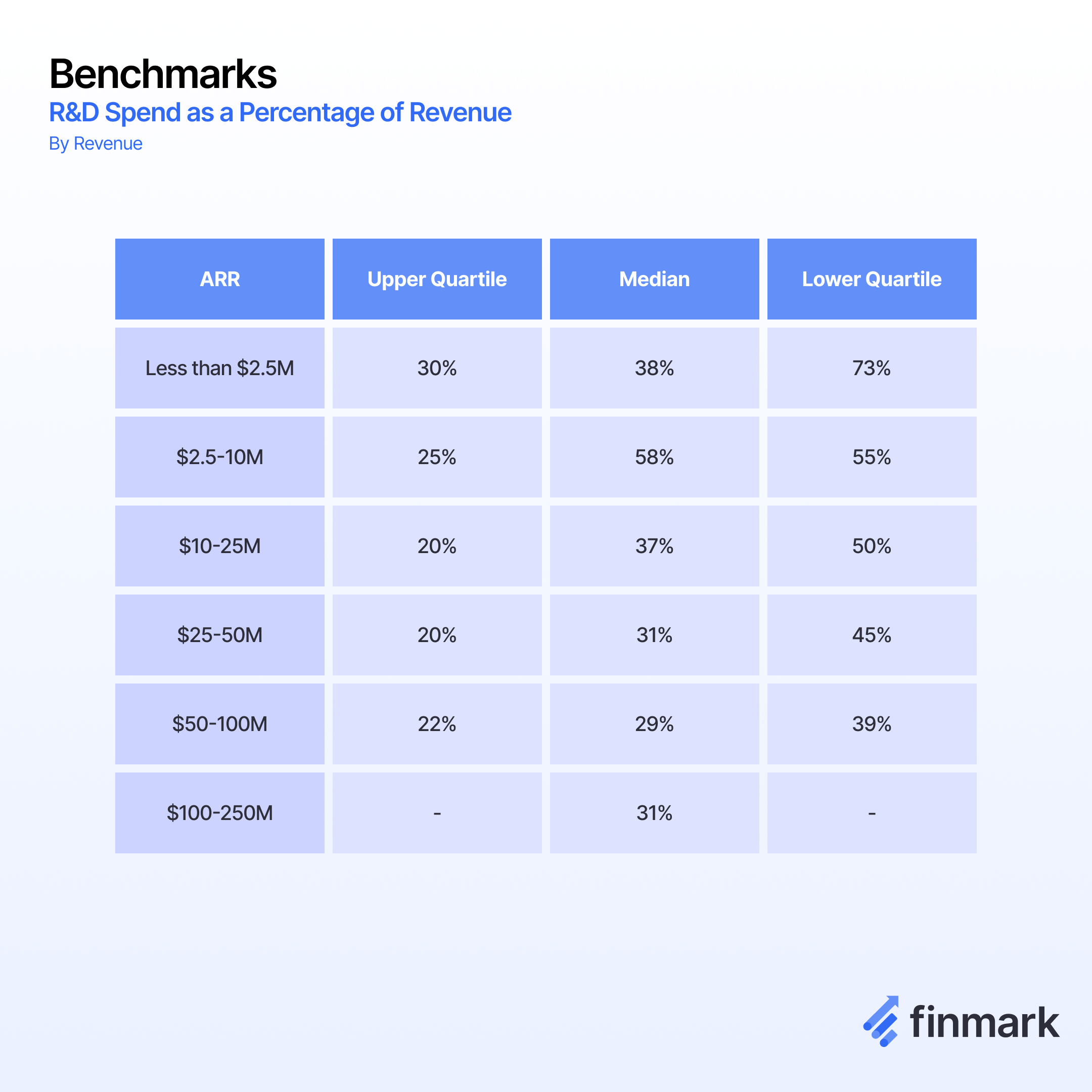 This is especially true if you're going to take a product-led approach and do away with a sales team, as it's literally your product that's going to be doing all the selling.
Before you dive headfirst into the land and expand approach, make sure you've established product-market fit.
2. Develop A Strong Understanding Of Buyer Motivations
Knowing how to communicate and resonate with buyer motivations is key to nailing land and expand.
Simply telling existing customers that additional features exist and expecting them to upgrade isn't sufficient: you need to know exactly what drives that decision.
Consider Pipedrive.
They sell their standard CRM product on a monthly plan, but also have a few add-ons to supplement their main product (meaning they've got a great cross-sell opportunity for expanding accounts).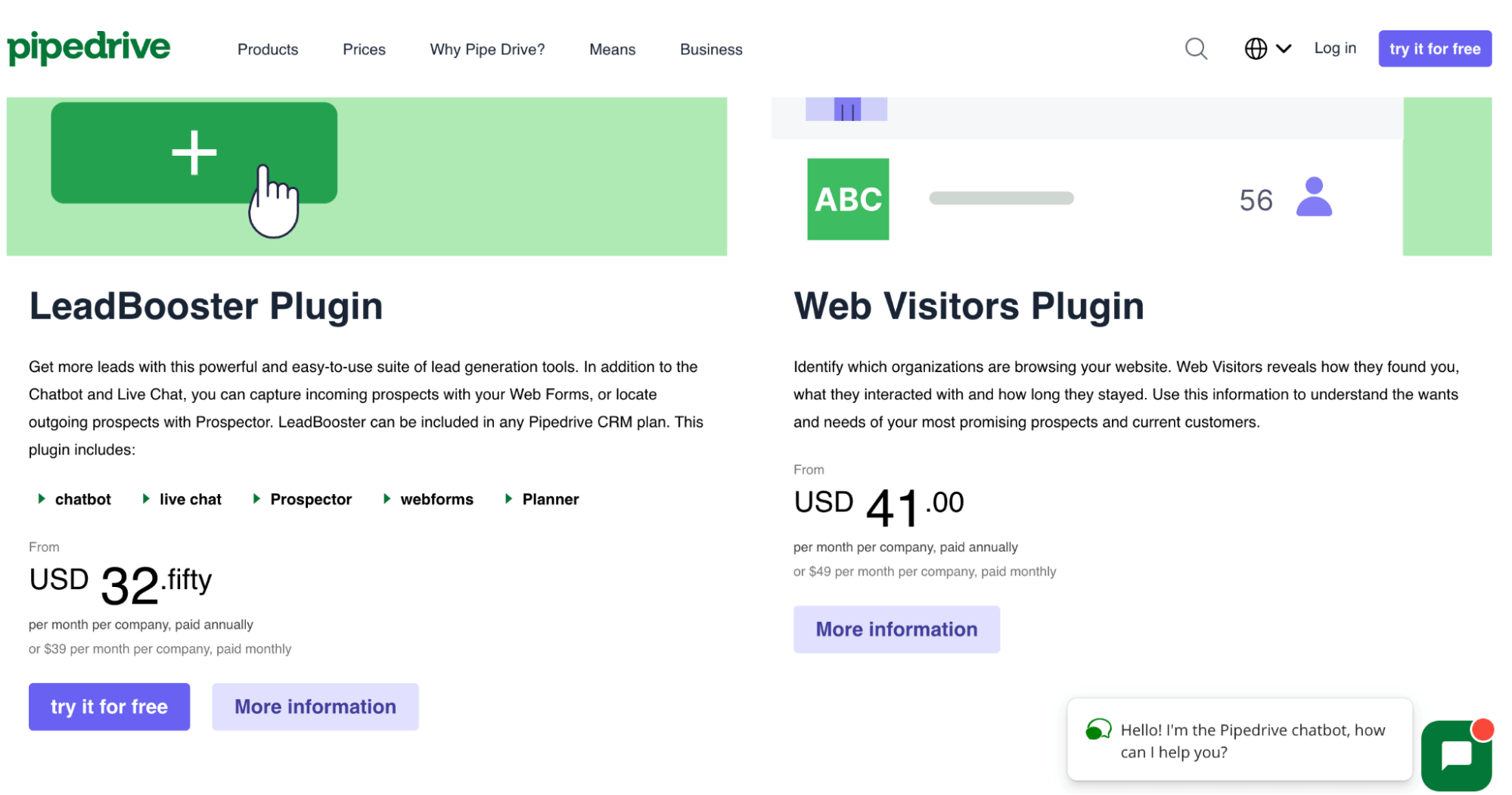 A rep at Pipedrive who wants to cross-sell the LeadBooster Plugin product needs to know what really motivates a customer to buy.
It's not more leads, at least not exactly.
It's more like:
Saving time on prospecting
Capturing higher-intent leads to improve conversion rates
Closing more revenue each month
To truly be effective here, Pipedrive needs to interview their customers to find out which of these benefits resonates most, and then use that in its sales and marketing messaging when looking to expand accounts.
3. Build An Effective Onboarding Process
Land and expand is all about retention.
Well, actually, it's about expansion, but you can't expand if you don't retain!
Customer retention isn't just about providing great service, solving support tickets quickly, and having a nice friendly catch-up once per quarter.
Retention is largely driven by utilization.
Customers that aren't using your product (or not using it well) are the ones who are at risk of churning. Attention to utilization starts as soon as the customer logins into the platform for the first time.
To nail this, focus on optimizing your onboarding process.
This might be sales-led, where a customer success agent helps your clients set up integrations, migrate data, and familiarize themselves with the platform.
However, it might be self-led (which is often the case in product-led growth companies and startups who haven't yet moved upmarket to target enterprise).
In either case, pay careful attention to any barriers that exist to adoption (for instance, being unable to locate certain features easily), and minimize them (either through changes to the product itself or providing comprehensive onboarding documentation).
4. Invest In A Customer Success Team
Customer success is not the same as customer support.
Support handles technical issues; success is dedicated to helping your customers get the most out of your product.
This is invaluable for the land and expand model.
First, effective customer success maximizes feature adoption by helping users understand exactly why those features are valuable, and then helping them implement them.
This maximizes retention, as users who are deeply plugged into your product are unlikely to churn.
Then, because your customer success reps are intimately familiar with your clients' business operations they're better able to make a compelling argument for upgrading, and explain the value of your additional features or services in terms that make sense to that particular customer.
5. Use Your Pricing Model To Create Room For Growth
It might seem obvious, but the truth is that some brands just don't have a lot of room for account growth.
Your pricing model is a big influencer here.
Consider Basecamp, which uses a fixed-price model.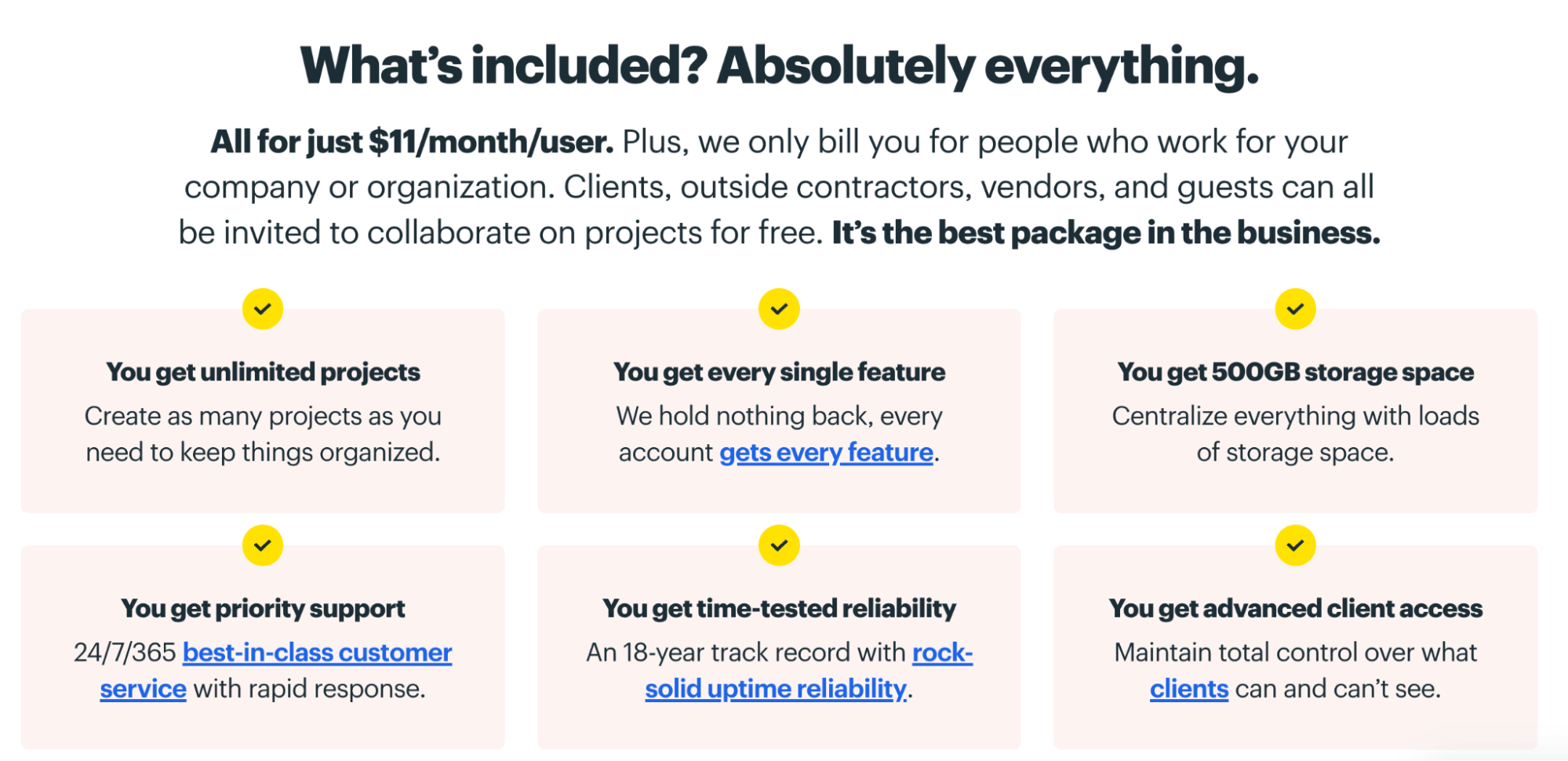 Basecamp can expand account revenue if user count grows, but that's it.
Sure, they have some influence over that (if they can convince customers to expand Basecamp utilization into different departments, or if the user count grows by proxy of company growth), but not a lot.
The more common approach is to use a tiered pricing model, like Airtable.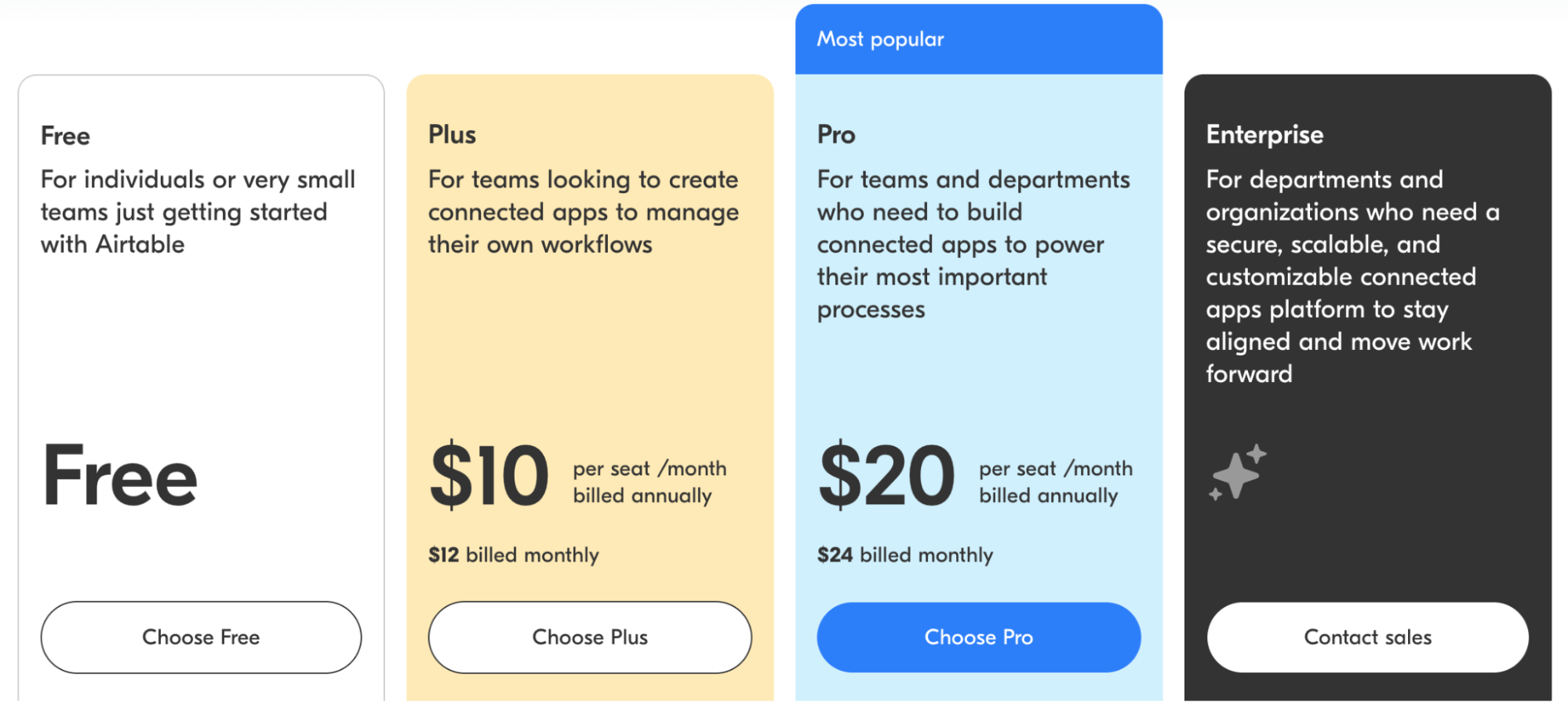 Notice that the lowest pricing tier is actually free.
This is known as the freemium model, and it's the easiest way to get involved land and expand.
You land free accounts, and then use the product's value (and a bit of educational content) to drive conversions to paid accounts.
However, land and expand doesn't have to mean freemium.
ActiveCampaign's pricing model is perhaps the best example of one that supports the land and expand model.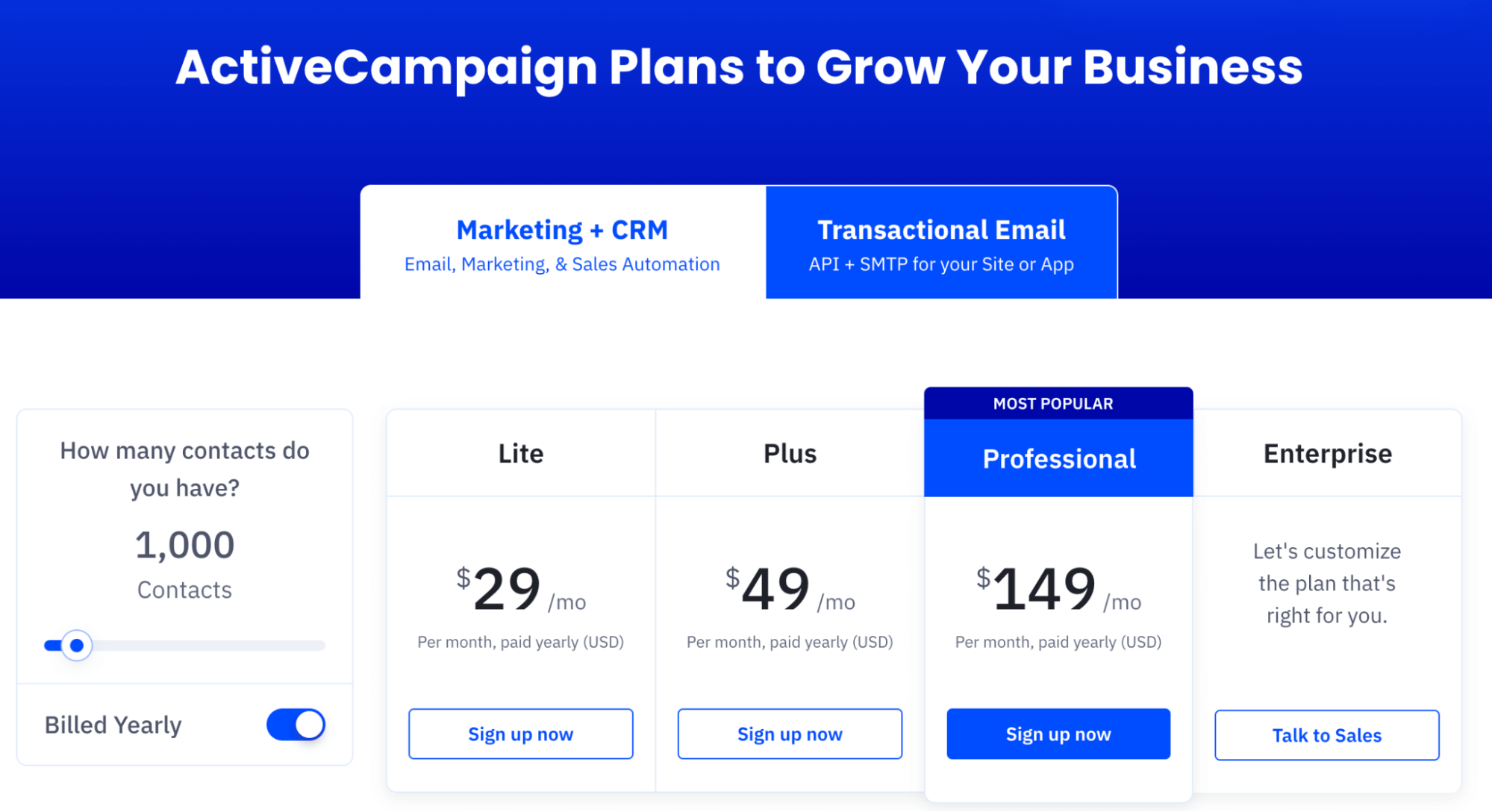 First, ActiveCampaign can upsell accounts onto a higher tier, such as moving a Lite plan customer to a Plus account.
Secondly, they've got automatic revenue growth built into their pricing model. As their customers' contact database grows, so too does their monthly subscription.
Thirdly, ActiveCampaign has an add-on product in the form of transactional email, which not only serves as a cross-sell opportunity, but also has growth built in as their customer's monthly email sends scale.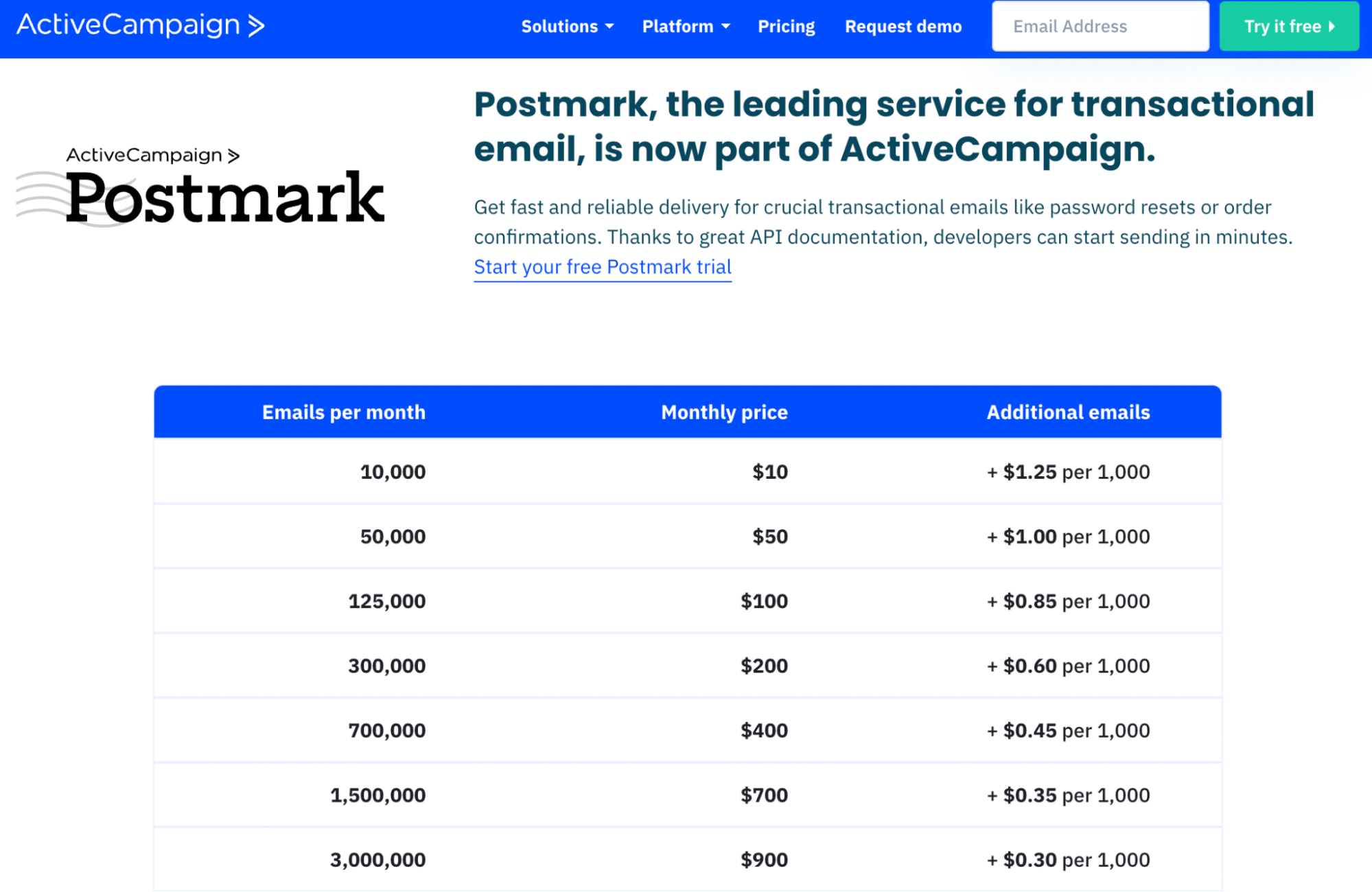 6. Let Customer Feedback Drive Product Development
Your ability to expand revenue often comes down to your ability to convince customers that the features in your more advanced plan are worth their while and offer additional value over and above what's available in the most basic version of your product.
For this to work, it kinda needs to be true.
Listen to what your customers have to say about your product. Validate their concerns, and make fixing them a priority.
For example, user experience and navigation are regularly a problem for early-stage SaaS companies, probably because they're built by engineers who aren't the actual people using the product.
Dive deeper into feedback here.
Interview customers to find out how usability could be improved, and how they'd like the layout to change. Then implement those suggestions.
If you let customer feedback drive product development, you'll not only improve your retention of existing customers, but have a much better shot at upselling into additional features (because it was your customers who told you to build those features in the first place).
Land & Expand Your Business!
The land and expand model might not be the only model for maximizing revenue growth, but it is worth noting that its one of the tactics used by the most successful SaaS brands in the game.
Find out what else those brands are up to in our SaaS Metrics Benchmark Report.
Josh Krissansen
Contributor