Announcing our Seed Round!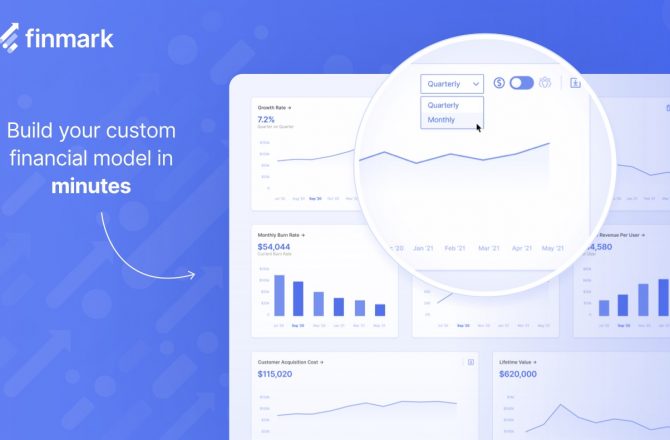 Why do startups fail? This is a question entrepreneurs, investors, and market analysts find themselves asking each time another startup goes belly up in the market. And the question that keeps entrepreneurs up at night when they start their own companies. People often think it is because of a bad idea, a product that doesn't work, or an arrogant founder.
More often than not, however, startups fail due to bad financial planning. The founder becomes entrenched in product development, or market research, or sales, and fails to keep an accurate financial model (or has a complicated financial model living in Excel). In fact, CB Insights said that running out of cash was one of the most common reasons why a startup failed, only second to a lack of market need.
Running out of cash may be a founder's worst nightmare, but now there's an easier way to track financials from the start with Finmark. Our financial modeling and planning software allows entrepreneurs and founders to easily update, inspect, and share financial metrics to understand runway and cashflow. This direct insight, easy access, and streamlined collaboration mean founders know when they may need to tap an investor or consider a fundraise. 
Our $5 Million Oversubscribed Seed Round
This week, we announced an oversubscribed $5 million seed raise from a coalition of investors and angels participating in the round. A whopping 14 firms and more than 30 angel investors have bought into the vision and mission of the company, including IdeaFund Partners, Bessemer Venture Partners, Promus Ventures, Draper Associates, Green Visor Capital, Altair Ventures, York IE, and more. I couldn't be more excited about what the future holds for our company with these major players backing us. 
Not only have these leading investors and angels invested in Finmark, they understand how important it is for founders to be tracking financials from day one. This means most of the funds will be asking that their portfolio companies use Finmark to stay on track, and the majority of our angel investors are or will be using Finmark to track their own financials, too. 
The extraordinary level of interest we've received underscores the need for a tool like ours to replace the complex and error-prone spreadsheets and one-size-fits-all templated financial models that are typically relied upon today. We built Finmark so that anyone, not just finance pros, can easily make and update a financial model without having to spend weeks laboring over-complicated spreadsheets. 
Need more social proof? Last week we launched on Product Hunt and quickly took over the #1 Product of the Day spot. Needless to say, we are extremely psyched about what we've built here at Finmark and want to shout it from the rooftops. 
The Future of Financial Planning Is Finmark 
As Tim Draper of Draper Associates put it, "We see a world where every startup will use Finmark on day one."
That's our goal. As I've said before, I wish I had Finmark in my previous ventures. My hope is that with Finmark, founders can have peace of mind knowing that their financials are covered and focus on building their own companies to launch into the world. We want to help startup founders know they are building their company on a solid foundation. 
Today, most startups fail because of bad financial planning. I believe that, as a result of Finmark, more good companies will survive. 
We are celebrating our accomplishments today, but pretty soon, our noses will be back to the grindstone to make sure our software is ready for prime time. Join us in our journey by subscribing to our newsletter or grabbing an invite to be an early adopter. 
Thanks for the support. 
Rami Essaid
Chief Executive Officer