Cash Flow Planning: Step-By-Step Guide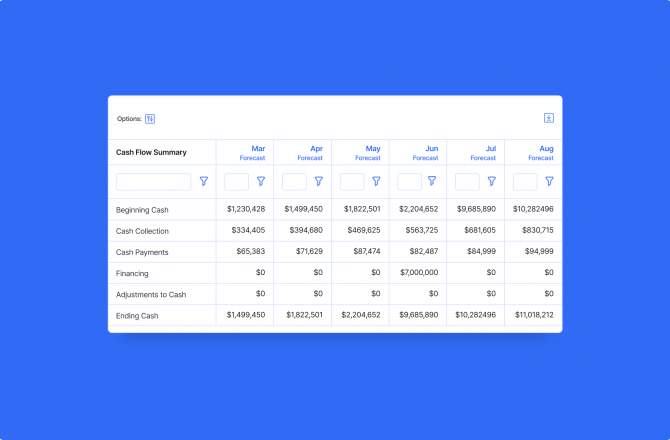 As a small business owner, you know how important cash is. As much as we'd all like to close our eyes and hope for the best, it's essential to have a plan in place to ensure you have the cash on hand to pay employees, make debt payments, and keep the lights on.
Simply hoping for a healthy cash flow isn't enough. You need to manage your cash flow proactively and make sound financial decisions.
That's why we've put together this step-by-step guide on creating a cash flow plan — so you can ensure the money keeps flowing!
What Is a Cash Flow Plan?
A cash flow plan is a process for estimating your future inflows and outflows of cash. It's similar to a cash flow statement, except it attempts to predict future cash flows rather than recapping your past cash transactions.
Having a cash flow plan can help you keep tabs on your finances, avoid making costly mistakes, and ensure you have a backup plan in place for inevitable cash shortages.
4 Steps for Creating Cash Flow Plans
Creating a cash flow plan isn't as complicated as it sounds — here are the steps you need to follow.
Step 1: Select a timeline
The first step in creating a cash flow plan is to decide on a timeline.
You can create a cash flow plan for a month or a quarter, but a good rule of thumb for most small businesses is to plan for the next 12 months. This provides a reasonable long-term picture of your finances while remaining within a manageable timeframe.
The exact length can vary depending on the nature of your business and your needs but remember, as you move further into the future, predictions naturally become less certain.
No matter your timeline, your forecast should go month by month or week by week. So start with the first week or month of your cash flow plan and your beginning cash balance on that date.
Step 2: List All Cash Inflows
List all of the cash you expect to come in that month. Cash inflows can include:
Cash sales
Collections of accounts receivable
Payments on notes receivable
Anticipated tax refunds
Additional investments from owners or shareholders
Proceeds from loans or lines of credit
Step 3: List All Cash Outflows
Now, for the same month, list all the cash you'll spend in the business. Cash outflows can come from:
Purchasing inventory or raw materials
Paying operating expenses, such as salaries and wages, marketing expenses, utilities, rent, subscriptions, etc.
Making loan payments
Paying accounts payable or tax liabilities
Paying out dividends or distributions to shareholders
Step 4: Calculate Your Ending Cash Position
Now, take your beginning cash balance from step one, add to it your total cash inflows from step two and subtract your total cash outflows from step three. The result is your projected cash balance for the end of the month or week.
Repeat this process for every week of the quarter or month of the year, and you'll have a cash flow plan.
You can create your cash flow plan on paper, in a spreadsheet, or use a tool like Finmark from BILL.
Finmark is a valuable tool for cash flow planning because you can enter all your projected cash inflows and outflows into the pre-built templates and let the software run the numbers. This not only saves time but also reduces the chances of calculation errors.
Whatever method you use for your business cash flow planning, take a look at your ending balance each week or month.
If you have positive cash flow, that's good! If your projections are accurate, you'll have enough cash on hand (or in your bank account) to cover operating expenses and employee wages, pay short-term debt, make tax payments, etc.
However, if your net cash flow is negative, you need to prepare ahead. Below, we cover some options for dealing with cash shortfalls.
How to Use Your Cash Flow Plan
Once you've created your cash flow plan, how do you use it? Here are a few ideas.
Monitor Your Cash Flow Regularly
Review your cash flow plan frequently to check your actual cash flow against your projections. Regular monitoring helps you spot changes and trends and make adjustments accordingly.
Consider using a rolling cash forecast to continuously plan for your cash flow over time.
For example, if you're using a rolling cash flow forecast for 12 months, at the end of each month, you drop the earliest month and add a new month at the end.
By continuously monitoring and updating your cash flow projections, you can quickly adapt to changing business conditions and determine the best course of action based on the most recent information.
Plan for Cash Shortages
Many small businesses have cash flow shortages from time to time. Cash shortfalls can happen because customers are slow to pay their bills, due to seasonal declines in sales, or when an unexpected repair or other expense disrupts your plans.
Your cash flow plan can help you identify many of these potential cash shortfalls in advance (rather than looking back months later and wondering why you're struggling to make payroll or cover invoices).
When you know when to expect negative cash flow, you can make necessary adjustments to ride it out, such as tapping a line of credit, infusing capital into the business, or getting serious about collecting outstanding receivables.
Plan for Cash Surpluses
Just as your cash flow plan helps you anticipate cash shortages, it can also illuminate periods of cash surplus. A cash surplus might occur due to a spike in sales, a tax refund, or decreased expenses in a particular period.
When faced with a cash surplus, it's tempting to consider it as 'extra' money. However, these surpluses are opportunities to:
Reinvest in the business. You can use a cash surplus to invest in new equipment, increase your marketing efforts, or expand your team. These actions can drive future growth and increase the overall value of your business.
Pay down debt. You may use your cash windfall to pay down loans or other debt, saving you money in interest over the long term.
Save for future cash shortages. Another strategy is to put the extra cash into a reserve or savings account. This 'rainy day fund' can be a lifesaver when unexpected expenses arise or business is slow.
Remember, effective cash flow management isn't just about surviving the lean times—it's about wisely using the prosperous times to position your business for long-term success.
Make More Informed Decisions
Use your cash flow plan as a decision-making tool.
For example, some questions your cash flow plan might help you answer include:
If we invest in a new piece of equipment, how will those loan payments impact cash flow?
How would hiring another salesperson impact sales? Would it be enough to cover their salary and benefits and return a profit to the company?
If we extended accounts receivable terms for our largest client to net 60 instead of net 30, how will it impact our cash flow?
Using a cash flow planning tool like Finmark makes it easy to model different scenarios, compare them, and make more informed decisions.
Supercharge Your Cash Flow Plan with the Right Tools
Whether you're managing slow-paying customers or unexpected sales booms, your financial management strategies can benefit from the insights derived from cash flow planning.
Preparing a cash flow plan isn't complicated. Still, it can be time-consuming to gather your projected income and expenses, enter them into a spreadsheet, and update your forecast as circumstances change.
But when you use a forecasting tool like Finmark, creating and updating your cash flow plan is simple and straightforward. So why not give Finmark a try for free for 30 days and see how it can benefit your business? You might be surprised by the power that better cash flow planning can bring to your business.
Janet Berry-Johnson, CPA
Contributor