How Flare Evolved From Spreadsheets With Finmark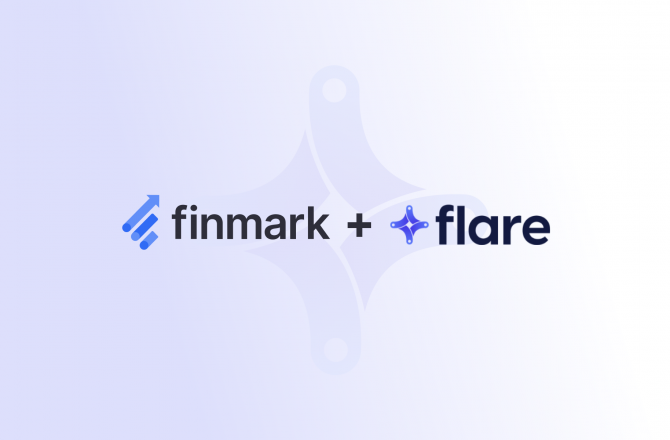 The Challenge
Flare is a fast-growing cybersecurity startup on a mission to help businesses rapidly identify external threats that could damage their organization.
Whether it's the clear web or the dark web, Flare uses AI technology to scan it all to identify and prioritize potential threats for its clients. Using this data, Flare provides actionable insights and proactive recommendations to keep their clients' data safe and secure.
But when it came to turning their financial data into actionable insights for their company, Flare's newly appointed CEO, Norman Menz, wanted to find a better solution than the spreadsheets and templates the company previously relied upon.
We started doing a budgeting and forecasting exercise and quickly came to the conclusion, there's gotta be a better way to do this.
When Norman became CEO, Flare was at an inflection point.
The Flare team built an amazing platform and was growing at 300% year over year. But to scale, they needed to think more strategically about their finances and plan the best path forward.
Specifically, they needed a way to:
See all their financial data in one place
Model multiple scenarios
Identify growth opportunities
Prepare for fundraising
Make data-informed decisions as a team
Norman had previous experience with building financial models and forecasts using templates. However, he ran into many of the same problems other CEOs and finance leaders experience with spreadsheet-based models:
We were spending way too much time going into spreadsheets, documenting who's changing what, reconciling our formulas, and making sure they're not broken.
One of the biggest challenges Norman wanted to solve was collaborating on their financial plan, which was a struggle with spreadsheets.
We wanted a single pane of glass for the whole team. So, we could take our sales, marketing, and finance teams and bring them into a platform where everyone could collaborate and work from the same information. We could then use that to build our models and compare our actuals to our forecasts in our planning.
When Norman began looking for a new financial planning platform, he remembered reading about Finmark a few months prior, so he decided to sign up for a trial.
The Solution
While Flare tested other financial planning platforms, it didn't take long to realize that Finmark was a much better fit:
We looked at a couple of other options. They were bigger platforms, but they had more of a legacy feel similar to a Windows application or a spreadsheet wrapped with a web interface.
The other tools simply didn't solve Flare's challenges, and Finmark quickly became the clear winner to move forward with as their financial planning platform.
Here's how Finmark has helped Flare improve its financial planning and analysis process:
Board-Approved
When Flare needs to share its financials with its board, it can easily grant access to stakeholders and set their permission levels. This has made board meetings smoother than ever and gives them confidence when presenting their financial plan.
The level of transparency Finmark provides is nice and appreciated. It also creates a sense of trust in the numbers. Because everyone's working from the same pane of glass, it makes it very easy for everyone to understand what's going on and the inputs, the drivers, etc.
Collaborative Planning
Since switching to Finmark, Norman noticed how much more effectively the company can plan for growth by collaborating in one system.
The difference is night and day. Finmark empowers the team. Marketing can look at how their spending converts to leads, which gets picked up by the sales team. Then we can look at our sales conversion and build on our headcount and quota. And then that carries through to our client success team.
Unlimited Possibilities With Custom Formulas
Finmark comes with several metrics and drivers out-of-the-box. But we also realize that every business is unique, so we created Custom Formulas. With Custom Formulas, you can add any metric or driver to your model and customize Finmark to fit your business, just like Flare.
The ability to have custom formulas is really nice. It has allowed us to extend the capabilities of Finmark to the particularities of our business.
Fundraising With Confidence
We use Finmark as an integral part of our fundraising and investor conversations.
Fundraising can be a challenge for any startup. The ability to showcase your numbers so that investors can clearly understand and see your growth trajectory makes it much easier. Finmark has given Flare an easy way to share its financial plan during investor conversations.
It builds more confidence in the forecasts we present during these conversations. Investors understand that the reliability of the models is probably better if they're built by a third party.
Results
Quicker Reconciliation
Flare has streamlined its monthly reconciliation process thanks to Finmarks integrations and ease of use. Flare no longer has to use several tools to get vital financial information. Everything flows through Finmark.
We reconcile our actuals and do a full reconciliation monthly. It takes less than an hour, and everything keeps up to date.
Faster Modeling & Decision Making
With Finmark, Flare can build complex financial models quicker, create multiple scenarios to test assumptions and make changes on the fly.
With Finmark, we can look at our model and say, "Okay, we are over forecasting or under budgeting in these areas. We can make those adjustments very quickly.
Planning, Not Reacting
Flare no longer sees updating its financial plan as a "to-do" item. With Finmark, the entire Flare team can now use its financial plan as a valuable resource rather than an annoying task.
The greatest power of Finmark is that the team can collaborate and use it as a resource. The other platforms were more of a burden, so people didn't want to update them. We weren't using them for planning or helping build the business; we were using them reactively.
More Confidence In The Model
Above all else, one of Flare's most significant changes since switching to Finmark is more confidence in their data. The team no longer has to spend hours in spreadsheets checking to see if there are mistakes or if formulas are broken.
It's easy to make a mistake and not realize it when you're working on a spreadsheet. You spend a lot of time reconciling data or risk sharing a model where you had a mistake in a formula. With Finmark, we have confidence and assuredness in our actuals.
Ready to see why Flare and 1,000+ startups trust Finmark to make better financial decisions? Get a free 30-day trial today!