8 Ways to Find The Perfect Angel Investor For Your Startup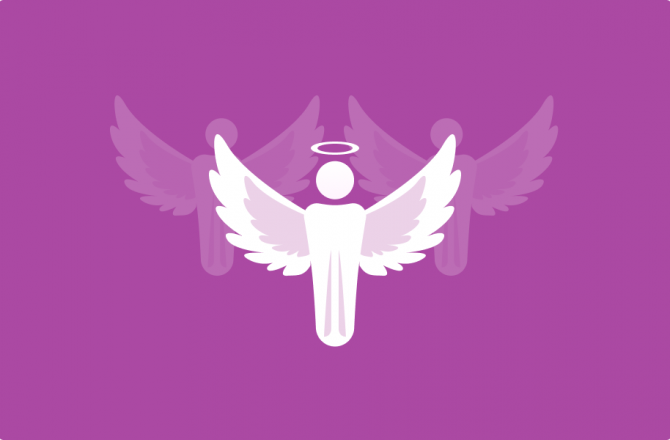 Thinking of getting angel investors, but not sure where to start?
Where should you look? What questions should you ask them? How can you tell a good investor from a bad one?
In this guide, we'll explain everything you need to know about finding and choosing the perfect angel investor for your startup.
Table of contents:
What Is An Angel Investor?
Angel investors are individuals who invest in entrepreneurial ventures like startups using their own capital in exchange for equity. They often provide the startup founders with capital for their business, but they do not have any operational voting rights in the company.
Angels can come from different backgrounds, such as venture capitalists, corporate investors, wealthy individuals, and members of angel networks. They typically operate as individuals but it is not uncommon for multiple angels to partner together to form a syndicate when making investments.
An angel investor usually has experience in business or entrepreneurship because they can act as an advisor to the founders of the startup they are investing in. This can be a major help for first-time founders trying to grow a business.
There have never been more available resources to find and connect with potential angels. With the world being as connected as it is, we have listed some of the best ways to find angel investors below.
8 Ways To Find Angel Investors
Once you've decided that you want to bring angel investors on board, the next step is to find them. If you aren't already connected to a network of startup investors or wealthy people in general, you might not even know where to start.
But not to worry! Here are eight places to find angel investors for your startup.
1. AngelList
AngelList is a popular website where startups can go to hire as well as look for investors to partner with for funding. It primarily aims to serve tech startups and works well as a reliable tool with excellent reach in the industry.
You can build a personal profile along with a company profile to get listed in the directory. This will help your startup gain some exposure and be in the right place to look for investors and allow angels to look for you too.
2. Angel Capital Association
The Angel Capital Association is a group of accredited angel investors with entrepreneurial experience and high net-worths to help lead early seed angel investment rounds. Getting involved with ACA is simple and they provide direct access to a full directory of potential investors.
There are over 14,000 angel investors and it is a tight-knit community that makes networking even easier for future partnerships.
3. Gust
Gust is another reliable angel investor network with a directory of thousands of different startups and accredited investors. These directories help make the vetting process quicker because these investors are already highly qualified to be listed. However, you should still do your own research before working with any investors.
You can also work directly with Gust and they will assist with determining your best course of action for funding.
4. Angel Forum
Angel Forum is a company that connects startups and investors by building a community to help fund angel rounds. All investors are seasoned professionals with years of experience, so you will not be getting involved with any inexperienced angels by using this resource.
Angel Forum operates in both Canada and the United States so they have a wide-reaching network available to your startup.
5. Angel Investment Network
The Angel Investment Network is a US-based platform helping to bring startups and angel investors closer together. You have access to investors worldwide with exactly 285,542 angel investors available to connect in their directory.
After registering you can build a pitch within the platform and publish it live on the site for investors to see. Investors can find your pitch and contact you directly to eliminate the amount of outreach you need to do. This is a great supplementary option to extend your reach.
6. Social Media
You don't only have to stick to investor-specific platforms to find angel investors. Social media can be a great place to connect with your next investor. Twitter in particular has become a hotbed for connecting startup founders with angel investors.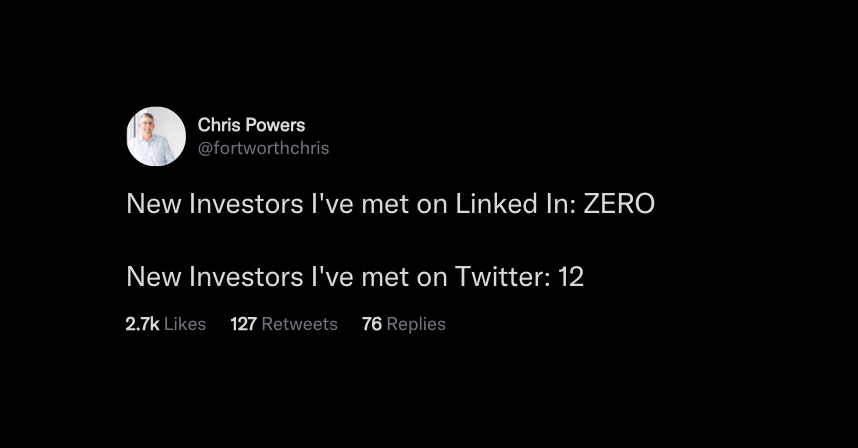 To find investors on social media, start by being vocal about what you're building. Talk about the journey of building your startup and document what's going on. That'll build an audience and make it much easier to connect with investors. In some cases, they'll reach out to you first.
7. Networking Events
If you prefer to connect in-person, there is no better way to get involved and meet potential angel investors for your startup than networking events. You should look around in your local community and nearby cities that host big events and grow your network.
8. Friends & Family
An option that has been used so many times in the past to get some famous startups off the ground is the friends and family option. If you are building something you believe in, there is no better way to tap into your network than to seek investment from the people closest to you.
Of course, you need to be aware that getting investments from family and friends can sometimes complicate the relationship if your startup doesn't go as planned. Only take an investment from friends and family if you're ok with the potential consequences.
What Should You Look For In An Angel Investor?
Not all prospective angel investors will be the right fit for you. It's important to consider what you value most and what you hope to build with this investor. Using the factors below to find high-quality investors that can help make a difference in scaling your startup.
Industry Experience
When looking for angels, it's best to start with those who have specific experience in your industry. So if you are a tech startup, it would be best to start with investors who have previous tech experience rather than reaching out to healthcare investors.
Not only will they be more interested in investing, but in the future, they could act as a great advisor too because of their previous experiences working with similar startups.
Investing Experience
The next factor to consider is investing experience. As a first-time founder, it is best to get involved with an angel who has plenty of prior experience rather than a first-time investor.
You can even take it a step further and look for an accredited investor too. However, accreditation does not need to be the determining factor. Instead, look at their prior investments and research how they panned out to help you determine what is best for you.
Financial Stability
When you are getting involved with an angel investor, they should be high net-worth individuals that have no problem writing you a check for a specific amount. And you want to ensure they can invest this money without any potential issues in the future.
For example, you want to be sure your angel is not investing money with you that they will need in the near future. This puts unnecessary stress on the startup and is not worth getting involved in for any founder.
Mentorship Ability
As a founder, it can be difficult to navigate the difficult world of startups and fundraising pre-seed and seed rounds for your business. With an angel investor, they can also act as an advisor to you and help you in times of need.
If you want someone willing to serve as an advisor, this is another factor to add to your vetting criteria because not all investors will want to do so. But when you find the right one, it can change the way you approach business knowing you have a talented mind you can fall back on.
4 Tips To Determine If An Angel Investor Is The Right For You
After you've made some connections and determined some potential angel investor fits for your startup, it is time to figure out exactly which investor is the best choice for you.
1. Get References
Some startups like to only work with accredited investors to be sure they are getting involved with someone who has previous investment experience. However, whether you choose an individual or accredited investor, you should always check with references and follow up with previous investments they made.
By conducting some research and learning about their past investments firsthand, you can find out how they approach the process and what they will be like as your partner moving forward.
Expect to spend anywhere between 3-6 months finding potential investors so the more thorough you can be the better.
2. Align Goals With Your Investor
Once you find a few potential investors, it is best to talk about goals that you both have to see how close you are aligned on the future. This includes the amount of money needed, equity, investment time frame, and decision-making control.
By establishing goals, you can remove the risk of confusion down the road. The goal is always to grow a startup with a potential exit point for the angel, but by determining these goals at the start you can build a better working relationship.
3. Establish a Relationship
After discussing your goals, you can also start to build a relationship with your angel and determine how involved they will be with the startup.
Some angels want to be involved and act as an advisor based on previous entrepreneurial experience to help founders during times of need. However, some angels would prefer to simply invest and act as a silent partner.
You should discuss whether your angel will be working with your startup as an advisor or silent partner to best build that future working relationship together.
4. Treat It as an Interview Process
It's important to operate with patience and treat each call as an interview process. Put value in what you and your startup do and only work with investors who can buy into your vision and work with you in scaling that vision into reality.
This means you should take notes during calls, go into every interaction with questions prepared, and do plenty of research on your prospect before meeting with them.
How To Track Your Angel Investor Interactions
When doing outreach to angel investors, you should treat the process like sales. This means that all leads should be tracked, interactions should be recorded, and your pipeline should always be full.
We recommend every founder going through the fundraising process to create an investor pipeline to properly track all of this information. You can start putting leads into your funnel using the resources we mentioned in this guide.
But when it comes time to track your conversations with angels, you will need to take it a step further with a pipeline. We either recommend using a spreadsheet, a CRM, or both to start building one.
To fill your pipeline, consider a few things like investor location, funding amount, and industry experience when looking for leads. You can save time by niching down your search and looking for investors that have previous experience investing in startups like yours.
This will help to track your investor interactions and make the process even easier. You can even look at competitors or similar startups who previously raised money for some inspiration.
We also recommend starting and working your way up to bigger names as you start to build experience and have the chance to test your process. Label investors as low priority and high priority to filter your pipeline even more for accuracy.
After the first few calls, you can gather a lot of information about the types of questions they will ask you and what information they value most. This allows you to track everything in your pipeline and prepare for the next call a little differently.
Finding Your Angel Investor
Going through the process of raising capital is a stressful one, especially for first-time founders with no prior experience in this area. Vetting potential angels and building your network is a high-value but time-consuming task.
Finmark is a financial planning tool to help startups manage financials and create more accurate financial projections and forecasts. You can Sign up for a free 30-day trial today!