7 Revenue Stream Examples (How to Pick the Right One)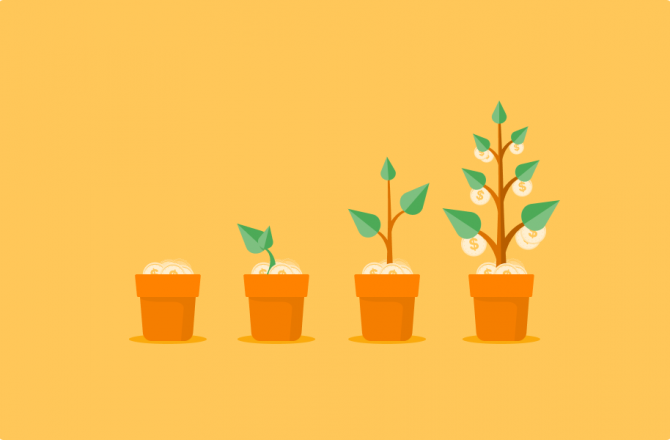 There are a ton of ways to generate revenue, and modern organizations have plenty of choice when it comes to determining how they're going to drive cash into the business.
While most businesses will have just a single revenue stream it's entirely possible to drive revenue from multiple streams.
And, while the revenue model you choose will be largely driven by the business model you're operating under, as you'll see shortly, many of these revenue streams can serve multiple types of business.
The key, as always, is to determine what works for your customers and your market. Choose the wrong revenue model, and you might fail to convince many customers to get on board, despite offering an excellent product or service.
In this article, we're going to explore seven of the most commonly adopted revenue streams.
We'll look at examples of those streams in action, and walk through some tips on how to choose the right revenue stream (or streams) for your company.
 What is a Revenue Stream?
A revenue stream is the lifeblood of any business. It's where your cash comes from.
Before you can have a revenue stream, your company needs assets. But you can generate revenue in several ways using the same asset.
For example, let's say you own two cars. These cars are your assets, and you want to generate revenue from them. Several income streams are available to you. You could:
Sell one car
Rent the cars to people, either by the hour or by the day
Provide a taxi service using the cars
Offer advertising space on your cars
That's four different revenue streams from two assets.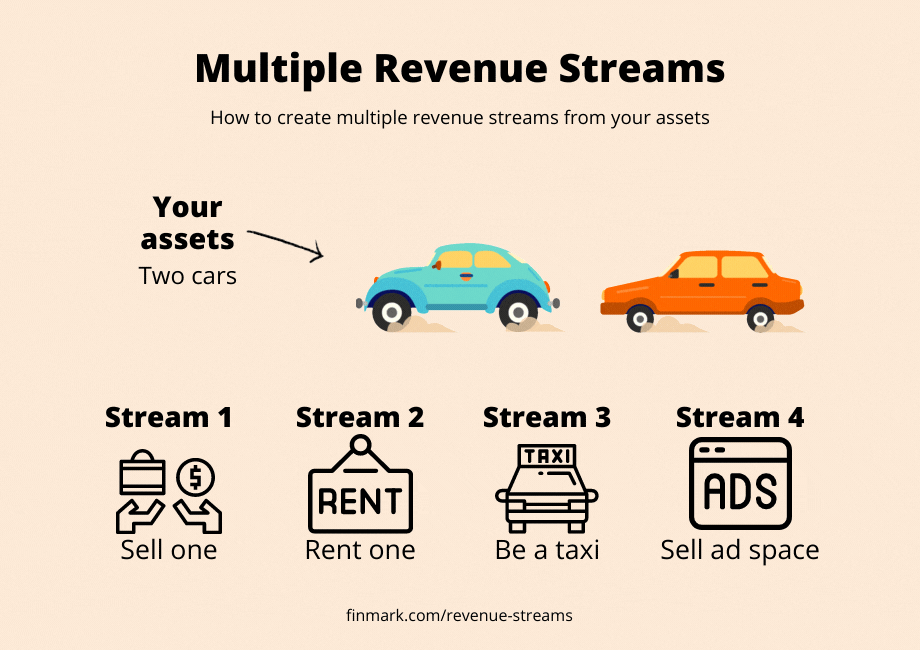 Of course, you can have more than one asset to generate your revenue streams. A business can have a SaaS as their main source of revenue, but the talent on their team is another asset they can use to provide services, as we'll discuss later.
How Many Revenue Streams Should a Business Have?
While some businesses maintain just a single revenue stream for their entire lifespan, diversification is generally a good idea.
As an early-stage company, you may only be able to manage one revenue stream at first. But the sooner you diversify your business, the safer it will be.
If your only revenue stream dries up, your cash runway will start to shorten until you get back on track. On the other hand, if you have at least two to three revenue streams, you can offset the drop in revenue from a dried-up stream.
Amazon is probably one of the biggest examples of a company with several revenue streams. Here are just some of their revenue streams:
E-commerce sales
AWS
Amazon Prime subscription
Amazon Music
Prime Video
Audible memberships
You don't have to be the size of Amazon to have multiple revenue streams though. Look at Icons8, a site that sells clipart, illustrations, and music. They have several revenue streams, including:
Memberships
Licensing for their icons/illustrations
Graphic design software subscription
Dataset sales
Hubspot, Salesforce, and Shopify are also examples of companies that have used multiple revenue streams to fuel their growth.
7 Types of Revenue Streams You Can Implement For Your Business
Let's take a look at what types of revenue streams you can use for your company, as well as the pros and cons of each.
1. Subscriptions
The subscription model is popular within the software world. In fact, today, the majority of software companies sell their products as SaaS (software as a service) subscriptions.
Customers pay you a recurring subscription fee (monthly, quarterly, or yearly) to get access to a product or service.
Instead of owning a product or paying once for a service, customers get access as long as they continue paying their subscription fee.
Of course, there are other types of businesses that use the subscription revenue model (magazines and gyms are two classic examples).
Pros of the subscription model include:
If you can forecast your customer churn rate and new MRR, you can predict how much revenue your business will generate next month (you can do this with Finmark from BILL)
If your marketing efforts slow down or stop, you can still generate revenue from existing subscribers
Subscriptions are lower risk than upfront purchases for customers, which makes it easier to close sales
However, there are important cons to keep in mind:
If your CAC payback period is longer than the average period customers stay around for, your business will bleed money
You need to invest resources to avoid high cancellation rates
Revenue can be uncertain during the startup phase
Examples of businesses that use subscriptions as a revenue stream include:
Streaming services like Netflix
SaaS companies like Finmark
Membership companies like country clubs
Subscription box companies like BarkBox
Ecommerce companies like Dollar Shave Club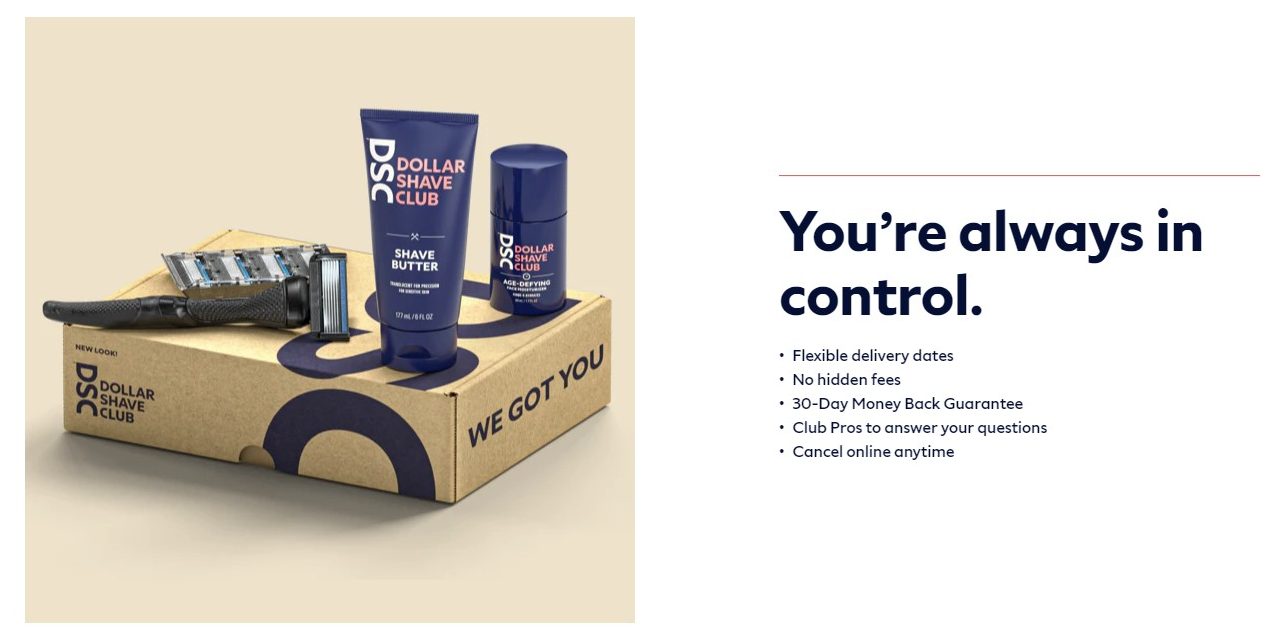 2. Licensing
Licensing comes in different shapes and forms. In software, licensing was the most popular revenue stream before the subscription model took over.
One example of a software company that still uses perpetual licensing is Microsoft. Although they offer their products on a subscription basis, you can still purchase licenses for their products outright, like Microsoft Word.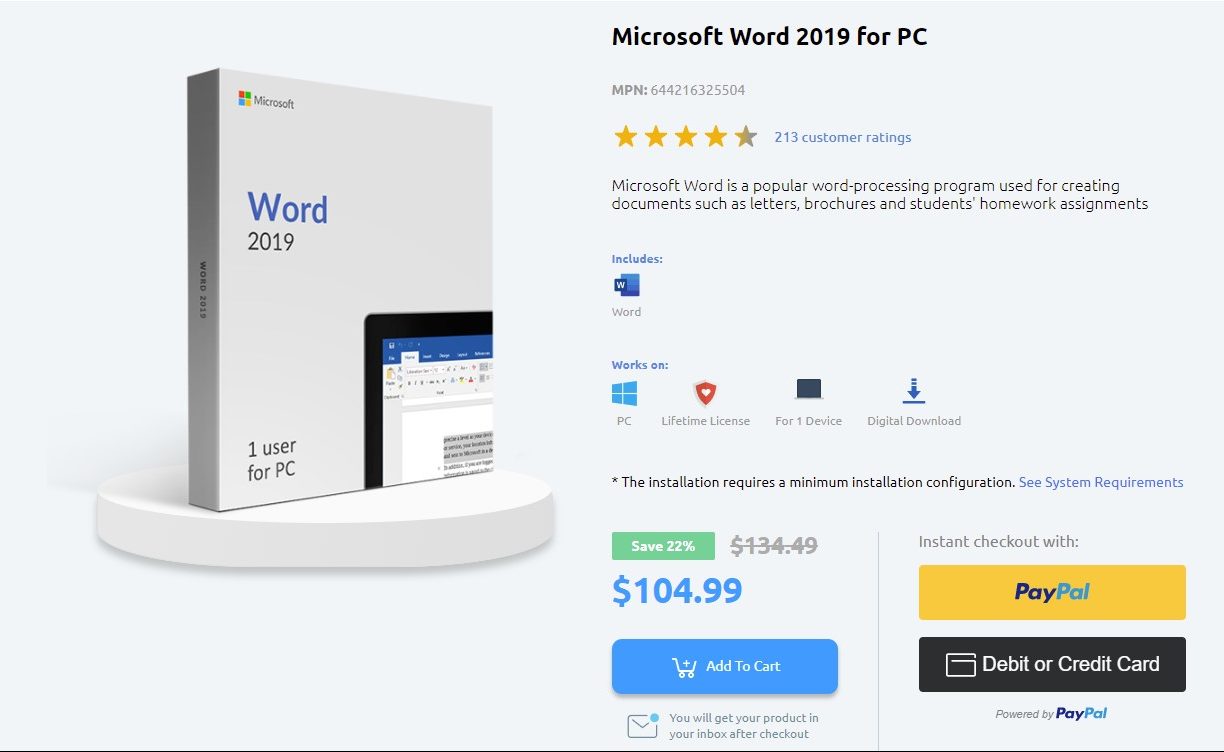 But software isn't the only thing you can license. You can also grant the right for someone else to use a trademark or copyrighted material.
Other examples of businesses that use a licensing model include:
Walt Disney (for example, when they grant McDonald's a license to use trademarked characters for Happy Meal toys)
Music production companies grant licenses to film production crews to use specific songs in movies
Software like Clip Studio Paint
Here are the pros of using licenses as a revenue stream:
You don't need to worry about monthly churn since licenses are typically granted long term
Your business gets more money upfront from purchases
But here are the cons:
Customers only buy once, unless you create a new and improved product for them to purchase a few years later
Your revenue will dip to zero if you make no sales in a month
3. Product Sales
Product sales is exactly what it sounds like — selling products. Unlike licensing, customers who purchase products own the product outright.
This is the quintessential consumer-facing business model, and is the main way businesses monetize when they have a physical product to sell.
E-commerce companies are one of the best examples of this revenue stream. Brick and mortar retail companies do the same. Some examples include:
Some companies do a blend of both.
For example, Google offers paid software like GSuite, but they also sell physical electronics like the Google Pixel phones, the Google Chromecast, and the Google Nest smart home products. We'll talk more later about how successful companies diversify by combining multiple revenue streams.
Here are the pros of having product sales as a revenue stream:
Low ticket items are easier to sell
Higher ticket items provide a large influx of revenue at once
But here's the negative side you should be aware of:
Products tend to have lower profit margins than software
Every product needs to be manufactured, stored, and shipped
It can become cheaper to manufacture products as you scale up, but there is a limit to how cheap you can make it
4. Services and Consulting
If you have talent on your team—whether that's you or your employees—you have an asset that you can leverage in the form of services or consulting.
Some companies are purely service-based and offer several services, which each represent a separate income stream. Local companies like nail salons or landscaping companies are good examples of this model.
Other examples include:
Marketing agencies and consultants
Financial advisors
Building inspectors
Some other companies provide software, like Evolv.ai with A/B testing, but also provide services to strategize and implement their solution.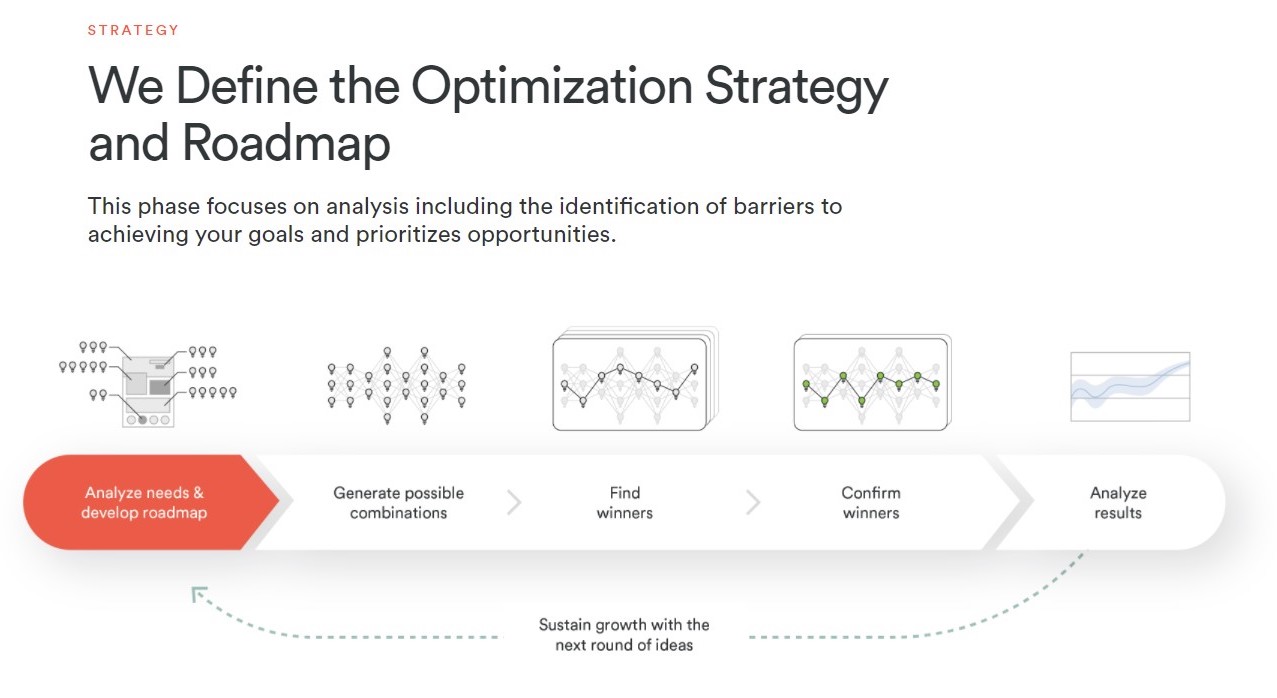 Services are a great way to add a new income stream without creating assets from scratch.
There's no need to invest in research and development for a new product.
You can survey your customers to figure out what services they need, then use your existing in-house expertise to deliver this service.
Services offer several benefits:
Because services are one-to-one instead of one-to-many, you can also charge more, which means you need fewer clients to reach a certain revenue goal
For example, let's say you need to increase your revenue by $50,000 a month — you only need five clients who pay $10,000 each for high-value consulting services compared to 1,000 clients who pay $50 a month for a software subscription
However, here are some cons to watch out for:
Services aren't easily scalable — if you want to onboard more clients, you'll not only need to scale your marketing efforts, but you'll also need to train and onboard more employees to provide these services
There are more moving pieces to services than to software subscriptions — for example, customer services need to be much more involved
You're more responsible for the outcomes your clients get when you provide a service compared to a product or subscription
5. Advertising
If you have an audience, you also have the ability to sell advertising space.
This can be done in a variety of ways.
For example, let's say you have a podcast in addition to the existing products and services you sell. You can create ad breaks in your podcast and sell the space to relevant companies.
This is how most podcasts and radio stations make money.
If you have an email list, you can also partner with other brands to advertise their products or services to your subscribers. Or, if you have a blog that generates a lot of traffic, you can place ads in your posts, too.
Then there's the freemium model for apps. Freemium is where your company offers a "dumbed down" free version of your software product.
In the B2B space, it's more common to use your free plan as a launching pad to upsell customers into a paid subscription. In the B2C world, though, it's super common to monetize free users with ad revenue (running ads within the app interface itself).
Duolingo is a classic example of a freemium app that utilizes an ad revenue stream.
Examples of businesses that use the advertising model include:
The Penny Hoarder and other large blogs
Sports stadiums that sell space for advertising in their arena
Real estate owners who put banners on their buildings
Some pros of selling advertising space include:
It doesn't require you to spend extra resources to turn on this revenue stream
Ads can be highly lucrative if you have a large audience
But watch out for these cons:
You'll be associated with the brands you advertise, so it's important to choose your partners wisely
It may not bring in much if your audience is small
Ads can distract your audience from your own offers
 6. Leasing and Renting
When you use leasing and renting as a revenue stream, you give exclusive usage rights to the buyer for a specific period of time.
You typically need assets to rent out in order for this model to work for you. For example, E-commerce companies like Rent the Runway allow members to rent out designer clothing.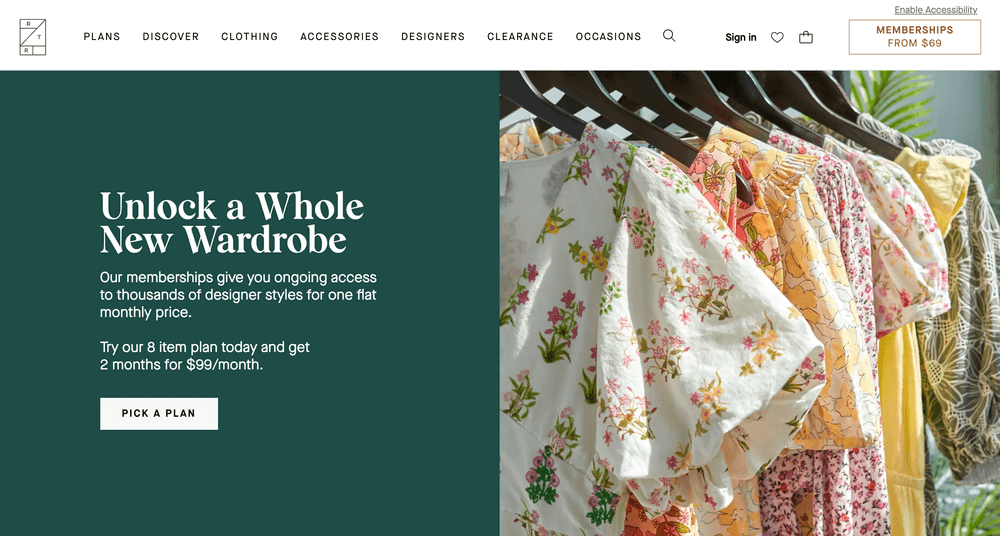 Businesses like these often have other revenue streams, such as subscription fees and product sales (since people can opt to buy the products, too).
Car rental companies and hotels work in the same way.
Other examples of leasing and renting companies include:
Moving gear rental companies
Vacation rentals
Real estate leasing companies
If you're a company with a large office space, you could even lease unused parts of your office space to smaller companies or freelancers.
Let's explore the pros of leasing and renting:
You can generate a high amount of revenue from a single asset over time
Customers don't need to justify long-term purchases, so it can be easier to make sales
But there are some cons to the model, too:
It can take a while to make your money back after investing in your assets
You need to account for depreciation of your assets
Wear and tear will likely happen over time
7. Brokerage Fees
Companies get paid a brokerage fee when they match people with specific companies.
For example, freelancing websites like Upwork make money from matching freelancers with clients who need their help. Twenty percent of the money a client pays for freelance services is taken as a brokerage fee.
Freelancers benefit because they get matched with clients, and clients win because they get access to thousands of talented professionals.
Other businesses that use a brokerage model include:
Here's how your business can benefit from using a brokerage model:
Once your company has the ability to match people together, it can become a relatively low-effort revenue stream, since it doesn't require you to deliver products or services
Customers don't have to pay upfront — you usually take cuts from their transactions — which means that there can be less friction for sales
However, there are downsides to using brokerage fees as a revenue stream:
It's not easy to set up — most companies who depend on other revenue streams won't easily be able to add brokerage fees as a revenue source without investing some serious time and resources into it
Brokerage fees are only typical in a few industries
How to Choose the Right Revenue Stream
With all these revenue streams to choose from, which one is the best for your organization?
Well, it's largely going to be driven by the kind of product you have. If you have a software platform, renting and leasing probably isn't going to be a suitable option.
However, you do have some leeway to choose here. For example, it's possible to sell software on a perpetual license or subscription basis, or make it completely free but monetize using ad revenue.
Here are a few steps to follow when determining which revenue steam makes sense for your business.
1. Check Out What Your Competitors Are Doing
A good competitor analysis is always an important step in figuring out how you present your business to the market. It's equally important to determine what revenue streams are appropriate.
Of course, the idea isn't simply to copy what your competitors are doing, but this analysis can be used to get an idea of what payment models customers in this vertical are comfortable with.
Alternatively, it can be used as a way of differentiating.
If all of your competitors are charging on a subscription basis, for example, you might decide to differentiate by offering your product for free and monetizing through an ad revenue stream.
2. Ask The Market
One step better than using competitor analysis to assess the market is to literally ask your customers themselves.
A survey can be a great simple way to collect some quantitative data, like how much customers would be willing to pay for given features.
Then, you can supplement this with qualitative insights from customer interviews. For instance, you might ask about how ads impact their in-app experience.
3. Audit Your Current Skill Sets
Remember: you can only drive revenue based on the assets you have.
One of your most important assets, of course, is your team, meaning you should audit the skills you already have internally to see what additional revenue streams you could take advantage of.
For example, say you sell an API platform on a subscription basis.
You find that you have relevant expertise on the development team to offer a service where you help customers set up custom integrations using your tool, adding another revenue stream to your belt.
4. Consider Future Trends
Yes, considering the market as it stands today is important: those are the customers to whom you'll be selling.
But you should also take note of how the market as a whole is developing and what it will look like in the long term. Your plan is to be in business then as well, remember.
Take, for example, the car industry.
Consumers are moving away from outright ownership and toward subscription models, which is already evident in the software world but beginning to break into physical products as well.
A car dealership may do well to consider renting out their vehicles on a subscription basis rather than exclusively selling them.
5. Don't Be Afraid To Diversify
Lastly, continue to bear in mind that you don't have to choose just a single revenue stream.
Many businesses fall into this trap; they choose one option and put all of their eggs into one basket.
However, many of the most successful organizations diversify and use multiple revenue streams to protect against market fluctuations, and to maximize their opportunities to capture share of wallet.
In the next section, we'll take a look at some well-known organizations who leverage several revenue streams for this very reason.
Examples Of Businesses With Multiple Revenue Streams
We've already explored how a giant like Amazon uses multiple revenue streams to diversify its income and protect against market fluctuations.
But you don't have to be a massive international enterprise to take advantage of multiple income streams. Here are a few great examples of companies that excel today with multiple sources of revenue:
Dollar Shave Club. DSC uses the subscription model as their primary source of recurring revenue, but also sells on an individual basis in their e-commerce store, taking advantage of the product sales model as an additional revenue stream (and likely using this to convert subscription customers)
Zylo. Zylo is a SaaS buying and visibility platform, meaning they operate on a subscription model. However, they also offer managed services, diversifying their income with a secondary service revenue stream.
Duolingo. Duolingo is a language learning app that monetizes its free app using ad revenue, but also offers a paid subscription option, diversifying its income with two separate revenue streams.
Diversify Your Company's Revenue Streams to Make It More Resilient
If your business currently has a single revenue stream, consider adding one or two more to the mix. This will help your company become more resilient to change.
For example, if the market suddenly shifts and one of your revenue streams dries up, you'll still have other sources of revenue to keep your business afloat while you pivot.
As a final thought, don't get too carried away with adding all the income streams to your business, though. Make sure your new sources of revenue are still in line with your vision and don't distract from your purpose.
Josh Krissansen
Contributor