15 Startup Costs Every Founder Should Track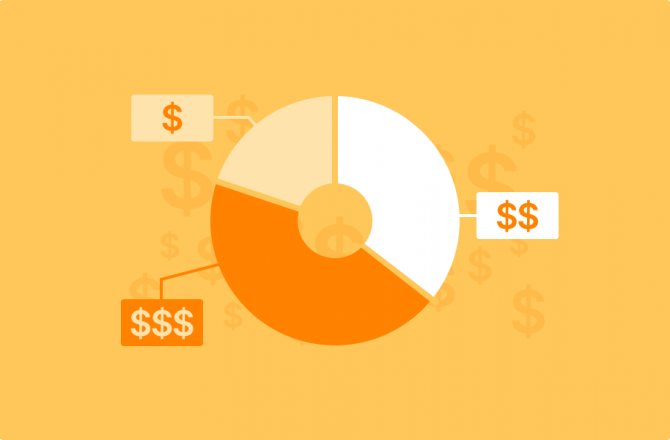 Whether you're an early-stage startup or are just starting to put your business together, keeping track of the costs of running your business is key.
Some startup costs are obvious, but others fly under the radar and tend to be overlooked.
But when you factor in all the necessary costs of running your startup, you'll be more likely to create a realistic budget and generate accurate financial forecasts.
You'll be more aware of the reality of the startup world, which will, in turn, help you survive all the ups and downs that come with growing a business.
Let's explore a list of 15 startup costs every founder should know and track.
General & Administrative Startup Costs
1. Office Space
Your startup will need to pay rent for any required office space. If you're already renting a space, consider the rising costs of rent as your business grows.
For example, if you have 25 employees now, can your office accommodate growth for 10 more people? What about 20?
Depending on the speed at which your startup is growing, you'll need to account for steeper rent in the future to find bigger office space, unless you go partially or fully remote.
2. Equipment & Supplies
Whether you're just starting or already established as a startup, you need to factor in the cost of equipment and supplies.
Buying something as small as printer ink can seem inconsequential, but office supplies add up. The bigger your team, the more office supplies you'll need to buy on a regular basis.
These can include:
Computers
Monitors
Desks
Chairs
Paper
Printers
A phone system (or work cellphones for your staff)
First-aid supplies
Etc.
Not to mention all the extra amenities that can boost morale like snacks, seating, and decor. These may not seem like huge expenses, but they add up quickly.
3. Legal Fees
Not everyone considers the legal fees required for a startup.
But you'll have to pay lawyers whether you're doing a round of equity, incurring debt, incorporating a new business, developing employee contracts and customer agreements, or writing the terms of service and privacy policy for your website.
4. Finances
To keep your finances in check, you'll need to hire dedicated financial professionals.
Who you hire will depend on the size of your startup. For example, if you're still running a small operation, it may be cheaper to hire accountants and bookkeepers as consultants instead of full-time staff.
But as you grow, you'll most likely need dedicated bookkeepers and accountants on your team. Eventually, you may also need to find a chief financial officer (CFO) to make important decisions about your finances, manage your financial model, and find proactive ways to cut down costs.
5. IT
Computers break. Software crashes. People get locked out of your systems. It happens.
Whenever you have internal technical issues, you'll need someone to help get you back on track.
Beyond those day-to-day tasks though, IT can help with technology governance (managing data/passwords, setting guidelines for tech use, etc.) and also set up infrastructure like all the software your company uses to function on a day-to-day basis.
Just like finances, you can start by outsourcing your IT needs to an agency or freelancer. But it will make sense to hire your own IT team once you reach a certain size.
Budget for at least one IT professional down the line, but remember that you may need more as you keep growing.
On top of IT people, also don't overlook expenses like internet, security software, and any other tech costs to run your startup.
6. Human Resources
Whether you hire a dedicated human resources team or disperse HR tasks to you and other founders, it's an important cost to keep in mind. Keep a budget aside for HR expenses such as:
Recruiting
Employee training
Interviewing and hiring new candidates
Creating HR processes
Let's dive into that last point in more detail. As a growing startup, you'll need to be able to hire quickly. You can develop HR processes to make it easier to do so.
Everything from background checks to legal paperwork, benefits, and onboarding are all part of your HR process and come with added expenses.
Developing HR processes can also help you retain employees. That's because established processes can ensure each employee gets the training they need and fully integrates into your team.
7. Insurance
Insurance is one of those startup costs that people rarely talk about, but it's vital. You need to protect your business and assets from any potential lawsuits or accidents.
D & O insurance will cover the directors and officers if your startup gets sued. On the other hand, liability insurance protects your startup against claims that result from injuries or damage to people or property.
Both are important to budget for. It's better to have it and not need it than to need it and not have it!
Sales & Marketing Startup Costs
8. Your Sales Team
Don't underestimate the power of your sales team!
Even if you use other advertising or marketing strategies, it's still important to factor in the cost of a sales team. Your sales team can help close deals that come in from your marketing channels as well as perform outbound sales efforts, or reach out to inbound leads who are going cold.
But your sales team isn't just there to bring in new customers. They can also take care of their existing customers and suggest relevant upsells or cross-sells to help you increase the customer lifetime value.
When calculating the cost of your sales team, don't forget to factor in commission. Commissions are a huge part of benefits as a salesperson, so it's a must if you want to retain talent.
9. Inbound Marketing
If you want to help your startup grow in a sustainable way, you'll need to invest in some inbound marketing strategies.
These can include:
Search engine optimization
Content marketing (eBooks, white papers, videos, blog posts)
Social media marketing
Case studies
Whether you hire someone in-house or use freelancers, it costs money to produce all these content assets.
In addition to these expenses, remember to invest in a high-converting website if you don't have one already. All your inbound marketing needs to take your leads somewhere, after all!
You can optimize your website to turn visitors into leads. Then, you can use automated email marketing—or your sales team—to nurture these leads until they become customers.
Make sure to break out your marketing expenses on a channel-by-channel basis to track the ROI. You need a good sense of what your ROI and cost-per-lead are for each channel so that you can make every dollar work harder.
10. Advertising
While inbound marketing is an important long-term strategy to get customers, paid ads can help you get more revenue on a short-term basis.
You can use pay-per-click (or pay-per-impression) advertising like Facebook ads or Google ads to generate traffic and leads, but you can also pay for sponsored content or try influencer marketing.
Just like inbound marketing, remember to track your expenses and return on investment separately for each channel.
Also, avoid trying all your advertising channels at once. Start with one channel to validate your offer, then slowly scale to other channels over time.
11. Agencies
Hiring an entire marketing department isn't feasible for most early-stage startups. Unless you or other founders are already experts in advertising and marketing, you should account for the cost of professional consultants or an agency.
Advertising and marketing consultants have the experience and manpower to help you establish effective marketing strategies. This is a big expense, but one that should have a significant ROI.
12. Customer Success
If you want to avoid customer churn, remember to account for the cost of a customer success team—or at least one customer success rep.
If you spend all your budget on acquiring new customers (and none on retaining them), you'll find yourself in a never-ending cycle of chasing new customers just to replace the ones that are churning.
In the early days, you might be able to manage support requests yourself. But eventually, it'll get to a point where you're spending hours responding to emails and tickets. That's usually a good time to consider hiring a freelancer or an in-house employee to take over.
Apart from your customer success team's salaries, remember to factor in the cost of a help desk or help ticket software like Zendesk or LiveAgent.
Research & Development Startup Costs
13. Software Engineering
Obviously, you need software engineers to develop software.
But remember that you'll most likely have to research and develop several iterations before you have a beta available to test, let alone a product-market fit.
This is a major cost that shouldn't be overlooked or skimped on. If you can build a diverse team of talented engineers who thrive in your workplace, you'll increase your chances of innovation.
14. Quality Assurance
While software engineering seems obvious, QA isn't always the first thing founders think about for startup costs.
It will be more expensive for you NOT to have a QA team than otherwise.
Why? If you don't spend money on quality assurance, your software engineers will most likely have to handle bug management themselves. And because software engineers cost much more than quality assurance specialists, you're better off separating these two tasks.
Bad quality assurance can be even more costly down the line. If your software gets bootstrapped with several issues and needs to be rebuilt from the ground up later, your expenses will be significantly higher than if you solve these issues early on.
15. Design
You don't just need working software — you need to test design elements as well. Design impacts the user experience, conversions, brand perception and so much more.
While your MVP doesn't need to win beauty contests, the sooner you can get a designer involved with your product, the better.
And fun fact, the first hire at Finmark was our Head of Design, which was a worthy investment!
5 Tips to Manage Startup Costs
So now you know what costs to look out for. But how can you manage these expenses more efficiently? Here are five tips to get you started.
1. Budget Expenses For New Employees
Hiring new employees is expensive. And that's not even counting payroll.
Whether you're hiring for a new role or replacing someone who left, budget at least $4,000-$5,000 for every new employee to cover "hidden" expenses like:
Background checks
New equipment (computer, desk, swag, etc.)
Any new software/tools they'll need
Also, keep in mind that new employees won't function at 100% productivity during their first month or two. So if you hire a new salesperson, don't expect them to immediately come in and start generating new revenue.
2. Negotiate With Suppliers
Most suppliers—especially for SaaS products—offer their software at a reduced price for your first year.
This can help you cut down your expenses significantly.
When your first year is over, consider negotiating with the suppliers to extend your starting rates. You may not get as good of a price, but every price reduction counts.
3. Shift Your Expenses With Time
In the early days of your startup, you should plan to spend more of your budget on research and development.
But as development progresses, it's important to start spending more on sales and marketing so that your startup can grow and generate more revenue.
Also remember that your G&A expenses will grow over time as your organization grows.
4. Track All Your Spending
Keeping track of all your expenses isn't just important in the case of audits — it will also help you paint a better picture of where your money is going.
With more accurate financial data, you'll be able to generate more accurate forecasts and more realistic budgets.
Every time your actuals exceed your budget (or if they're under), you need to understand why that happened.
Categorize your expenses in specific buckets so you know where you went over budget. This is so you can avoid your expenses ballooning out of control before you realize where the issue came from.
5. Don't Cut Corners
You might look at these 15 startup expenses and think "do I really need to spend money on all of this?"
All of these expenses might not apply to your startup, and some will cost more than others. But one word of caution—don't try to cut every expense just to save money.
For instance, we mentioned the dangers of hiring low-quality developers. Sure, you might save some money upfront, but long term it'll cost you even more money to fix the issues with your code.
While you don't always need to pay top dollar, particularly in the early days, you can save money by shopping around. If you need freelancers, get quotes from several people. Shop around for software. Or consider taking on things like marketing and sales yourself until you can afford to pay someone.
Keep Track of All Your Startup Costs & Expenses
Startup expenses have a lot of moving pieces to keep track of. But if you want to increase your chances of breaking through the market and generating a profit, it's important to have a clear picture of all the costs involved in running your startup.
Finmark takes the stress out of creating and managing the financial plan for your business.  Schedule a demo today to see how easy it can be to handle your financial modeling!