Budget vs Actuals (How to Compare & Analyze)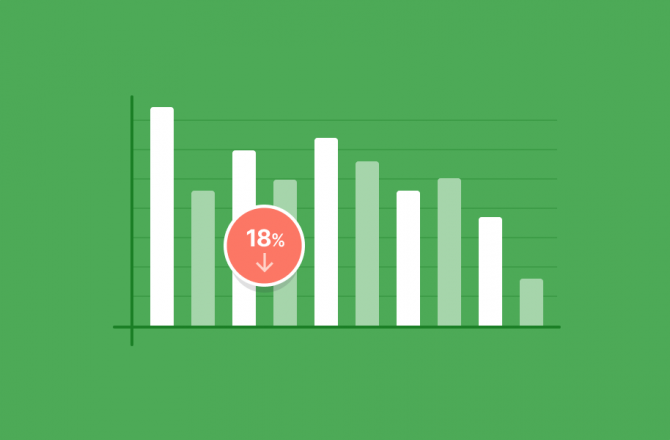 When it comes to financial modeling, comparing and analyzing your budget vs actuals is extremely important.
You might think you know how much revenue you'll generate, or what your expenses will be over the next few months. But as any founder will tell you, things don't always go as planned.
In this article, we're going to break down the difference between your budget and actuals, how to analyze both, and what to do when your budget and actuals don't line up.
Table of contents
What is the Difference Between Your Budget vs Actuals?
A budget represents the financial metrics that your company is expected to hit throughout the year. These numbers include revenue, expenses, cash flow, cash runway, and any other metrics you're tracking with your financial model.
Think of your budget as the target numbers you expect your startup to hit.
On the other hand, actuals are the real numbers your company has actually hit. They're not what you're forecasting to hit, or what you're aiming to hit—they're the reality.
In short, your budget represents the numbers your startup expects to hit, while actuals are the numbers you've achieved in reality.
When combined with your financial forecast, this is what each represents:
Budget: What your startup expects to achieve
Actuals: What your startup actually achieved
Forecast: What your startup is projected to achieve in the future based on past data
This means that, unlike a budget or forecast, you cannot plan your actuals before they happen. You can only analyze them once you have the data of a completed time period.
Why Budget and Actuals Both Matter
When you have a budget, you know where your startup wants to go. As a result, you can take the necessary steps to attempt to hit those numbers.
For example, if you've budgeted a cash runway of $500,000 before the end of the year, but your current cash runway is only at $300,000, you know that you'll need to:
When it's time to compare your budget with your actuals, you'll be able to see what worked and what didn't. You'll have a reason for both your failures and your wins.
Based on what went right or wrong, you can take the appropriate steps to fix the issue going forward and optimize what's working.
How Do You Analyze Budget vs Actuals?
Comparing your budget and actuals is called a budget to actual variance analysis. Not only will you take a look at how your numbers vary, but you'll also try to understand the reasons behind this variance.
You can have two types of variances:
A favorable variance means that your actuals are better than your budget numbers
A negative variance means that your actuals are worse than your budget numbers
Keep in mind that 'favorable' doesn't necessarily mean 'lower', and 'negative' doesn't necessarily mean 'higher'.
For example,  a higher CAC isn't a favorable outcome for your business. If your budget specified a CAC of $500 or under, a CAC of $1,333 is a problem.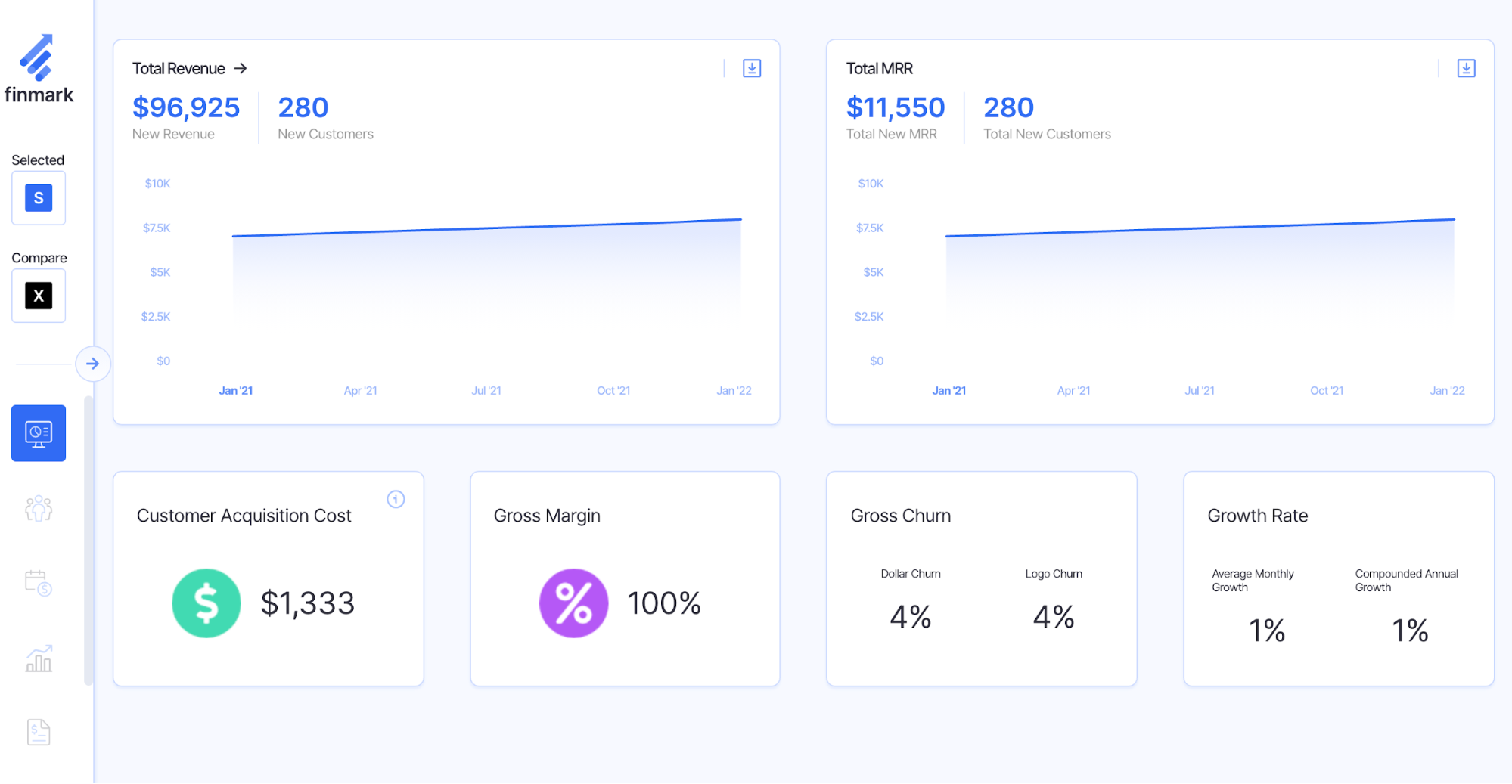 This is why it's better to use the terms 'favorable' and 'negative' when discussing the variances you find instead of 'higher' and 'lower'.
Traditionally, startups have been forced to use spreadsheets to analyze and compare budget vs actuals. However, spreadsheets and pre-made templates can easily get complicated and difficult to manage, especially when you have several people working on the same document. Finmark makes it easier to compare your budget and actuals and share it with your team, investors, or other stakeholders.
How to Analyze Budget vs Actual Variance
Once you've analyzed your budget and actuals, you'll know what your variance looks like for each metric.
While it's normal to have a little bit of variance for each budgeted number, getting a negative variance is a sign that something needs to change.
So what can you do if you get a negative variance? For example what if your actual revenue throughout the year ends up lower than your budgeted revenue?
1. Find The Source of The Negative Variance
Startups have several moving pieces, so a negative variance between your budget and actuals may not always come from the same source.
Let's say your actual expenses are higher than what was budgeted. While looking at the total expenses will tell you how large this variance is, you'll need to dive into each expense category to see where this comes from:
Is your CAC higher than expected?
Are your conversion rates for paid ads low, which would result in a higher ad spend?
How expensive is your customer service compared to previous years or what was planned?
What other expenses are higher than originally planned?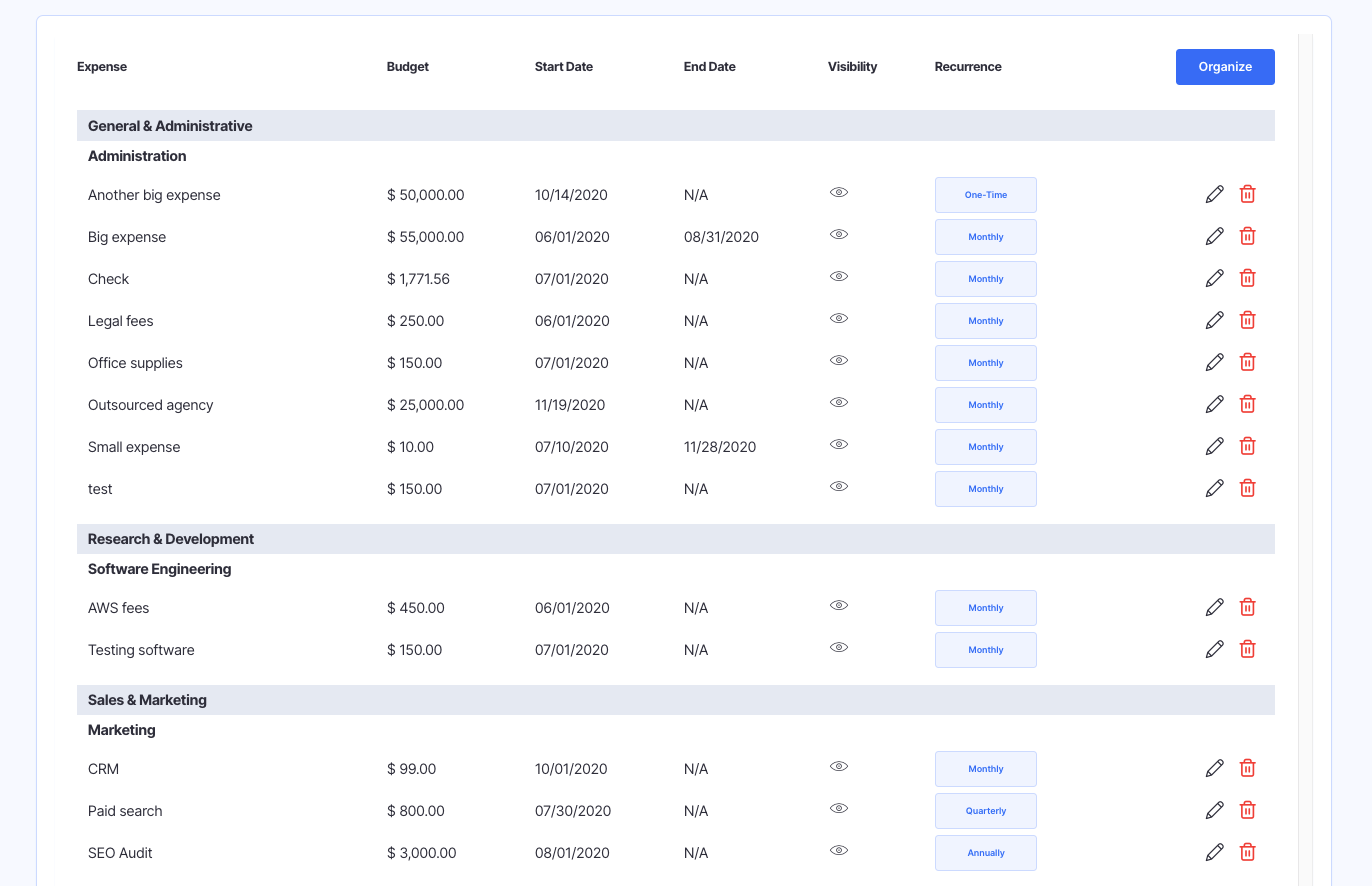 On the other hand, if your cash runway is significantly shorter than expected, you could take a look at the following:
What does your burn rate look like, and why?
Has customer churn increased while New MRR has decreased?
Have you started spending too much on an advertising campaign that isn't yielding returns?
Keep in mind, variance is normal. If your budget and actuals line up 100%, you should probably play the lottery because luck is on your side.
However, when the variance is extreme, start digging into the "why" behind it.
2. Analyze What Happened at The Source
Now that you've found one or several reasons why the variance exists, it's time to dive deeper into the reasons why this occurred.
For example, if you realized that your expenses are higher because your customer service is costing you more than what was originally planned, it could be caused by several factors:
A lack of established processes for customer service reps to stay productive and help customers more efficiently
Not enough resources (blog posts, video guides, documentation, etc) for customers to troubleshoot issues on their own
Too many customer service reps for too few issues
Depending on the issue, you'll have different courses of action you can take.
3. Make a Plan to Fix The Variance
Once you understand where the variance came from and what happened to cause the issue, you'll have the information you need to create a plan of action.
If we take the previous example of customer service, let's say the issue was a lack of educational resources for customers to use.
So what can you do to fix this?
One way would be to invest in creating more in-depth documentation for your customers to self-service when they have product questions.
The more independent your customers become, the less likely they are to get stuck and rely on your customer service team—or end up churning.
Here's another example. Let's say you've found out your company is spending too much on financial analysis. Your team is spending too much time managing spreadsheets and calculating formulas. This time could be better used on revenue-generating tasks.
To help reduce your actual expenses to fit your budget, you could find tools to streamline the process so that less time is spent on these tasks.
4. Keep Improving Your Forecasting Skills
At first, creating a budget for your startup will be difficult, especially if you don't have much data to work from.
But as you compare your budget and your actuals more often, you'll get better at accurately forecasting your metrics, which means you can plan a more realistic budget.
Every time you create a new budget, keep the past variances in mind and look for opportunities to plan more accurately based on what you know now. (hint: Finmark can help with that)
Stay on Top of Your Budget vs Actuals to Move Towards a Profitable Startup
Turning a startup into a profitable business doesn't happen by accident. In order to make it happen, it's crucial to keep track of not just your actual numbers, but how these numbers compare to your budget so that you can plan more efficiently in the future.
Finmark makes it easy to compare your budget and actuals, all without complicated spreadsheets. See it for yourself by signing up for a free demo!