20 Startup Tools to Add to Your Tech Stack
Building a successful startup is hard.
Creating your product, marketing it, engaging with customers, hiring a team, managing finances, and all the other pieces of growing a business can be a lot to handle for any founder.
But with the right tools, your life can be a little easier (emphasis on a little).
That's why we've decided to compile a list of some of the best startup tools to help you be more productive, efficient, and build smarter.
This list includes a lot of the software we've used to build Finmark, and others that we highly recommend for any founder's tech stack.
Whether you're building your first business or you're a seasoned founder that's always on the hunt for new software, here are some of the best startup tools to add to your tech stack.
Startup Tools for Finance
If you aren't able to properly manage your finances as a startup, it's nearly impossible to build a sustainable business. Use these tools to budget, plan, and manage your startup's finances.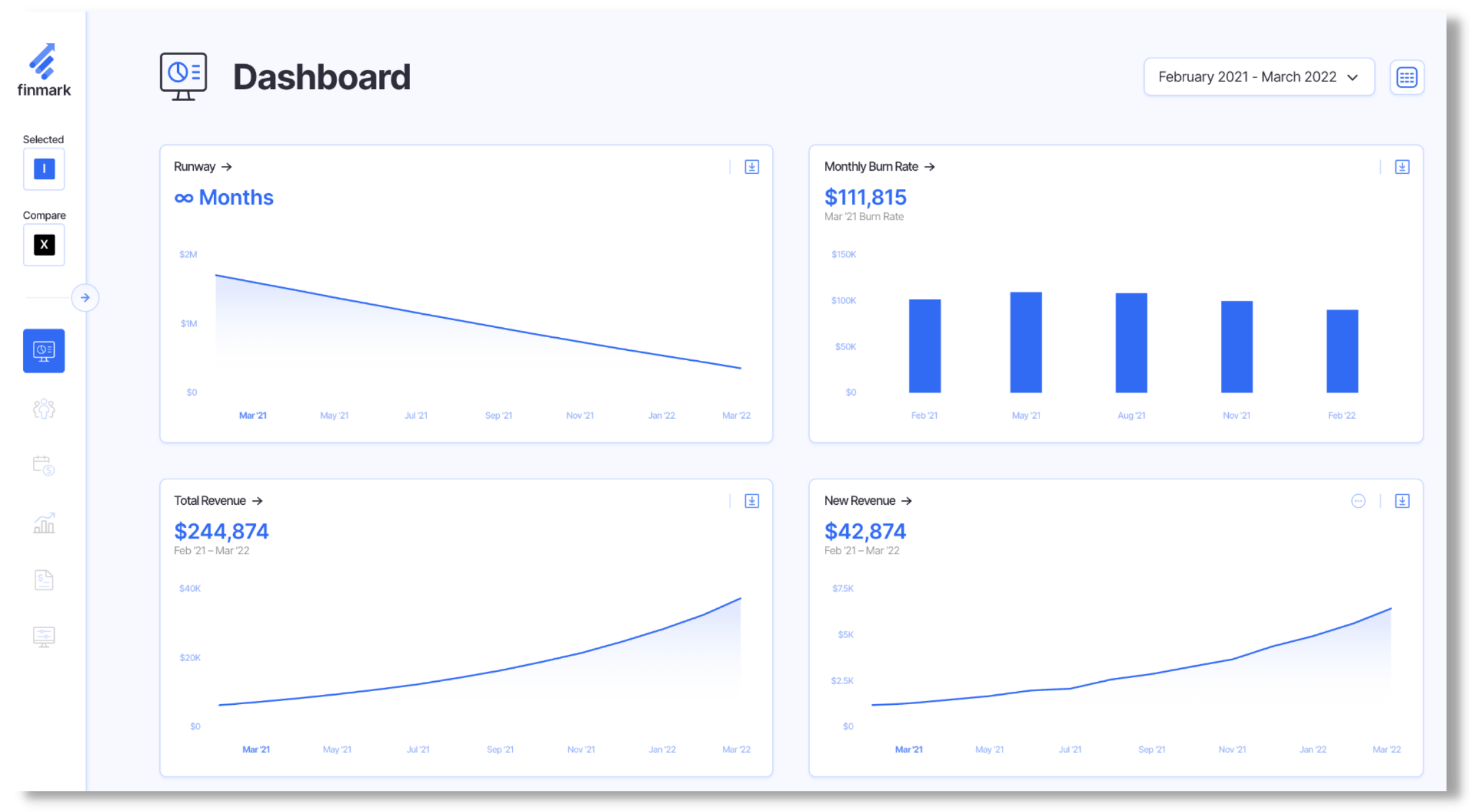 Finmark
is a financial modeling tool that makes it easier to forecast revenue and expenses, create a hiring plan, track your financial metrics, and more—without spreadsheets.
Why it's a good startup tool
Whether you use a tool or not, your startup needs a financial model. By putting together a financial plan, you can:
See how much runway you have
Create a hiring plan
Figure out when and if you need to raise funds
Build a financial forecast
Plus, if you plan on fundraising at some point, investors will expect to see your financial model.
For a long time, founders either had to use complicated spreadsheets to build a financial model, which comes with a range of problems. The alternative was to pay someone to build the model for you, which can be pricey, difficult to maintain, and cumbersome to update.
With Finmark, you can create your own financial model without needing to know complex formulas and equations, plus it's easy to share your model with investors, internally, with your accountant, or anyone else.
Pricing: Finmark's pricing is based on your monthly revenue, and starts at $25/month.
2. Quickbooks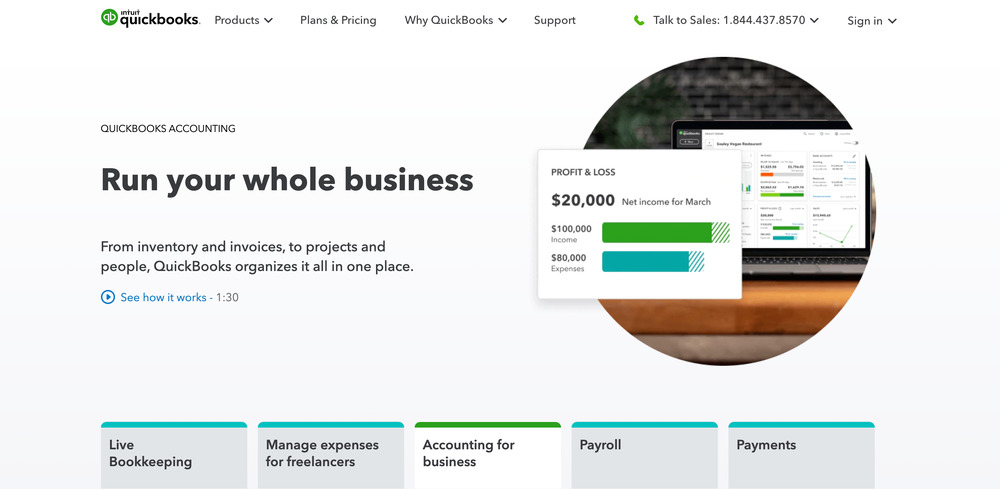 Quickbooks is an accounting and bookkeeping software for startups to track and manage their expenses.
Why it's a good startup tool:
Staying on top of your expenses is extremely important for startups, particularly in the early days when your resources are limited and you need to make the most of every dollar.
Quickbooks makes it easy to track all of your business transactions and categorize them so you can see where all of your money is going.
Another reason Quickbooks is helpful is most accountants and financial pros are very familiar with it. So whether you're hiring someone for bookkeeping or to do your taxes, you can give them all the data they need via Quickbooks instead of chasing down receipts and documents.
Pricing: Quickbooks starts at $15/month.
3. Xero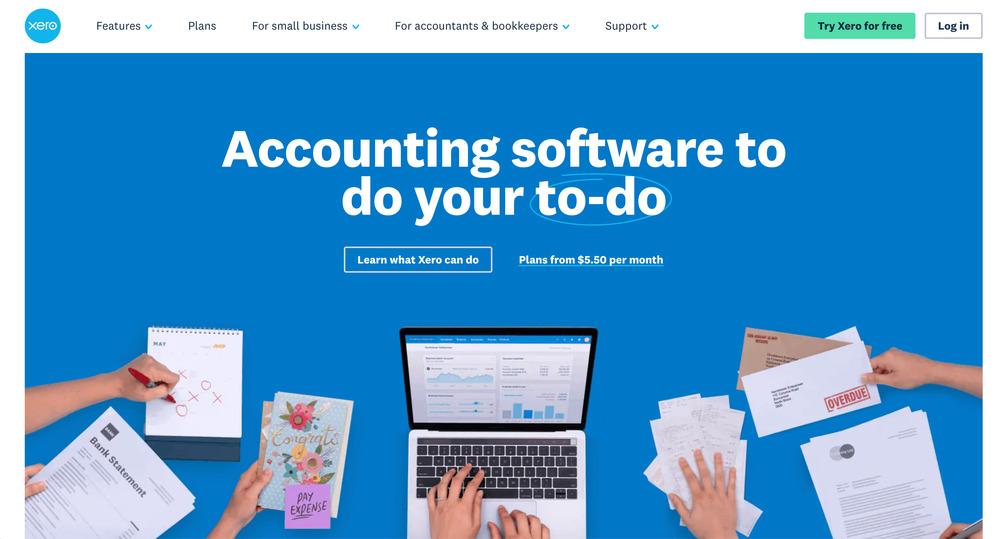 Xero is another cloud accounting tool for startups, with similar functionality as Quickbooks. Xero handles invoicing, expense tracking, and everything else a startup needs from accounting software.
Why it's a good startup tool:
One of the reasons so many startups love Xero is all of their integrations—there are over 700 of them. You can easily hook Xero up with all the other tools your startup uses for payroll, CRM, financials, and more.
Pricing: Xero starts at $11/month
4. Stripe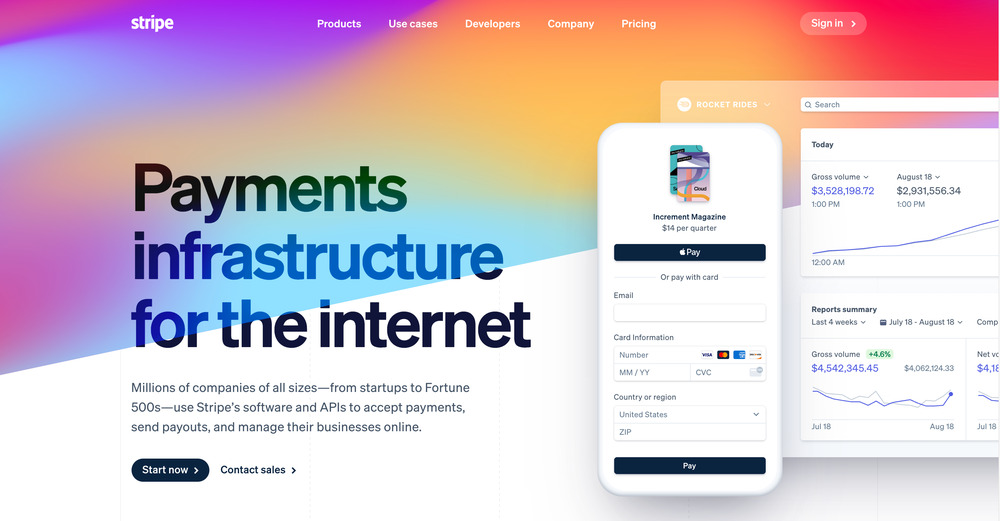 Stripe is arguably the most popular payment processor for startups, particularly for SaaS companies. Stripe allows you to accept online payments with a single platform.
Why it's a good startup tool:
One of the most common use-cases for Stripe is for startups with a subscription-based business model (i.e. most SaaS companies).
Some people have a preferred way to pay for products/services online, whether it's PayPal, credit card, or something else. With Stripe, your customers can pay via ACH, credit card, PayPal, and other payment methods, which creates less friction during your signup process.
On top of that, Stripe integrates with everything from email marketing software to accounting tools, analytics, and more, so all of your systems work together.
If you charge a monthly or annual subscription for your product, Stripe is the easiest way to handle your payments.
Pricing: Stripe charges a 2.9% fee + $0.30 per successful transaction.
Startup Tools for Marketing
In order to grow a startup, you need to get your product in front of people. But marketing a product is easier said than done. These marketing tools for startups will allow you to build a marketing strategy and measure your efforts.
5. Google Analytics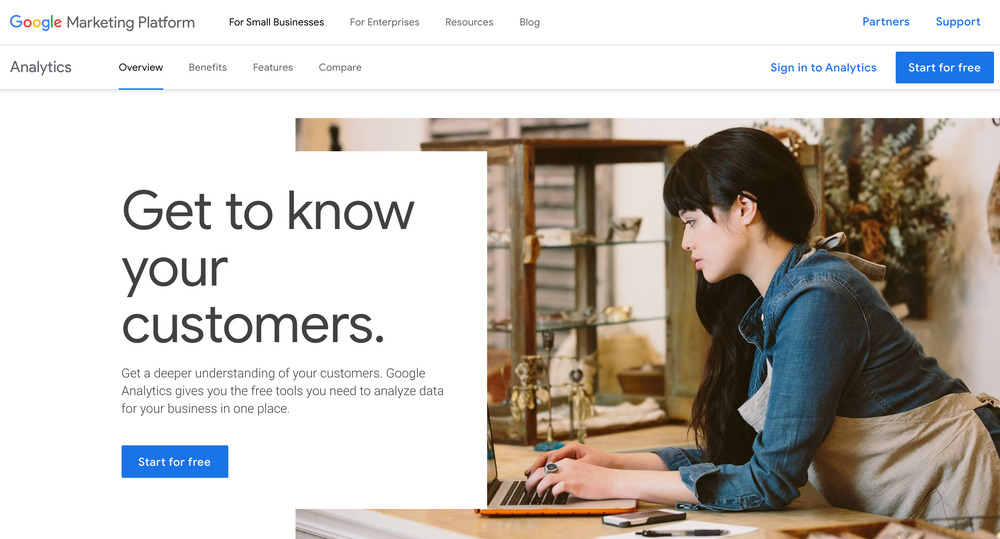 Google Analytics is a web analytics tool that allows you to track your website visitors. You can see where your traffic comes from, how they engage with your website, and more.
Why it's a good startup tool:
As you create content, promote your startup, and market your product, you'll ideally be pushing people to your website. And you'll want to know things like.
Are people reading the blog posts you're writing?
Did that write-up about your latest funding round in Forbes push people to your website?
Is your traffic increasing over time?
These are the types of questions you can answer with Google Analytics. And that's just the basics.
Google Analytics also has more advanced features like conversion tracking so you can see if your traffic is converting into signups, and even view your entire website funnel. The sooner you start tracking your website's traffic, the sooner you can measure growth, set benchmarks, and track goals.
Pricing: Google Analytics is free, and they also have a paid product for larger enterprise companies.
6. HubSpot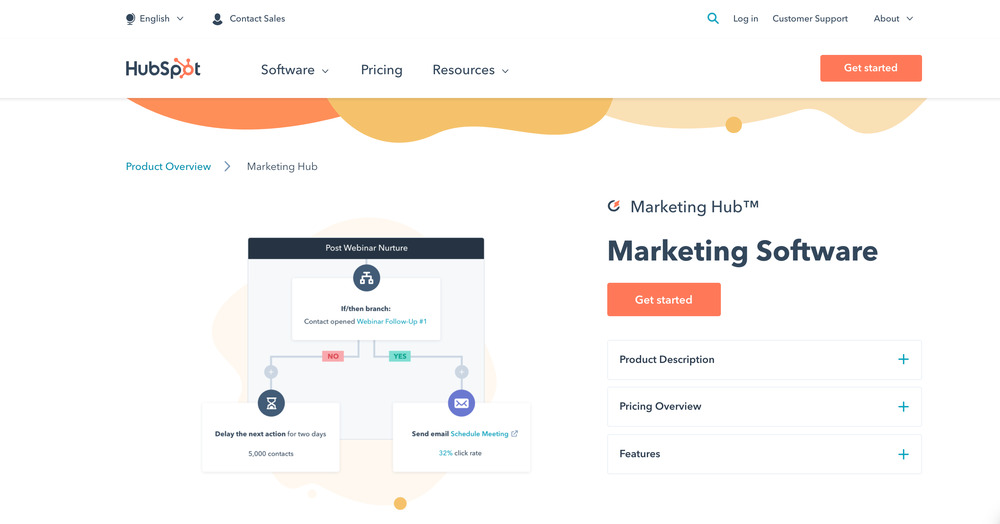 Hubspot is a suite of tools for marketing, sales, and CS. For this section though, we're focusing on their marketing automation features.
Hubspot allows you to create and manage email campaigns, track conversions, create reports, and a lot more.
Why it's a good startup tool:
Hubspot is intuitive and easy to get started even if you're not a marketing expert. That makes it a good option for founders who might not be as well-versed with marketing, but realize the importance of email marketing, creating content, and measuring performance.
Plus, Hubspot is scalable. So as your startup grows and you need more features and functionality, you can easily add-on to your subscription and pay for what you need.
Last but not least, their knowledge base is unparalleled—in terms of their product and learning marketing in general.
If you ever have questions about how to do something in Hubspot or need tips on how to improve your startup's marketing strategy, you can guarantee there's an article on their website about it.
Pricing: Hubspot's marketing tools start at $45/month (for annual plans).
7. Ahrefs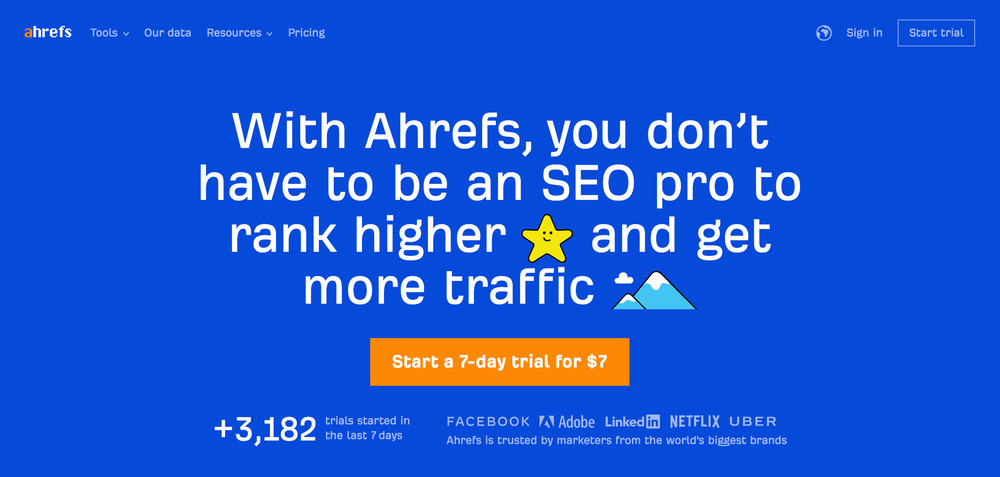 Ahrefs is an SEO tool for startups that allows you to do everything from keyword research to auditing your website, check backlinks, monitor keyword rankings, and more.
Why it's a good startup tool:
Using content marketing and SEO is one of the most efficient growth strategies there is for startups.
When you can find out what topics and questions your target audience has and create content for it, you build an evergreen inbound marketing funnel that you can benefit from in perpetuity.
Ahrefs makes it easy to find relevant topics and keywords your ideal customers are searching for. You can also search any of your competitors and see what keywords they're ranking for and their top pages in order to get an idea of topics that might also work well for you.
Pricing: Ahrefs starts at $82/month (for annual plans).
Startup Tools for Sales & Customer Support
Startups spend a lot of time interacting with leads and customers. From sales calls to answering questions from customers, communication is crucial to your success.
These sales and customer support tools will make engaging with leads and customers easier to track and manage.
8. HubSpot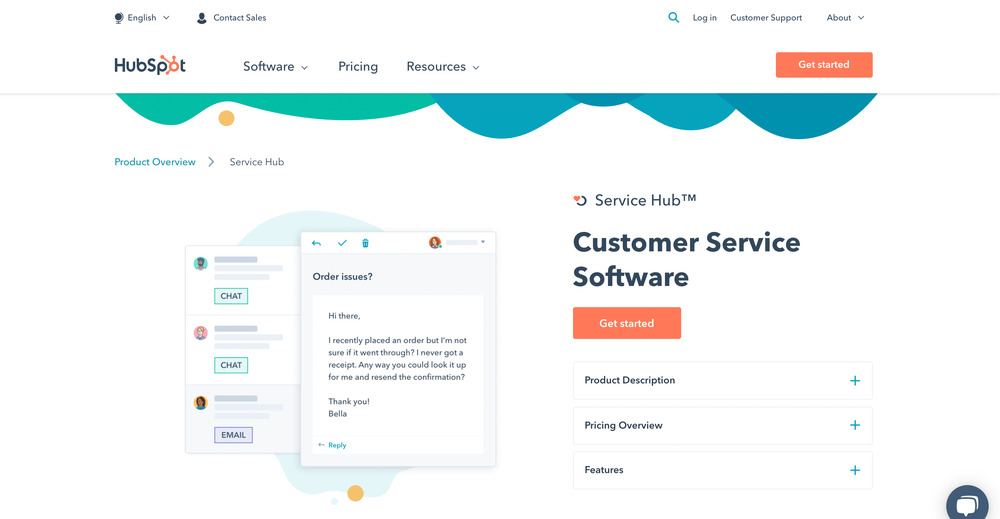 No, this isn't a typo. Hubspot's making a second appearance on our list, but this time for their sales and customer support tools.
Hubspot has CRM tools so you can create and manage your pipeline, nurture leads, and provide customer support.
Why it's a good startup tool:
CRM is a must for startups. You need a way to manage all of your leads and deals. Whenever a new lead comes in you can track everything from their status, conversation history, personal details, and any other important information about them in Hubspot.
Having your CRM, customer support tool, and marketing automation all in one place not only saves you from needing four different tools, but it also ensures that no wires get crossed since every team (sales, marketing, and CS) is using the same platform.
Pricing: Hubspot has a basic CRM tool for free, but their paid plans start at $45/month (for annual plans)
9. Intercom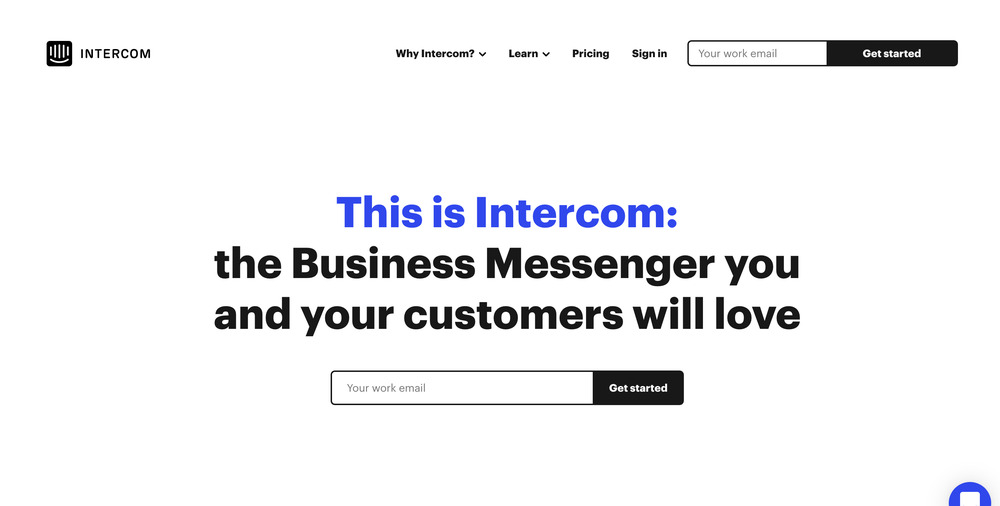 Intercom is a customer conversational tool that functions similarly to a CRM. You can use it to start and manage conversations with leads and customers on your website, app, social media, or email.
Why it's a good startup tool:
Whether you're in the early days of running your startup or you've built up a good size customer base, communication is key. But today, there are so many places where customers can reach out to you. Your website, email, social media, or even in your app.
With Intercom, you can engage with leads and customers across all the main communication channels.
For instance, you can use on-site messaging to start conversations with people who are browsing your website. You can use in-app messaging to allow customers and people in-trial to ask questions or to update them on product updates. And you can monitor the conversations customers have with you on social media.
All these conversations are organized and managed within Intercom so you have everything in one place. That makes it more convenient and easier to collaborate.
Pricing: Intercom has plans starting at $59/month.
10. Pendo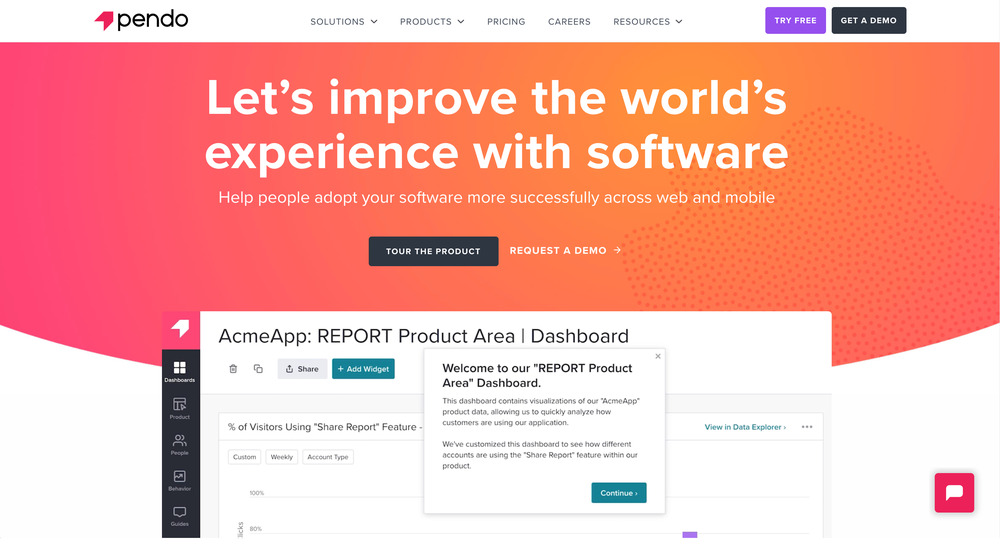 Pendo is a product experience tool that helps teams understand product usage, collect feedback, measure sentiment, onboard users, and communicate with customers in-app.
Why it's a good startup tool:
More and more startups are taking a product-led approach to growth. Meaning, you rely on your product to spur growth by creating the best product experience possible.
In turn, users are more likely to adopt the product and share their experience because you've created the best solution for their pain point, versus just having the best marketing or biggest budget.
Tools like Pendo help with that by allowing you to learn exactly how people use your product, what features lead to a shorter time to value, how people feel about your product and the overall customer experience.
Using the insights from Pendo, you can create a strategy for what features to focus on, what's missing, and other ways to improve your customer's experience.
Pricing: Pendo offers a free plan, but doesn't have their pricing publicly available.
11. Wingman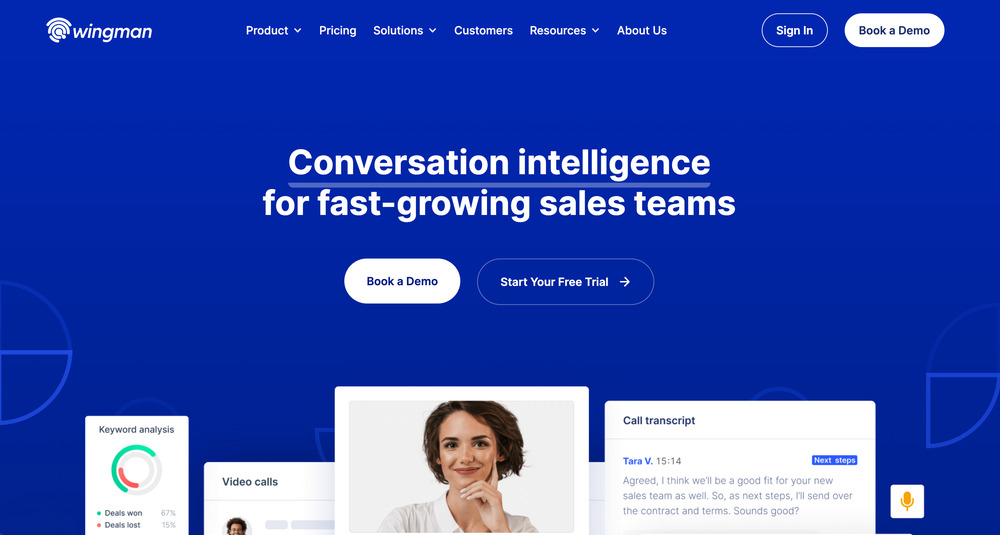 Wingman records customer-facing calls and takes notes on feedback, questions, and recommendations.
Why it's a good startup tool:
Calls with customers and leads are like a focus group on steroids. Hearing directly from people who use your product or are interested in what you sell tells you everything you need to know about their pain points, what they need from your product, and what's working (or not working) for your product.
Having a tool like Wingman that records, transcribes, and analyzes those conversations is wildly beneficial for your entire company.
For instance, it makes it easier to do sales training and improve your team's performance. Same thing for customer support.
But beyond those more obvious benefits, you can also share the recordings with the rest of your company.
Your developers can hear what customers like or dislike about the product experience. Marketing can hear what topics and pain points your product can solve. Founders can hear what customers and leads think about the company as a whole.
Wingman makes it easy to collect this data and learn more from conversations with leads and customers.
Pricing: Wingman starts at $500/rep annually
Startup Tools for Design
Design impacts how people feel about your company, user experience, website conversions, and your overall brand. Creating consistency and a scalable design process, however, can be a challenge if you're not set up with the right tools.
12. Figma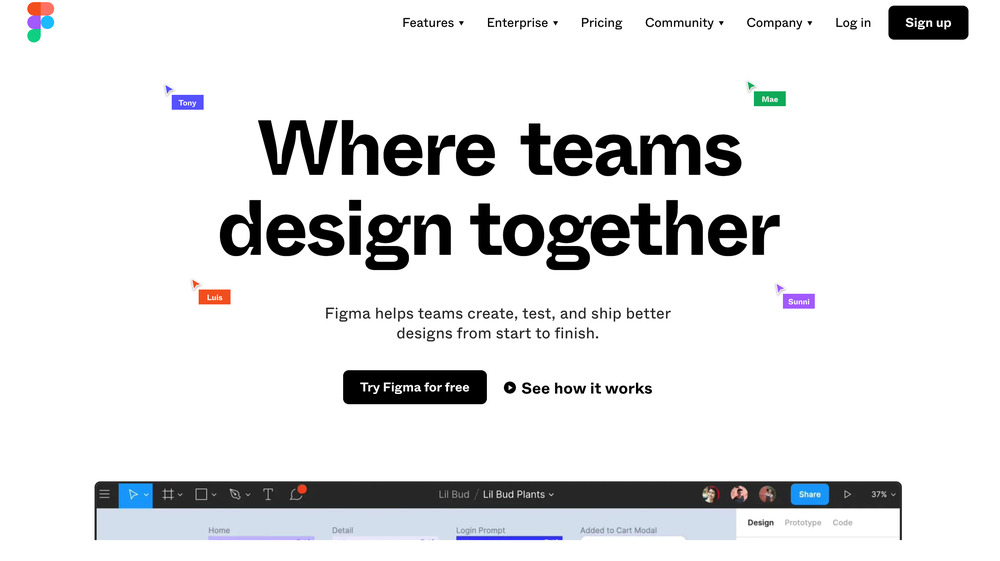 Figma is a fully-functioning design and prototyping tool you can use to create both websites and native mobile applications.
Why it's a good startup tool:
Figma was designed by designers, for designers. So they know the experience startups have when designing and prototyping websites and apps better than most.
They took their experience and knowledge and built a product that's easy for teams to collaborate, give feedback, test, and ship designs with a lot less friction.
For instance, by being able to prototype during the design process, stakeholders can see how their app or website will look and function in real time, before having to code.
On top of that, you can create a design system so you don't have to constantly re-create elements. As your startup's brand and look changes over time, you can update the system so that your branding always stays consistent.
Pricing: Figma has a free plan, and paid plans starting at $12/month (for annual plans)
13. Adobe Creative Cloud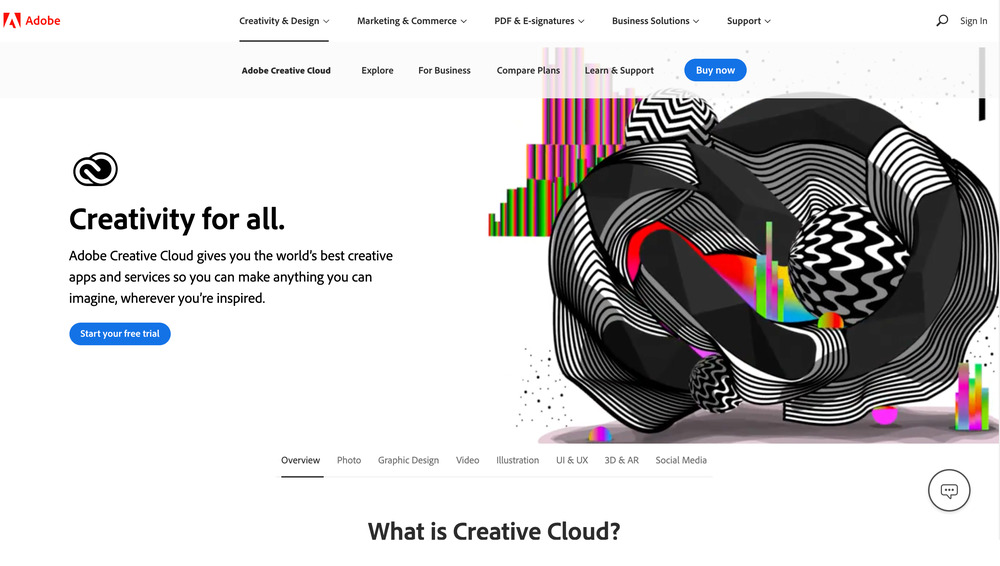 Adobe Creative Cloud is a full-stack creativity tool, which includes every application you need to create assets, including Photoshop, Illustrator, Indesign, and more.
Why it's a good startup tool:
Aside from the fact that Adobe's toolset has been around for so long, it's one of the best suites of applications to take care of every design requirement a startup might have.
Whether you want to design a logo, create custom illustrations, make video animations, or any other design assets, you can do it with Adobe Creative Cloud. The flexibility, features, and overall capabilities make it a must-have for design tool for startups.
Pricing: Adobe Cloud's pricing varies depending on which apps you need. See their pricing page for more details.
Startup Tools for Productivity & Operations
Internal communications, project management, and day-to-day operations are like the glue that holds startups together. Without them, projects get delayed (or overlooked), teams work in silos, and things slip through the cracks.
These tools will help you build internal processes and stay organized, so you can focus on growing your startup.
14. Slack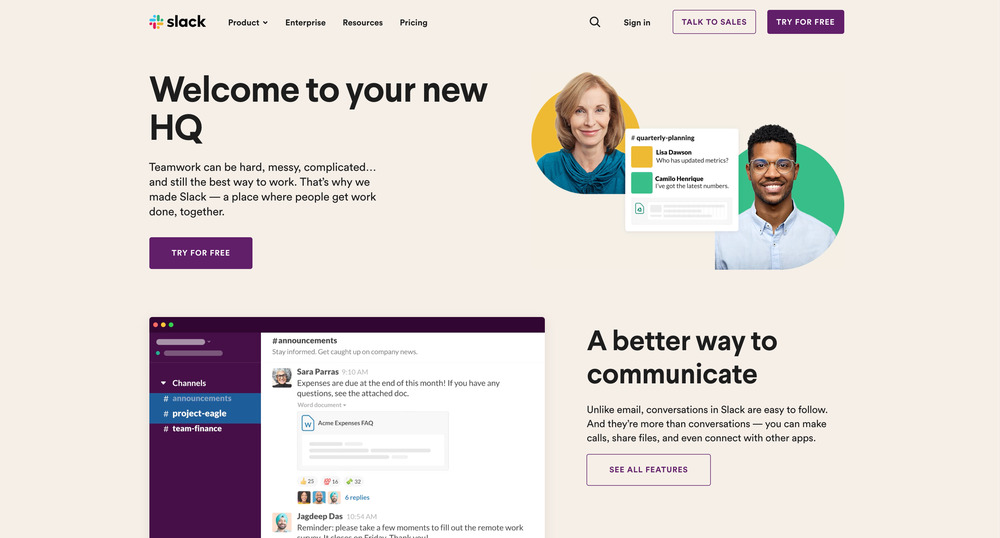 Slack is a messaging tool that teams can use to communicate in real time.
Why it's a good startup tool:
Slack has been popular in the startup ecosystem for quite some time. But in 2020, it became even more of an important tool with more companies transitioning into remote work.
With Slack, everyone in your company can message each other about projects, company updates, and of course, random banter. You can create Channels for specific topics, interests, or projects, which makes it easier to organize all the conversations going on.
For instance, if you're running a specific marketing campaign, you might want to create a Slack channel for it that contains all the stakeholders. Once the campaign is done, you can close out the channel, but still have a record of it in case you need to go back to it.
We talked about the importance of communicating with customers and leads. But internal communication is just as important, and Slack makes it easy.
Pricing: Slack has a free plan, and paid plans starting at $6.67/user per month.
15. Asana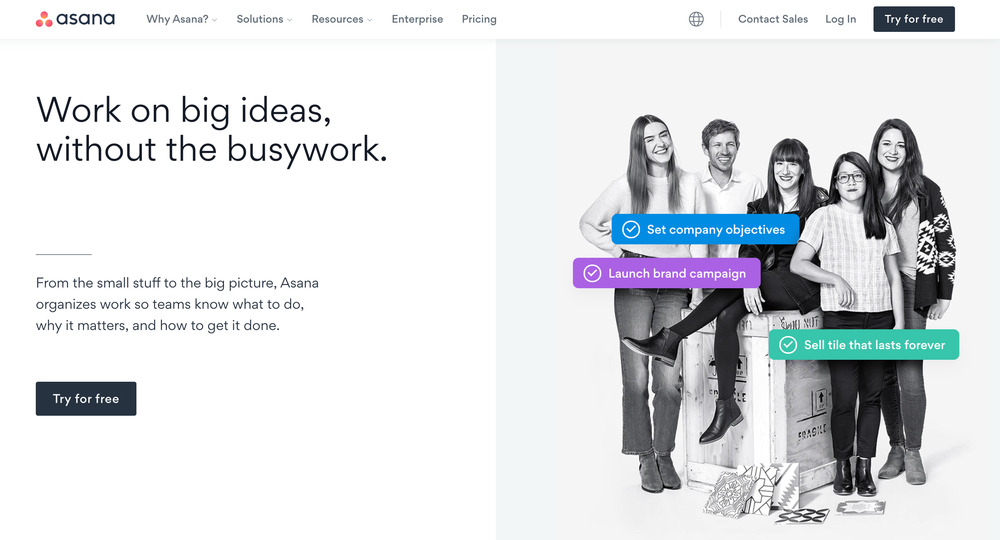 Asana is a project management tool that makes it easy to organize marketing campaigns, sales deals, internal operations, product roadmaps, and more.
Why it's a good startup tool:
A typical work-day at a startup can be chaotic. At any given time, you could have a dozen or more things on your to-do list. And they could all involve multiple team members, different departments, have specific due dates, and specific processes to follow.
With Asana, you can take everything you have on your plate and organize it into Kanban boards, lists, and calendars to visualize all the projects you have going on.
All your stakeholders can also collaborate on different projects as well. So instead of having conversations through email, you can comment on the particular task in Asana so everything is neat and organized.
Pricing: Asana has a free plan, and paid plans starting at $10.99/user per month (for annual plans)
16. Google Drive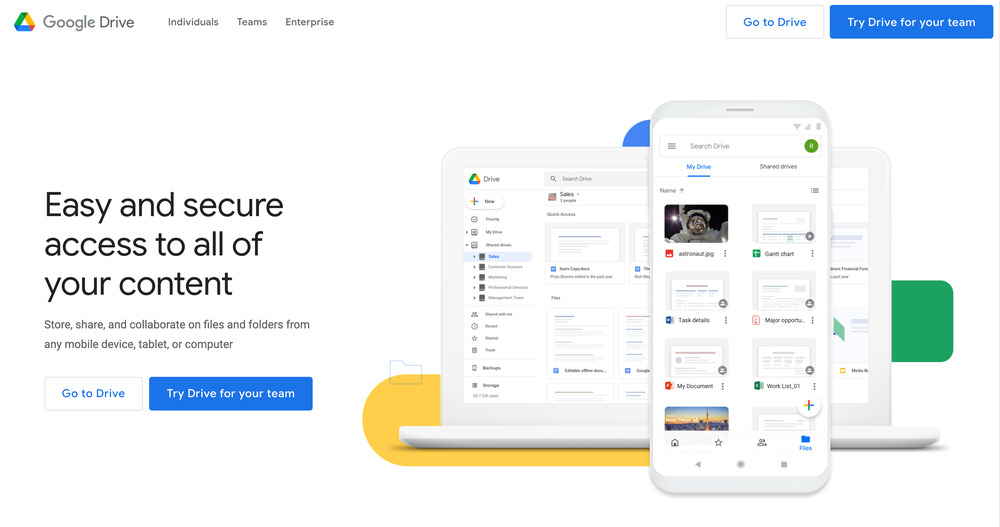 Google Drive is a cloud storage tool where you can save, share, and collaborate on all types of documents—Word documents, spreadsheets, slideshow presentations, forms, and more.
Why it's a good startup tool:
The days of creating documents and sending them back and forth over email are fading away. Particularly for startups, you need the flexibility to create and collaborate on documents in real-time, and be able to access them anywhere.
With Google Drive, you can create a "home" for all of your startup's documents. Whether it's content, monthly reports, decks for investors, brand guidelines, or anything else, you can store it all in Google Drive and control who can access which files.
Pricing: Google Drive is free for up to 15GB of storage. Paid plans start at $1.99/month for extra storage.
Startup Tools for HR
Without a solid team, the growth trajectory for your startup will be limited. Not only do you need to hire great talent, but you also need to ensure they're happy and fulfilled. These HR tools will assist you with hiring and managing your employees.
17. Gusto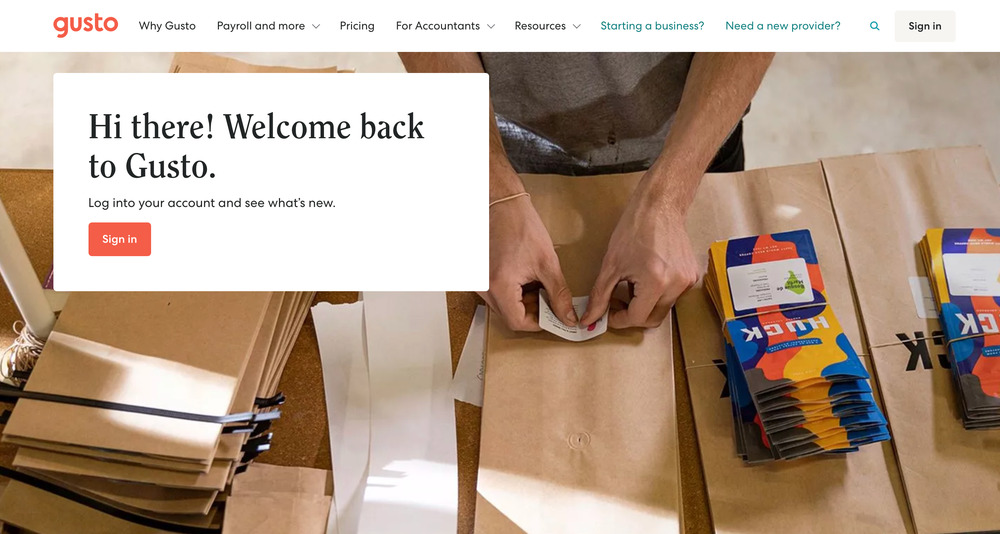 Gusto is a popular HR platform that lets you manage payroll, benefits, time tracking, employee onboarding, and more.
Why it's a good startup tool:
HR software has changed dramatically over the years. It's no longer only used by the HR department. Now, HR tools have become "dashboards" for employees to check their paystubs, access their benefits, and more.
With Gusto, you have everything you need for HR under one roof. You can see all your employees, manage payroll, set up an employee onboarding process, and more.
Gusto is particularly helpful for startups that don't have a dedicated HR department yet. On top of the software itself, Gusto helps founders make sure they have everything they need to properly manage the "people" side of running a business.
Pricing: Gusto starts at $39/month, plus $6-12/month per person.
18. ADP
ADP is another popular HR software tool for payroll, benefits, onboarding, and other tasks HR teams manage.
Why it's a good startup tool:
ADP is great for a lot of the same things as Gusto. It gives you a single place to manage all of your people. From ensuring they get paid on time and the correct amount, to managing benefits, and more, you can do everything your startup needs for HR with ADP.
On top of that, ADP also has an outsourcing service in case you don't want to manage it all yourself but aren't ready to bring on HR employees yet.
Pricing: ADP's pricing is not publicly available
Startup Tools for Engineering & Development
The list of tools engineers and development teams use is long and varies a lot from business to business. However, here are a couple of tools that should work for most startups.
19. Jira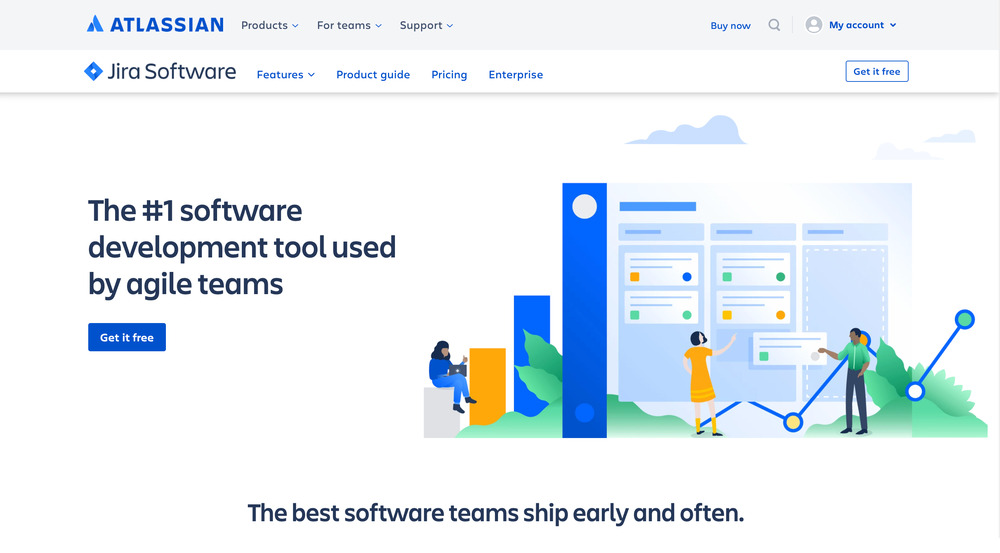 Jira is a Project Management tool that can be used to track and manage any number of projects and deliverables across different teams and disciplines.
Why it's a good startup tool:
If you've worked in a SaaS startup recently, you're probably familiar with JIRA.
The reason startups like using Jira is because it's very customizable and flexible. Want to set up sprints? You can do it in Jira. Need a Kanban board to track bugs and dev requests from other teams? Jira has you covered.
On top of that, the fact that it's so widely used means it's a great tool to implement in your startup early on because chances are any engineers and project managers you bring on will know how to use it.
Pricing: Jira has a free plan and paid plans starting at $7/month per user
20. Jenkins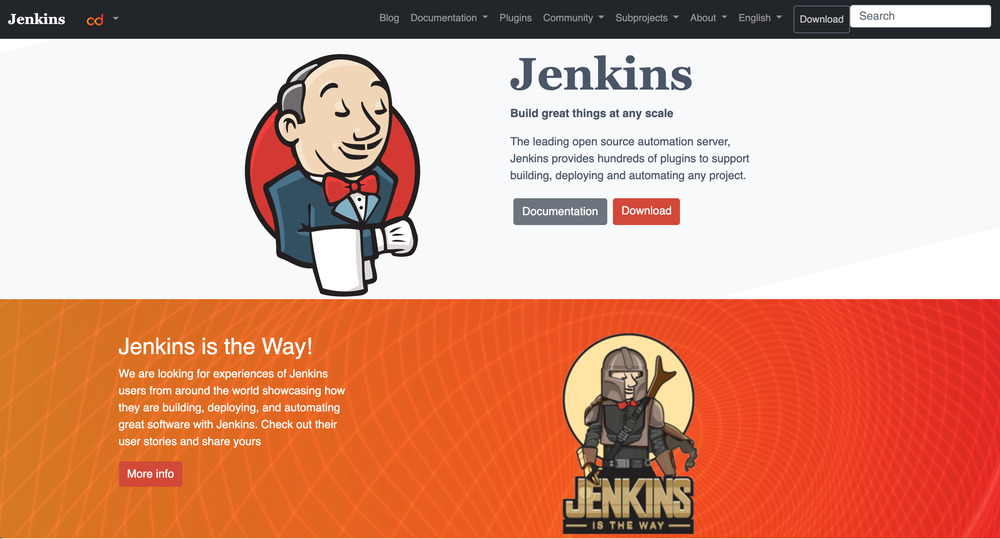 Jenkins is a configurable continuous integration platform that allows for automation of software builds, automated quality assurance tests, and much more.
Why it's a good startup tool:
When it comes to engineering and development, any tasks that can be automated frees your engineers to focus on the things that can bring additional value to customers. Jenkins can save engineers hours every single day by automating builds and QA tests.
It's also very configurable and able to be hosted/managed internally at no cost.
Pricing: Jenkins is free
Choose the Right Tools to Fuel Your Startup
This is by no means a "complete" list of all the tools we recommend for startups, but it should give you a good foundation to build on.
It's easy to be distracted by shiny object syndrome with all the new tools that come out every day. Particularly if you spend as much time on Product Hunt as I do.
But the most important thing to consider with any startup tool is how it can improve your company. If it doesn't add value by saving you time, providing you data, or anything else helpful, don't feel obligated to buy.
Shameless plug: One tool that will save you hours of time and give you insights to grow your business is ours—Finmark! You can learn more about it and try it free for 30 days here!