Introducing Finmark 3.0!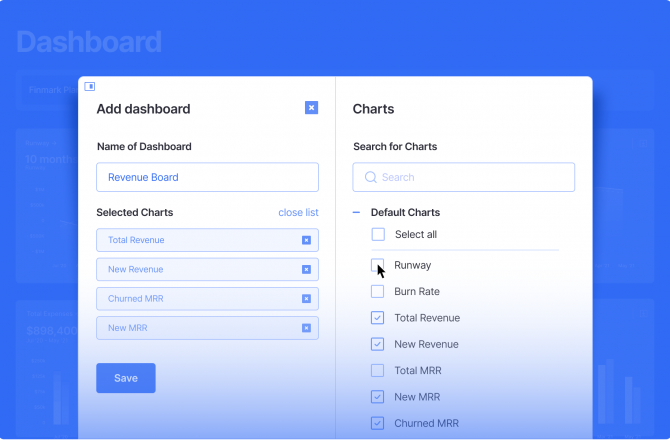 It's amazing how much can change over the course of a year. In January, we announced the release of Finmark 2.0, which gave you more flexibility and control over your financial plan.
Less than 12 months later, not only have we joined forces with BILL, but we're excited to announce the launch of Finmark 3.0!
It has been quite the journey to get to this point, but thanks to your feedback, we've taken everything you love about Finmark, from BILL and elevated it to new levels.
Here's a peek at what you can expect when you log in.
Custom Dashboards Tailored to Your Business
Your dashboard is the command center for your company's finances. It gives you an overview of your cashflow, payroll, customer metrics, and more. But there is no one-size-fits-all dashboard that works for every business.
With our latest release, we're giving you more control over the look and feel of your dashboard!
Create multiple dashboards to drill into specific areas of your business
Add any metric to your dashboard
Choose how you want the data displayed (line charts, pie charts, funnels, and more!)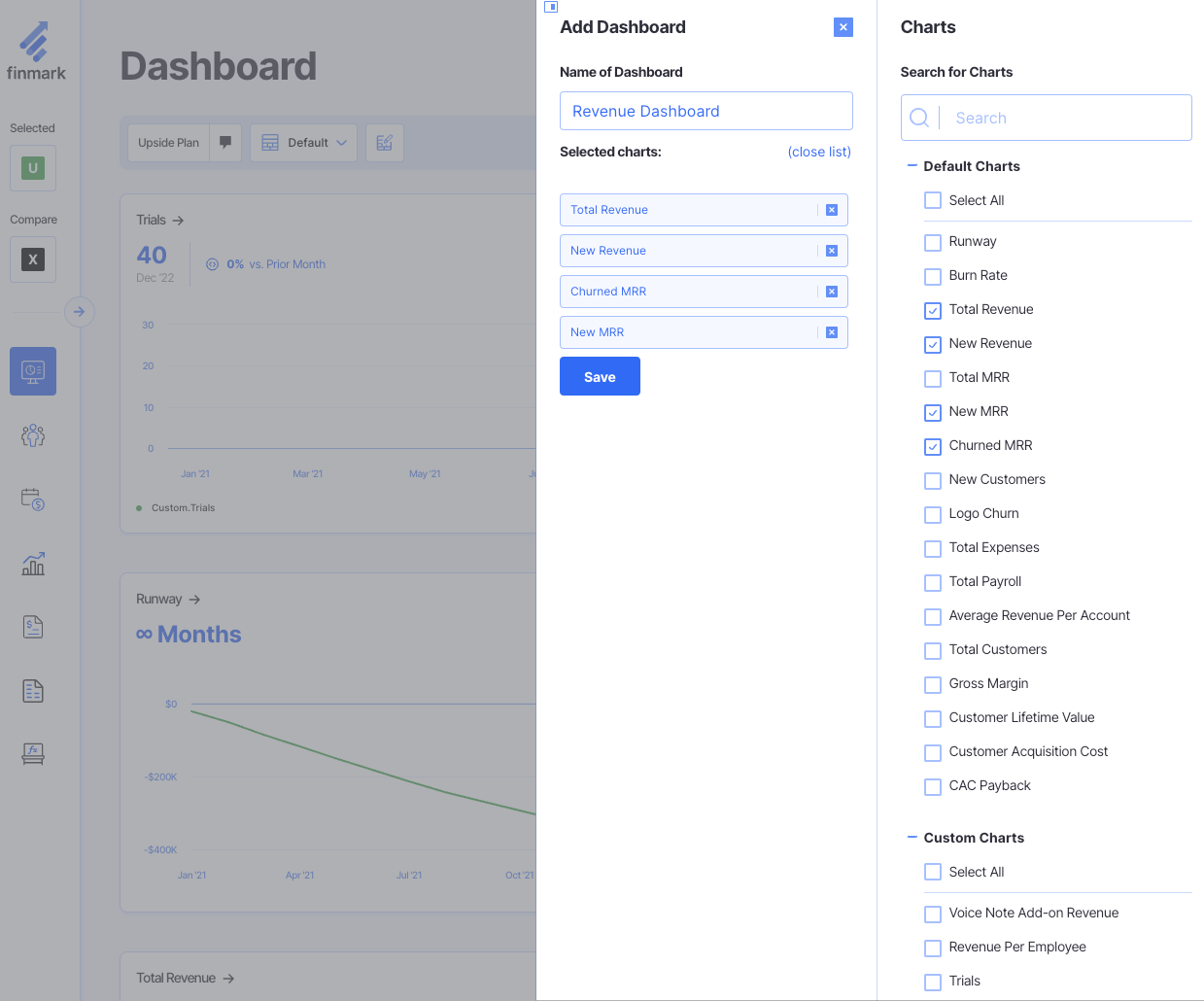 A Better Way to Collaborate
Collaboration is one of the biggest bottlenecks for businesses that manage their financial plans in spreadsheets. Critical and sensitive conversations are spread across emails, spreadsheets, Slack, and elsewhere.
We've solved that problem by adding commenting, annotations, and tagging in Finmark.
Have a question about marketing's ad spend for next month? Tag your head of marketing directly on the line item to get more context. Is there a budget variance in the sales department? Add a task for your accounting team to dig deeper.
These collaborative features give your entire team a better understanding of how their day-to-day roles impact the business and make it easier to build more accurate forecasts with the help of key stakeholders.
Variable-Galore!
The beauty of Finmark (aside from our shockingly aesthetic UI) is in how easy it is to customize your model. There are many reasons for that, but one of the big drivers is our use of variables, which we've elevated to new heights.
Variables allow you to use intuitive words instead of abstract combinations of letters and numbers. (No more 'LongSheetName'!$AC$1693:$DQ$1746 references!)
These references are complex, error-prone, and can also be confusing. (Ever go back to a model you haven't looked at after a couple of months or have to take control of someone else's model?)
Well, no more. Want to reference total headcount or software expense for the product managers—just start typing "headcount" or "software," and we'll present you with a list of suggested system-managed variables.
Furthermore, you can create custom variables using data from inside and outside the application.
The Central Hub For Your Financial Data
Many businesses have financial data scattered across multiple systems. You use one tool for payroll, another for expenses, revenue, and the list goes on. Plus, these systems are likely connected through a combination of spreadsheets and additional automation tools.
We've built Finmark to be the source of truth for your financial data. That means integrating with the tools your business already knows and loves. Over the past year, we've added several new integrations based on feedback from our customers, including Gusto, ADP, and BambooHR.
You can see our full list of integrations here, and the ones on our future roadmap.
Scenario Comparison
Scenario comparison continues to be one of our customers' favorite features. Creating and comparing multiple financial plans makes it easier to choose the best path forward and pivot when necessary. (Try doing that across multiple spreadsheets!)
We've made a few enhancements to make analyzing your scenarios more intuitive. You can compare scenarios across all your reports, and we've enhanced the design to make it easier to distinguish between scenarios.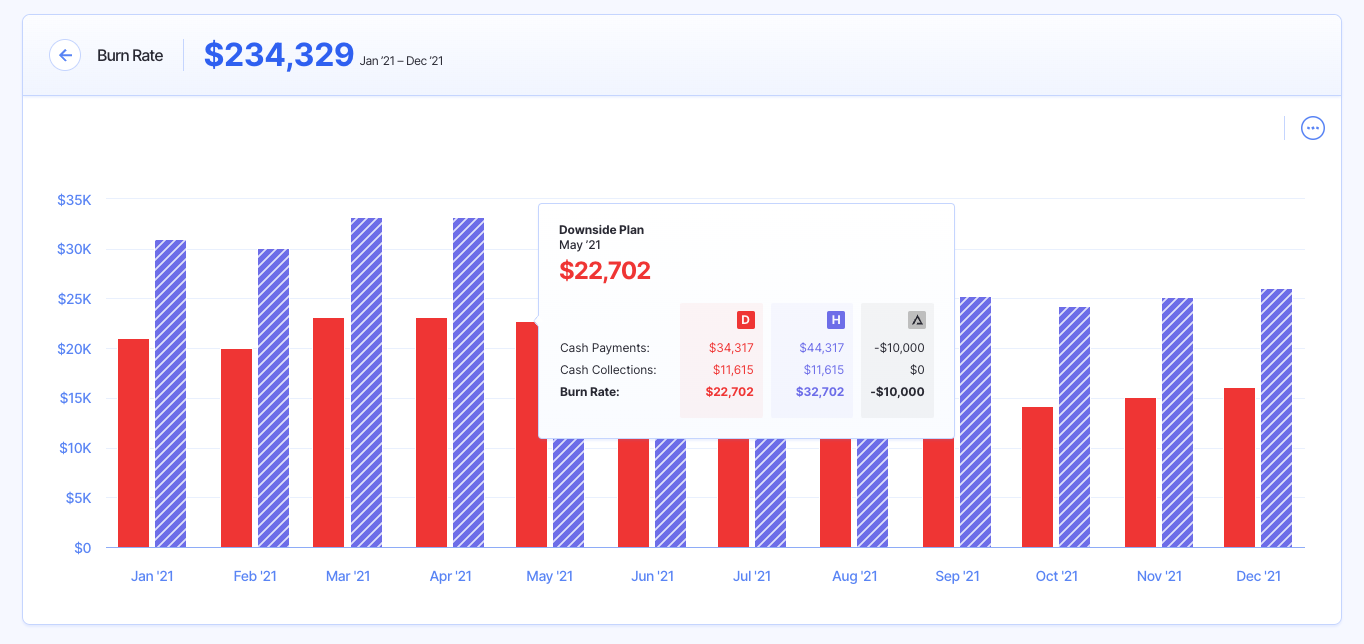 Want to dive in and test the new and improved Finmark experience? Log in to get started!