Cash Flow vs. Profit: What's The Difference?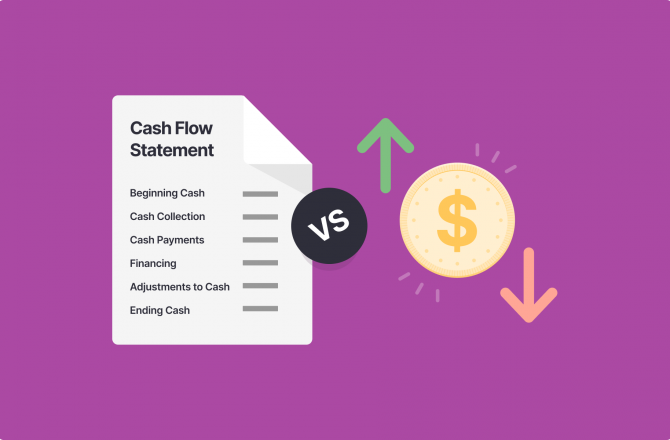 As a business owner, you're likely focused on the financial success of your company, and profit is a crucial aspect of that. But profit isn't everything.
Cash flow is another essential metric you should track, but it sometimes gets mixed up with profit. Both will tell you how money is entering and exiting your business, but they can tell two completely different stories.
We'll start by defining profit and cash flow before digging into why they're different, when to use each, and what to do with the information they present.
What is Profit?
Generally speaking, profit is how much money a company has left after accounting for expenses. However, profit can be broken down even further into two categories: gross and net profit.
Both are reported on your profit and loss statement (a.k.a income statement). It's important to distinguish between the two metrics though.
Gross profit is your total revenue minus any direct costs of fulfillment (cost of goods sold or cost of service). It measures the positive impact of sales before any costs of operation.
Here's an example of what gross profit looks like on a Profit and Loss statement: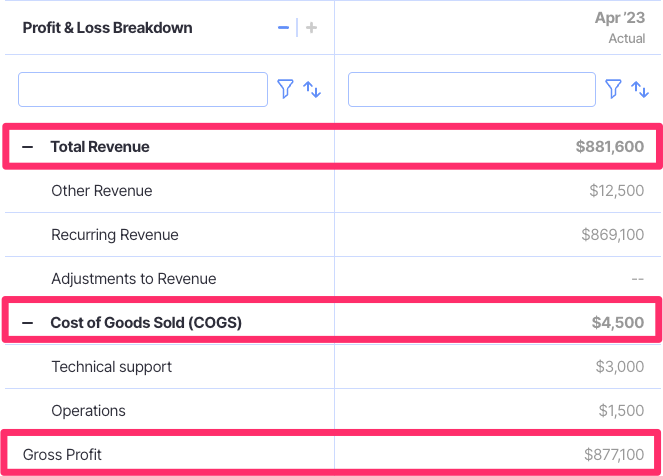 However, when most companies mention profit, they're referring to net profit.
Net profit (a.k.a. net income) is the your total revenues minus all your expenses, including operating costs.
It's a metric business owners and investors pay keen attention to in order to understand whether a business is generating more money than it's spending in its day-to-day operations.
Here's an example of what net profit (noted as Net Income) looks like on a Profit and Loss statement. Notice that it's calculated by subtracting total operating expenses from gross profit.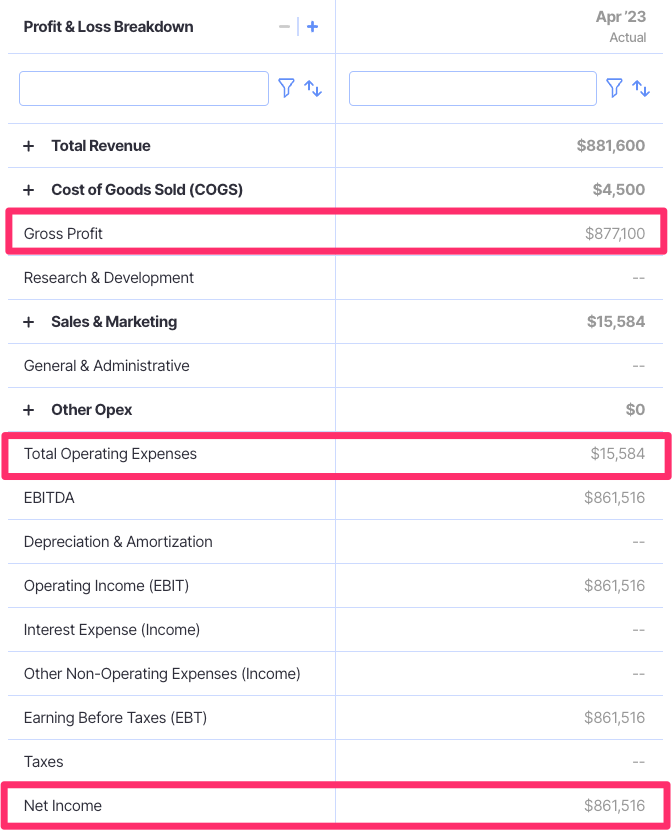 Let's break profit down into its two components:
Revenue: The total income a business earns from the sale of goods or services as part of their operations.
Expenses: The costs a business incurs from operations. This includes taxes and non-cash expenses like depreciation and amortization (more on that later).
To find profit, simply subtract the total expenses from the total revenue. Profit is also easily found on an income statement where your revenue and expense amounts are clearly reported and broken down.
To illustrate profit, let's look at a local courier company.
They bill at the point of sale and on average, it takes 10 days for an invoice to be paid. Recently, they purchased new delivery bikes which their accountant helped them calculate depreciation for.
Their income statement for March looks like this: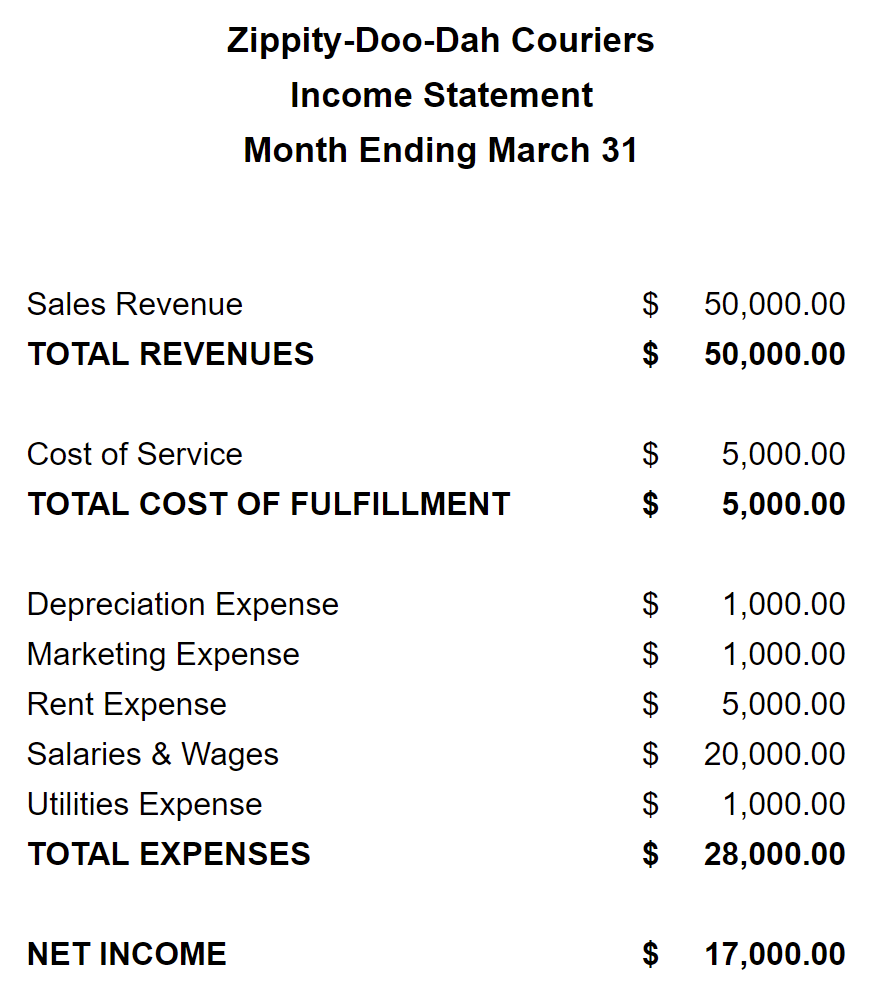 The business shows a positive net income meaning they turned a net profit of $17,000. If the net income was negative, it would be called a net loss.
What is Cash Flow?
Cash flow is how money enters and leaves your business. There are cash inflows where money enters the business, and cash outflows where money leaves the business.
Cash flow is tracked on the aptly named Cash Flow Statement.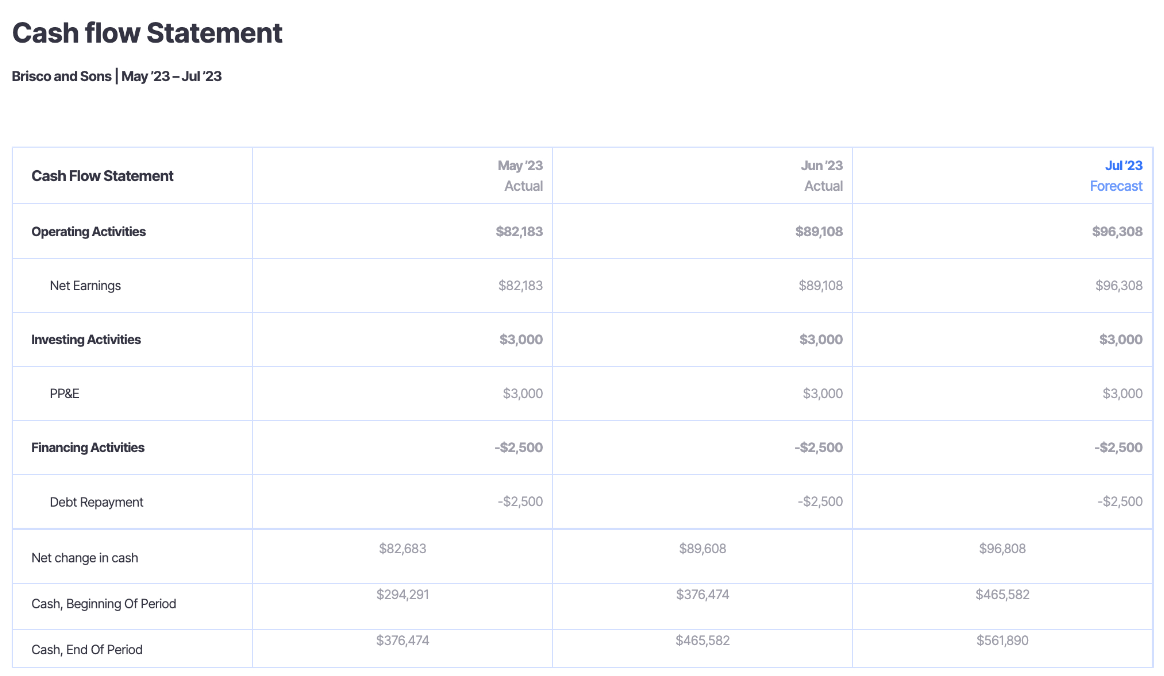 While profit sounds similar, there are a few key factors that makes cash flow another important metric to track:
Strictly cash activity: Businesses use all sorts of accounting techniques to make their financial reporting more accurately represent their operations. Amortization and depreciation are two examples of recording expenses where money isn't leaving the business.
Only cash that's changed hands: If you track accounts receivable and payable, those are revenues and expenses where the money hasn't been moved yet. Cash flow doesn't care about when the sale or expense happened, but when it's been paid.
Capital expenditures: Some purchases are recorded on the balance sheet as opposed to the income statement. Something like a real estate investment or new equipment affects cash flow, but not profit on the income statement.
Even profitable businesses can struggle with cash flow (read this if that's you).
Whether it's unpaid invoices, a big capital expense, or non-cash activity, a business can be profitable over a period of time and still end up with less cash than at the start.
To illustrate this, let's look at Zippity-Doo-Dah Couriers whose income statement showed a $17,000 profit for March. They need to adjust for non-cash activity, a change in accounts receivable, and the purchase of a new fleet of delivery bikes.
To calculate their cash flow, they make the following adjustments:
Net Income: $17,000
Depreciation Expense: +$1,000
Change in Accounts Receivable: -$5,000
Change in Capital: -$15,000
Net Cash Flow: -$2,000
With these adjustments, the business removes any non-cash activity and adds in any cash activity not included on the income statement. Despite being profitable in the month, they experienced negative cash flow.
Cash Flow vs. Profit: Which is More Important?
The simple answer is that they both are important.
Think about it like tracking a run.
An income statement is like looking at a map showing your distance traveled, change in elevation, and your time. But it doesn't show how much energy you had for a big hill climb, the effect of a rock in your shoe, or the headwind you faced at the start.
Cash flow shows the cash reality your business faces beyond the performance measured by profit.
If you're trying to figure out how much usable cash you have in the business, cash flow is an essential metric to track. It's great to use when budgeting or planning for future purchases.
Business owners and investors care about profit to understand how sustainable a business is. If a business is profitable but has short-term cash flow problems, lending or investment could be a bridge to help them realize their potential.
Comparing the two metrics helps you understand your recent activity on a much deeper level. If cash flow and profit are significantly different, why? That answer helps shape your future decision making.
When to Use Profit and Cash Flow
In general, every business should look at their profit and cash flow regularly. But there are some particular situations where tracking both has the most value:
Using the accrual basis accounting method: Cash basis businesses only record revenues and expenses when cash changes hands. But if you use the accrual basis, much of the activity recorded isn't cash activity making the two metrics significantly different.
High capital investment: The more non-cash assets you have on your balance sheet, the more your profit and cash flow diverge. Think businesses with real estate, equipment, or vehicles where the purchase is recorded on the balance sheet.
Subscription based services: Businesses that sell annual subscriptions often use unearned revenue to spread the annual purchase over the 12 months the service is provided. This means months potentially showing more profit than cash flow.
Long A/R or A/P turnaround times: If paying or being paid for invoices takes a long time, the impact on your cash flow will always lag behind. Profit becomes an extremely inaccurate depiction of actual cash activity.
What To Do When a Business is Profitable But Cash Flow Is Negative
You check your profit and everything looks great, but your cash flow is negative. What do you do?
As we've discussed, there can be many reasons why profit and cash flow tell two different stories. But if you want some quick tips on what to do to bridge the gap, consider the following:
Open a line of credit: A line of credit is a way to borrow how much you need, when you need it. Just be mindful of the interest you pay. Even the best lines of credit can cost 10 to 80% of the amount borrowed, which affects your profit.
Incentivize fast payments: If A/R turnaround times are bringing you down, consider offering a minor discount or perk for quick payments. Alternatively, charge interest if invoices are overdue and shorten due dates.
Time your A/P payments: If a little extra time helps you keep cash flow positive, reach out to suppliers to negotiate a later payment. Ideally, your A/P payments are timed to go out after your A/R payments come in.
Regularly forecast cash flow: Start projecting your cash flow to identify when it might slow down. This gives you an opportunity to budget how much you'll need to save to get through that period.
For more helpful suggestions, check out our 11 tips for better cash flow management.
Track Profit and Cash Flow With Finmark
Want all the extra value of tracking profit and cash flow without the extra work of doing the calculations? Check out Finmark from BILL.
Finmark is a powerful financial reporting tool that provides pre-built and customized reports that update in real-time. Your financial activity imports seamlessly using integrations with QuickBooks, Xero, Wave, and more. That's less time doing busy work and more time gaining insights into what's happening in your business.
Get started with a free 30-day trial.
Brendan Tuytel
Contributor