Finance Department Structure: How to Build Your Team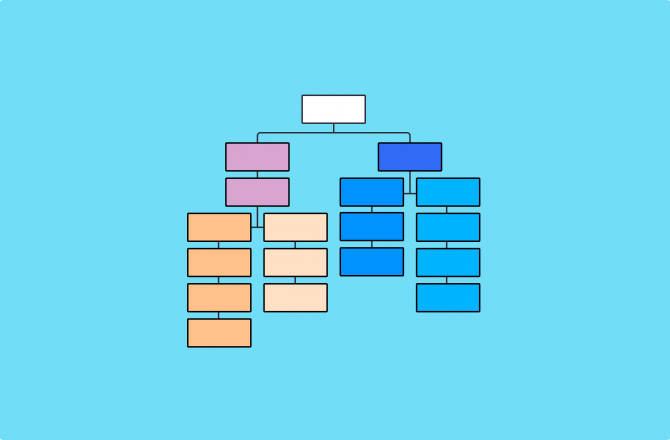 Managing company finances isn't always a founder's strong point.
Many founders get into it because they're passionate about their product and generally experts in that field.
Sure, you might be passionate about making money too, but the technical details of financial management often look and sound like another language altogether.
In that case, you must build a finance team that fills in those knowledge gaps and can provide actionable advice based on comprehensive data.
The question is, who do you need?
Should you outsource to an accountancy firm? Hire a CFO? Use freelancers?
In this article, we'll break it down by describing the roles you should be hiring for when building a finance team.
Building Your First Finance Team
Okay, before we look at the positions themselves, a quick primer.
We're not going to tell you exactly how you should structure your finance department or dictate the roles you should be advertising for.
That's because every company is different. Each startup is structured differently and at a different growth stage, thus having very different needs in the finance department.
Instead, we'll explore 14 different finance roles, discussing what they do and why you should hire them.
The whole point of this exercise (building a finance team) is to identify the roles you need and then fill them with the right people with the right experience.
14 Most Crucial Roles To Hire For Your Finance Department
Let's start at the top with the financial hire that's likely to be your first, unless you've got specific financial experience.
Chief Financial Officer (CFO)
The CFO is pretty much the big boss of finance, at the top of the financial department structure hierarchy.
They're part of the executive team and are primarily responsible for:
Analyzing the company's financial strengths and weaknesses
High-level decision-making and supporting other finance staff
CFOs can be a smart first hire in a growing, funded company, as they're experienced, knowledgeable, and can help to develop the rest of the team.
However, more startups are starting to turn to outsourced CFOs in the earlier stages of their company.
It's significantly less expensive than hiring a CFO, and you get many of the same benefits.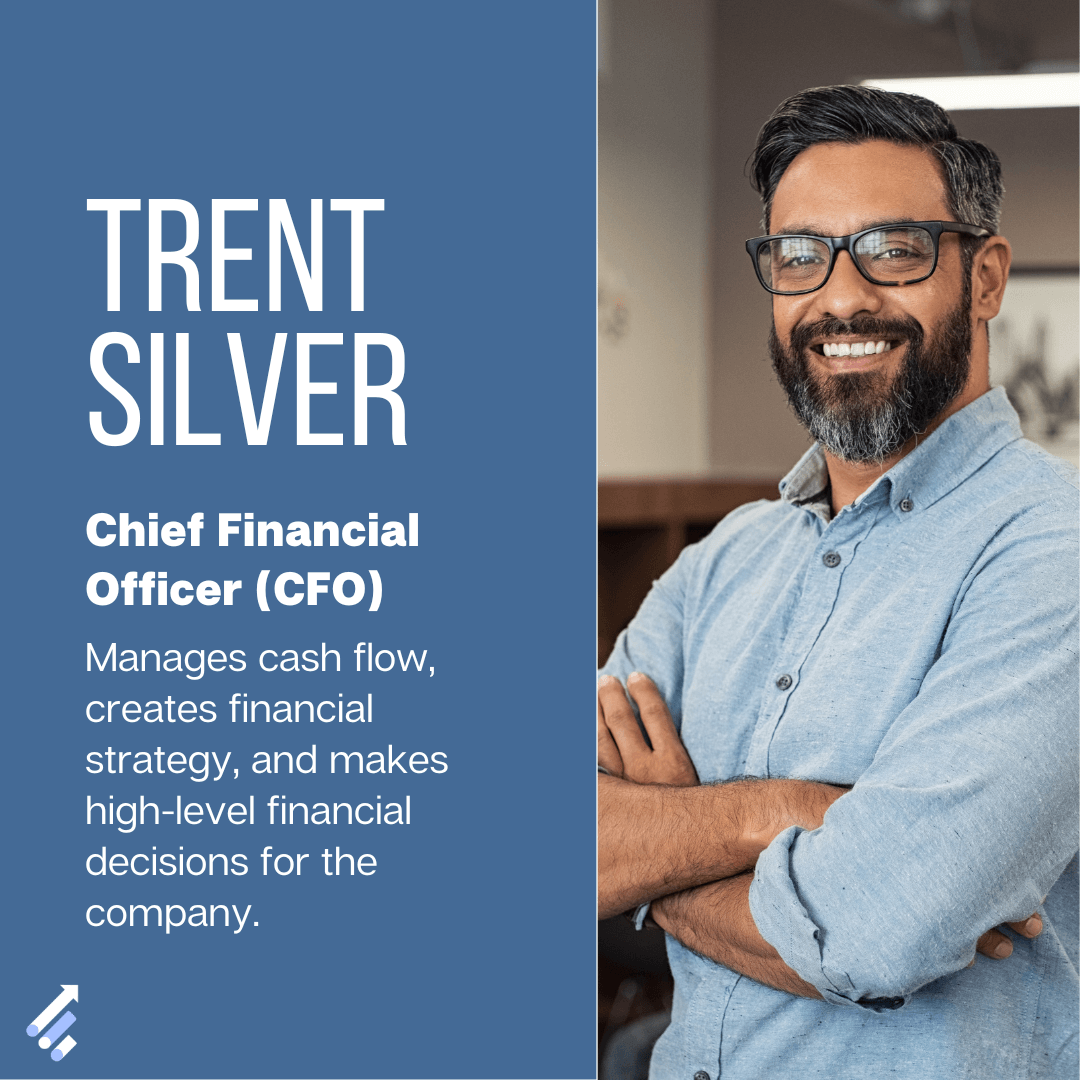 Chief Risk Officer (CRO)
The CRO (Chief Risk Officer, not to be confused with Chief Revenue Officer) is, you guessed it, responsible for predicting, mitigating, and managing risk.
Risk can include competitive, safety, regulatory, and technological risks, but this is almost always viewed through a financial lens. Hence the CRO is part of the finance team.
CROs are a good hire as you scale and your employee headcount grows.
You'll start to encounter more risk as you obtain more market share (more share means more to lose), so this is a wise time to invest in a Chief Risk Officer.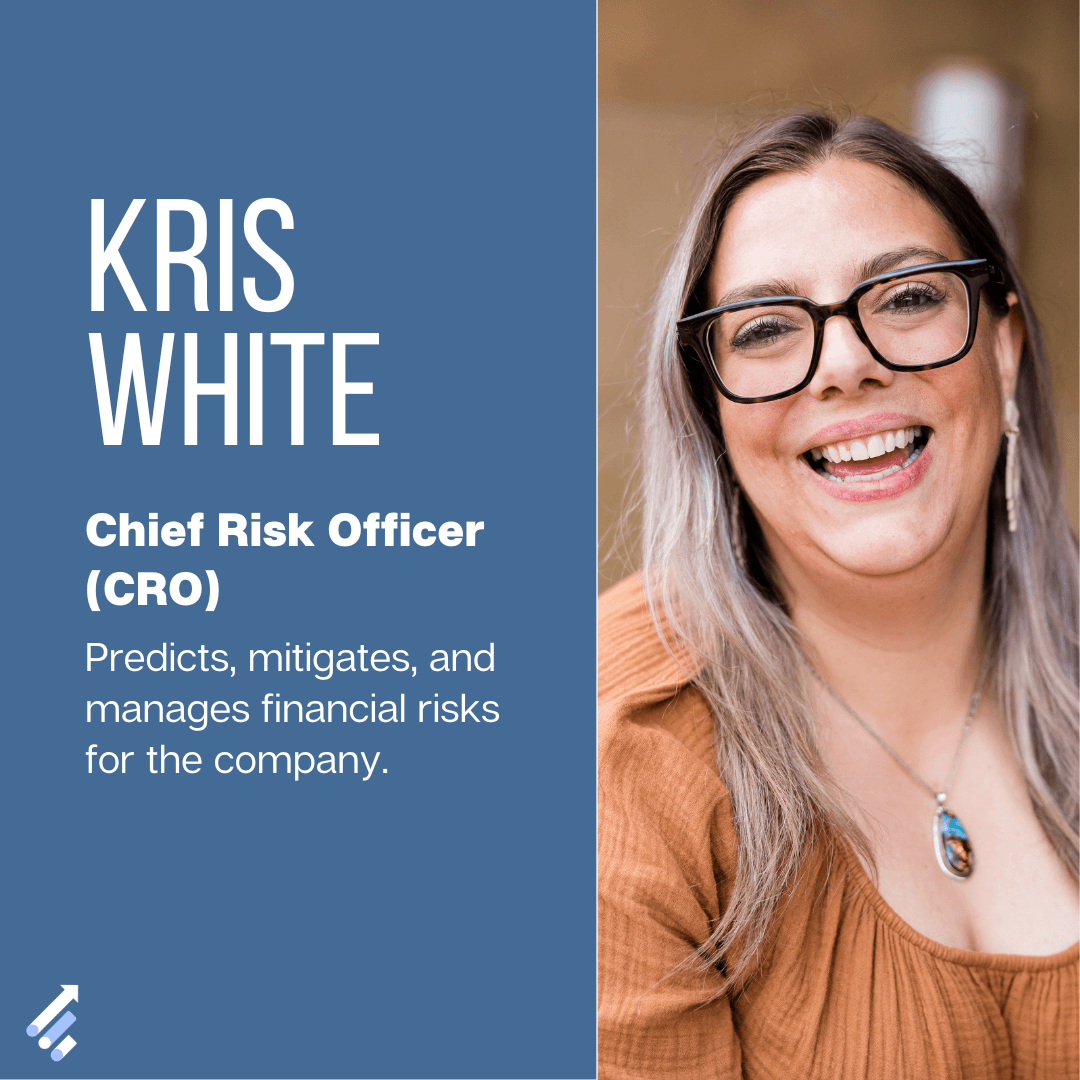 Treasury Manager
The Treasury Manager (or sometimes simply Treasurer) helps the company grow its revenue primarily through investments.
They'll analyze banking options to find the best place to store your working capital and review investment opportunities that can help grow revenue streams.
Treasury Managers are generally more important for larger enterprises with huge war chests. For early-stage startups who don't have a large cash reserve, Treasury Managers are less vital.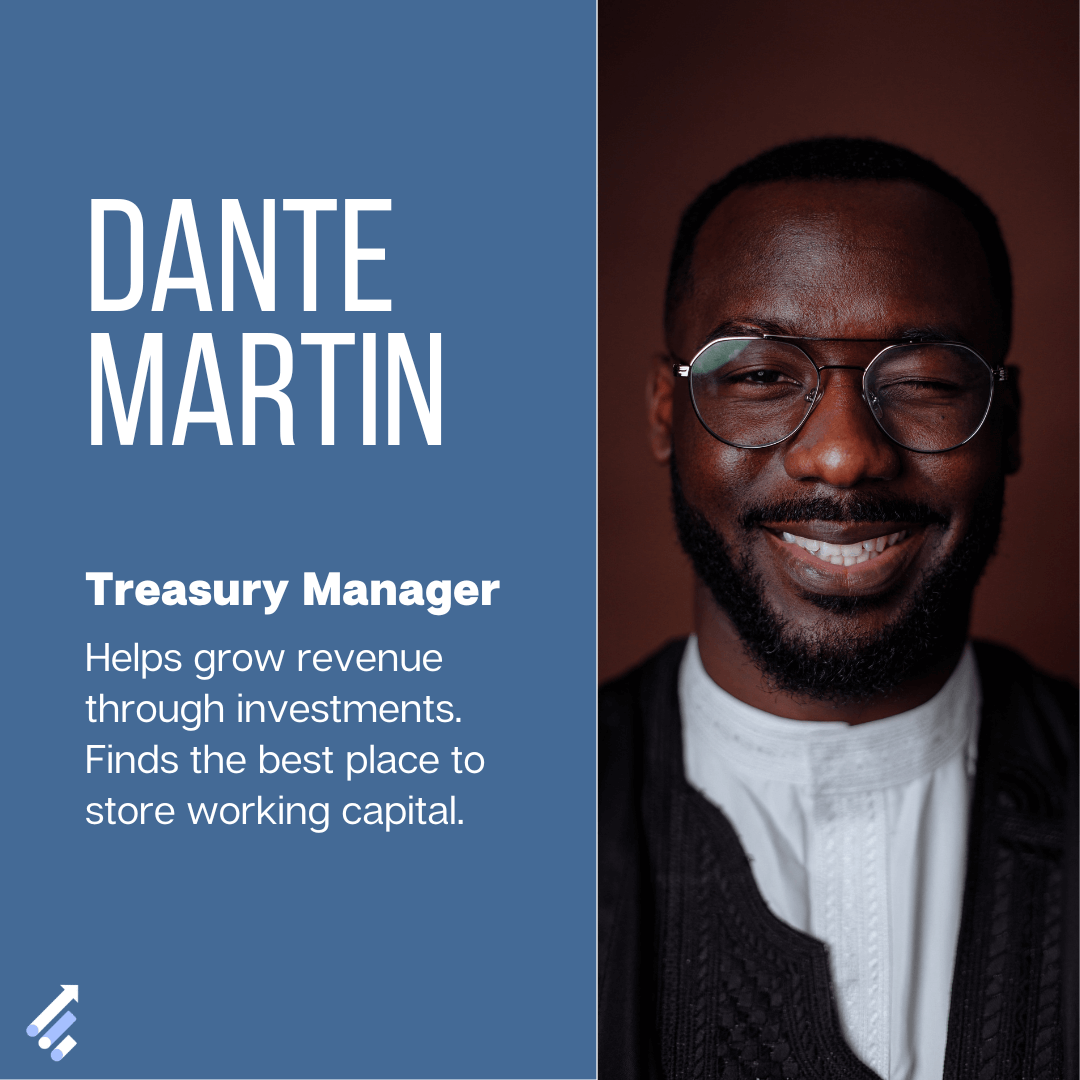 Financial Planning & Analysis (FP&A) Roles
Financial planning and analysis is an important department in the finance team.
They'll help you build future projections, work on scenario analysis, and look back on financial records and ask: what happened here?
FP&A Director or FP&A Manager
The FP&A Director or FP&A Manager heads the Financial Planning & Analysis team.
They should be your first hire when building out the FP&A structure.
An FP&A Director is responsible for:
Scenario analysis
Financial risk mitigation
Analyzing and interpreting financial records
Providing recommendations to finance leaders like the CFO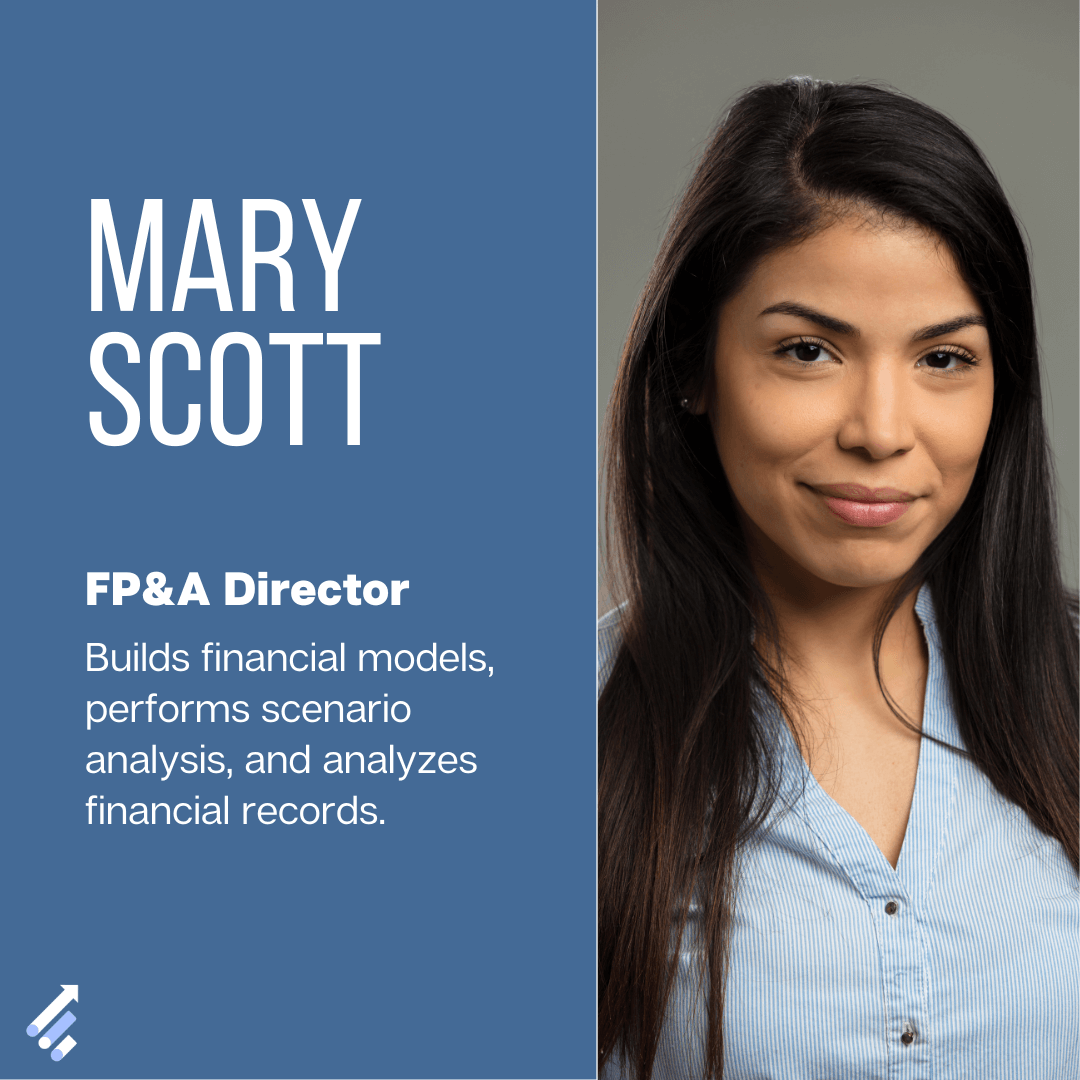 FP&A Analyst
An FP&A Analyst performs many of the same duties as an FP&A Director or FP&A Manager but at a less authoritative level.
They'll report to and work with the FP&A Manager on analysis, modeling, and reporting, but will have less experience (and are paid less).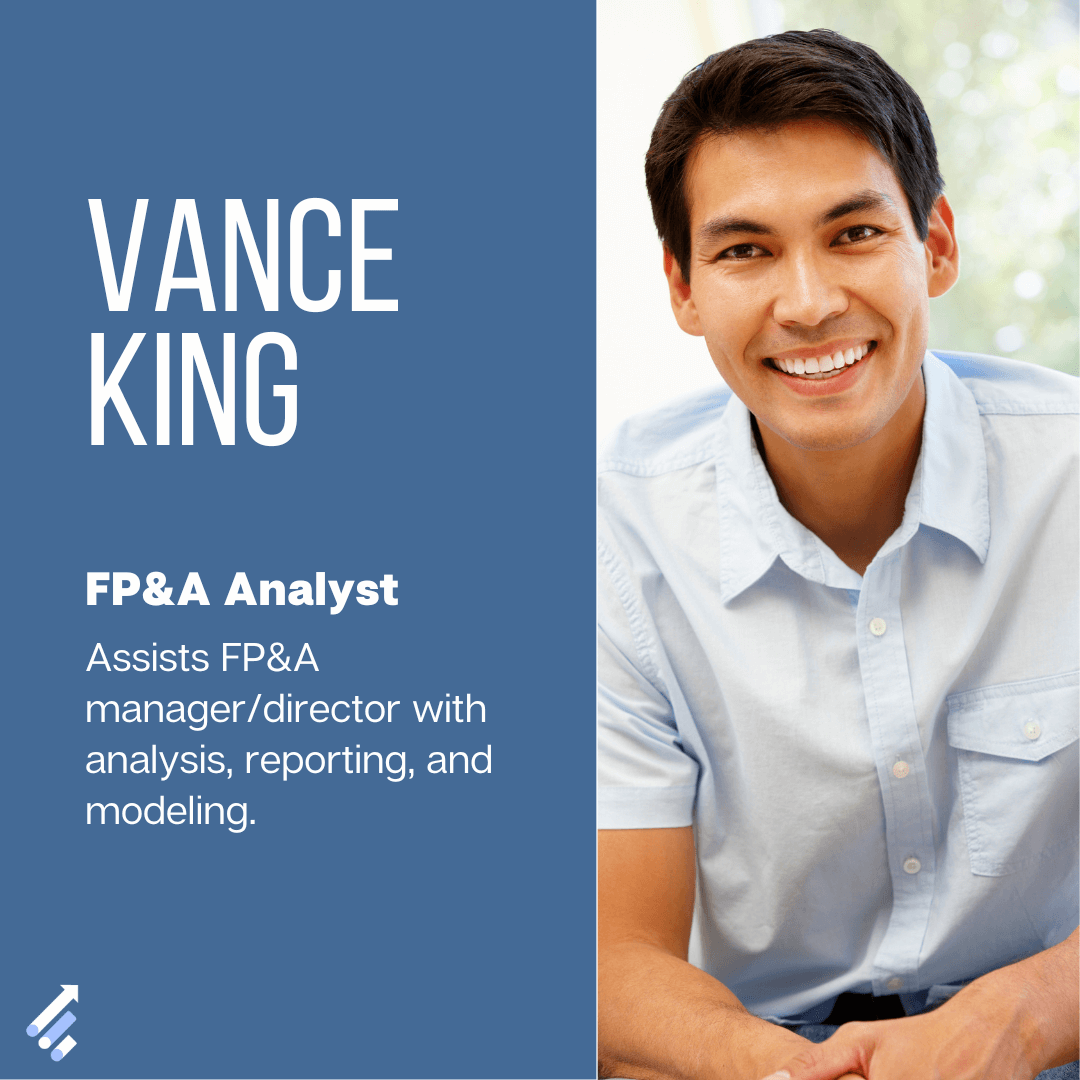 Accounts Payable
Accounts Payable team members work with the finance and accounting teams, handling payments to suppliers.
For example, Accounts Payable team members will:
Issue purchase orders
Track payments that are due to vendors
Ensure bills are paid on time
Report to finance leaders if an invoice seems off
Approve vendor invoices for payment
Reconcile AP to the general accounting ledger
Approve travel reimbursement and expense claims
Common job titles for Accounts Payable include:
Accounts Payable Analyst
Accounts Payable Clerk
Accounts Payable Specialist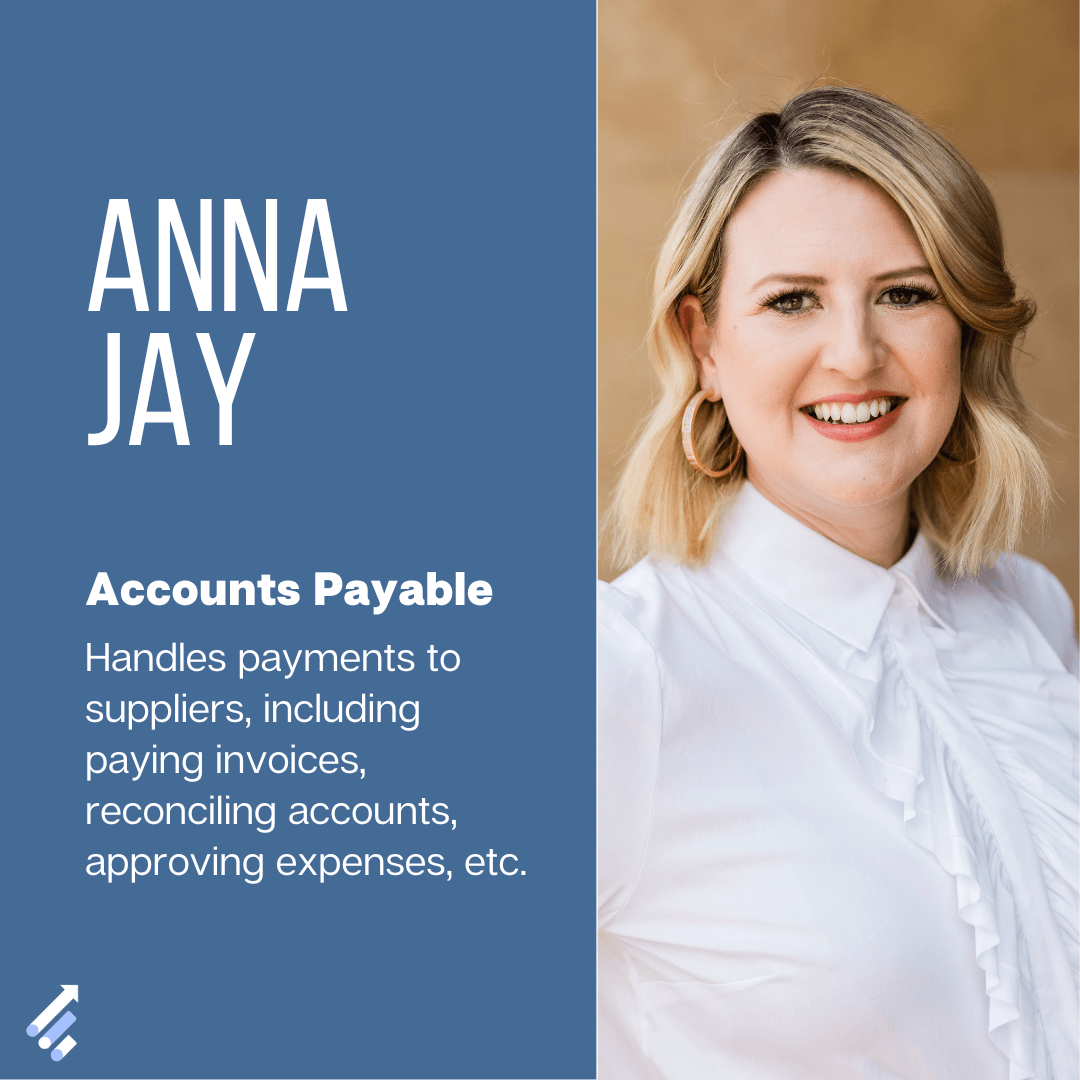 Accounts Receivable
Accounts Receivable is essentially the inverse of Accounts Payable.
They handle all incoming payments (i.e., revenue from your customers).
Key Accounts Receivable responsibilities include:
Billing clients for goods and services
Verifying and recording transactions
Following up on late invoices
As with Accounts Payable, Accounts Receivable team members have a number of different job titles:
Billing Specialist
Accounts Receivable Clerk
Accounts Receivable Analyst
Both AP and AR roles are important for large organizations with a lot of cash flowing in and out.
If you're an early-stage company, you may not have a ton of suppliers.
If you're a SaaS company, most of your revenue likely comes from recurring credit card billing.
In this case, AR and AP teams may be more suitable as mid to late-stage hires.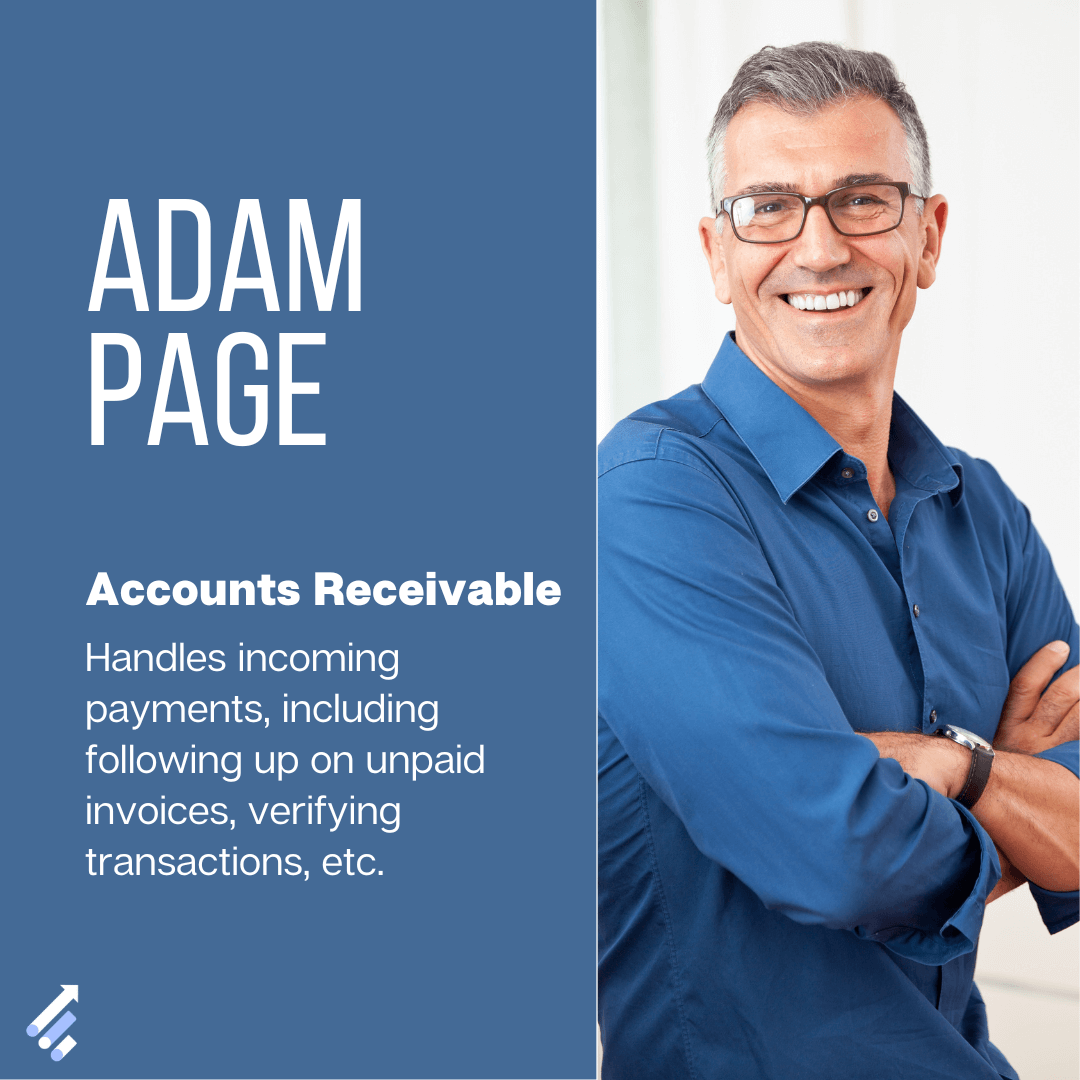 Accounting & Reporting Roles
Every growing business needs a strong accounting team.
Accountants manage financial records, prepare statements, and also help you to file tax returns.
So yeah, pretty crucial hire.
Financial Controller
The financial controller will essentially be your company's lead accountant.
Their main job is to make sure ledgers are accurate (reflecting incoming and outgoing cash).
However, they may be involved in strategic financial aspects such as decision-making, budgeting, and forecasting.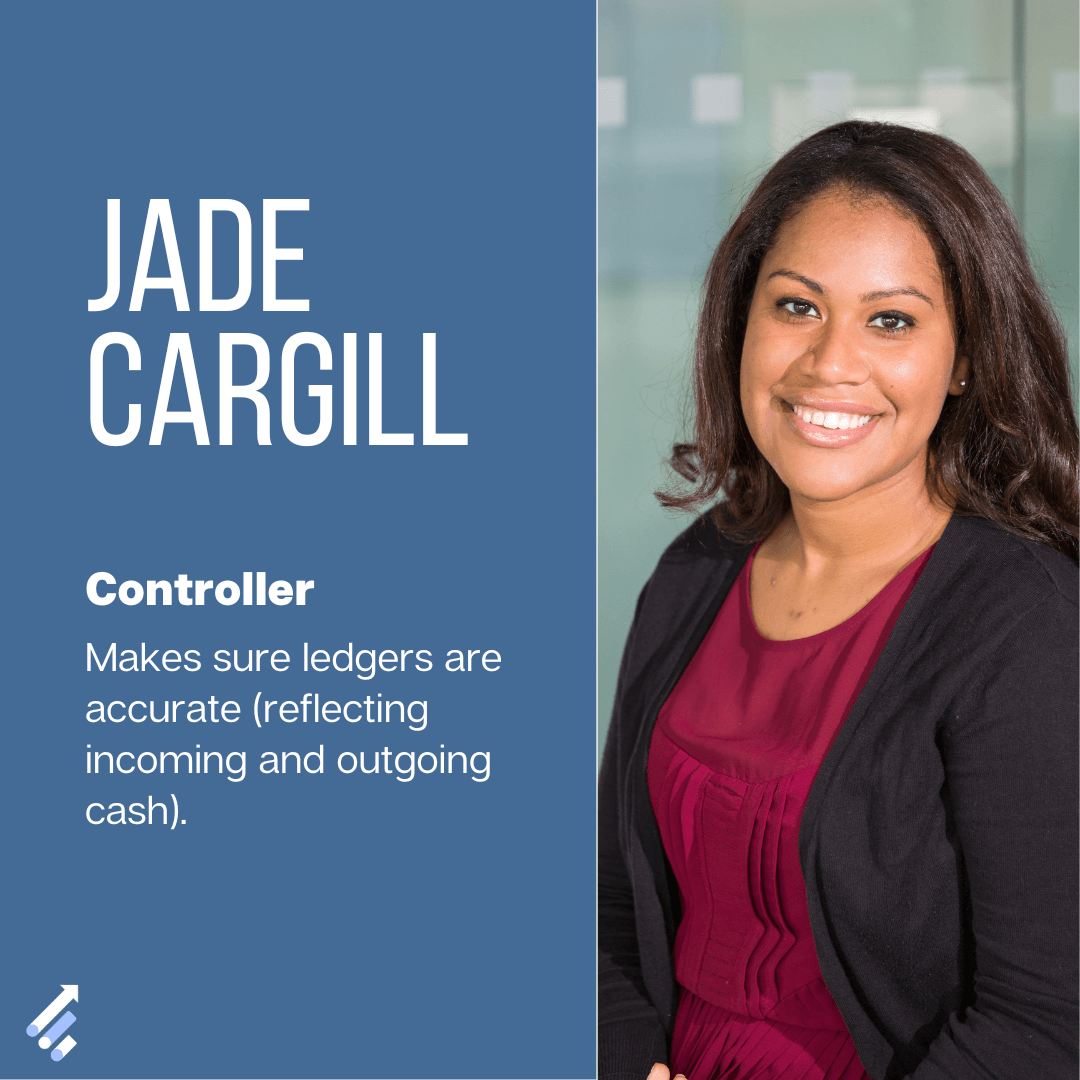 Chief Accountant
The Chief Accountant plays a similar role to the Financial Controller, except that they look through a long-term lens, while the Financial Controller is more concerned with the present and near future.
For early and mid-stage startups, choosing to hire a Financial Controller or a Chief Accountant will depend on your goals and immediate needs: are near-term or long-term financials more of a concern for you right now?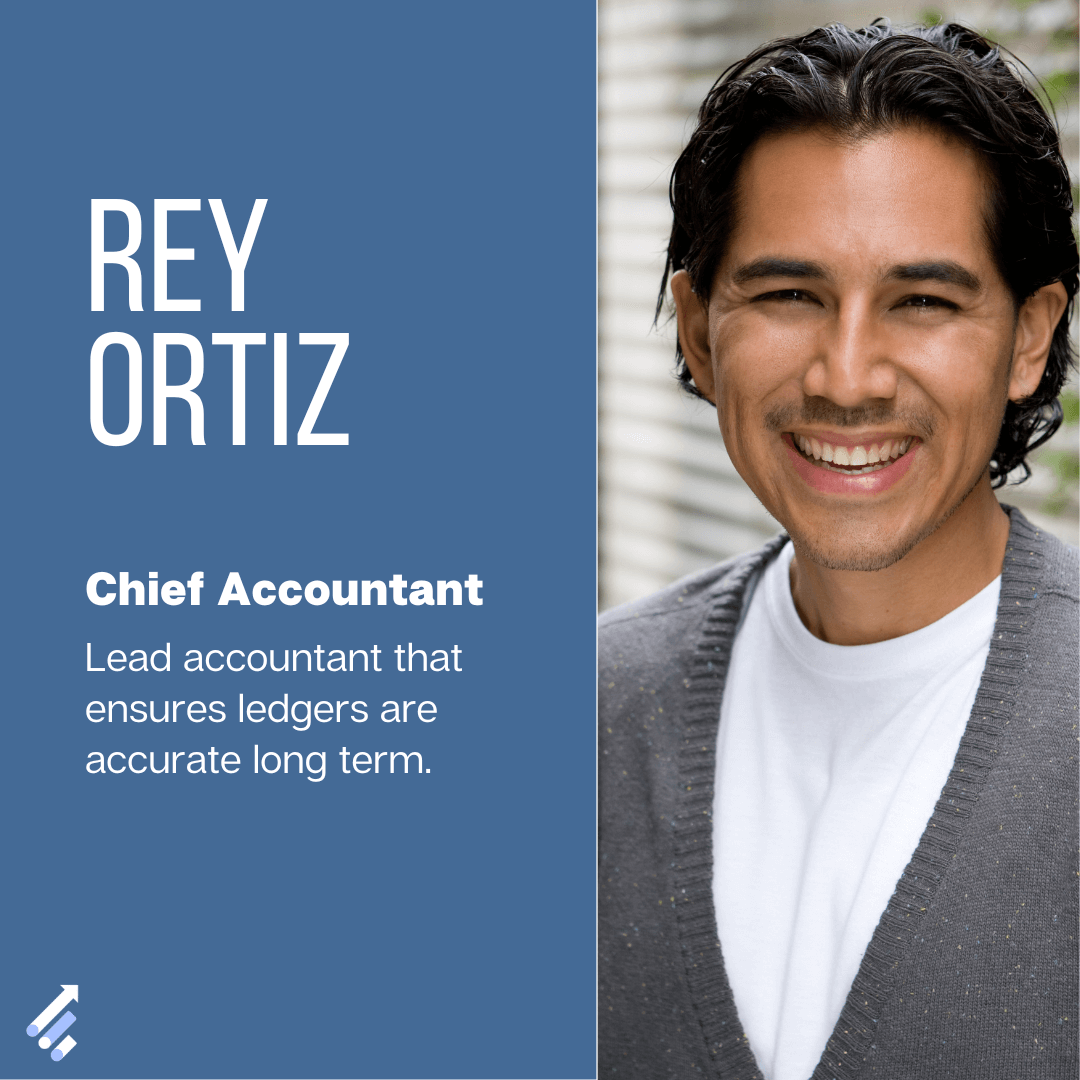 Staff Accountant or Accounting Analyst
If you have a large accounting team, most of your department will consist of Staff Accountants or Accounting Analysts.
These are essentially in-house accountants. They prepare financial statements, ensure records are up to date, and report to the Chief Accountant or Financial Controller, depending on your finance department structure.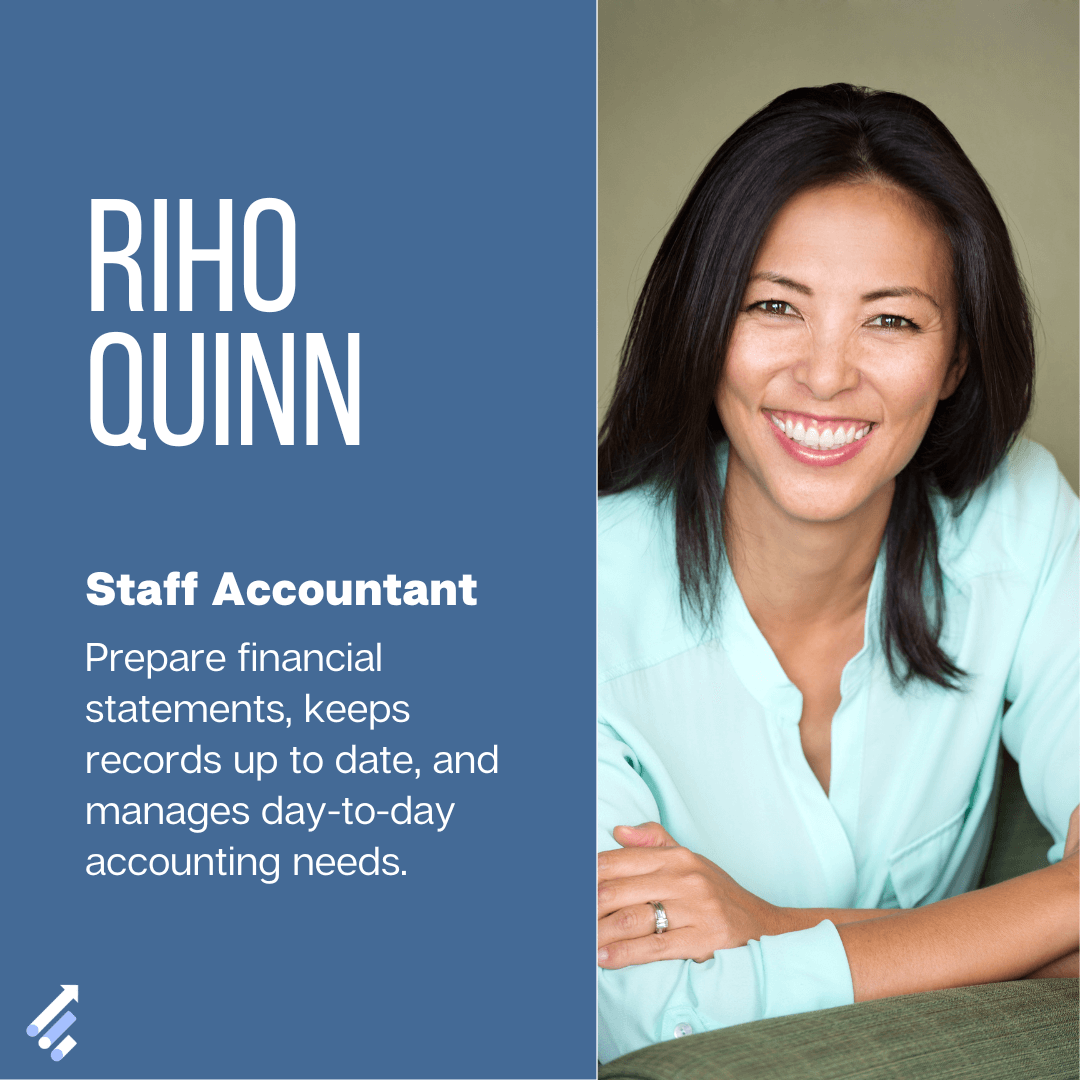 Tax Accountant
The Tax Accountant role is pretty self-explanatory.
This person is an accountant that focuses specifically on taxation, including:
Ensuring revenue and expenses are accurately recorded
Employee benefits are accounted for
Processing and filing tax returns with the IRS
In smaller organizations, it may be pertinent to outsource the tax accounting aspect of your financials if you have a Staff Accountant responsible for keeping records accurate and updated.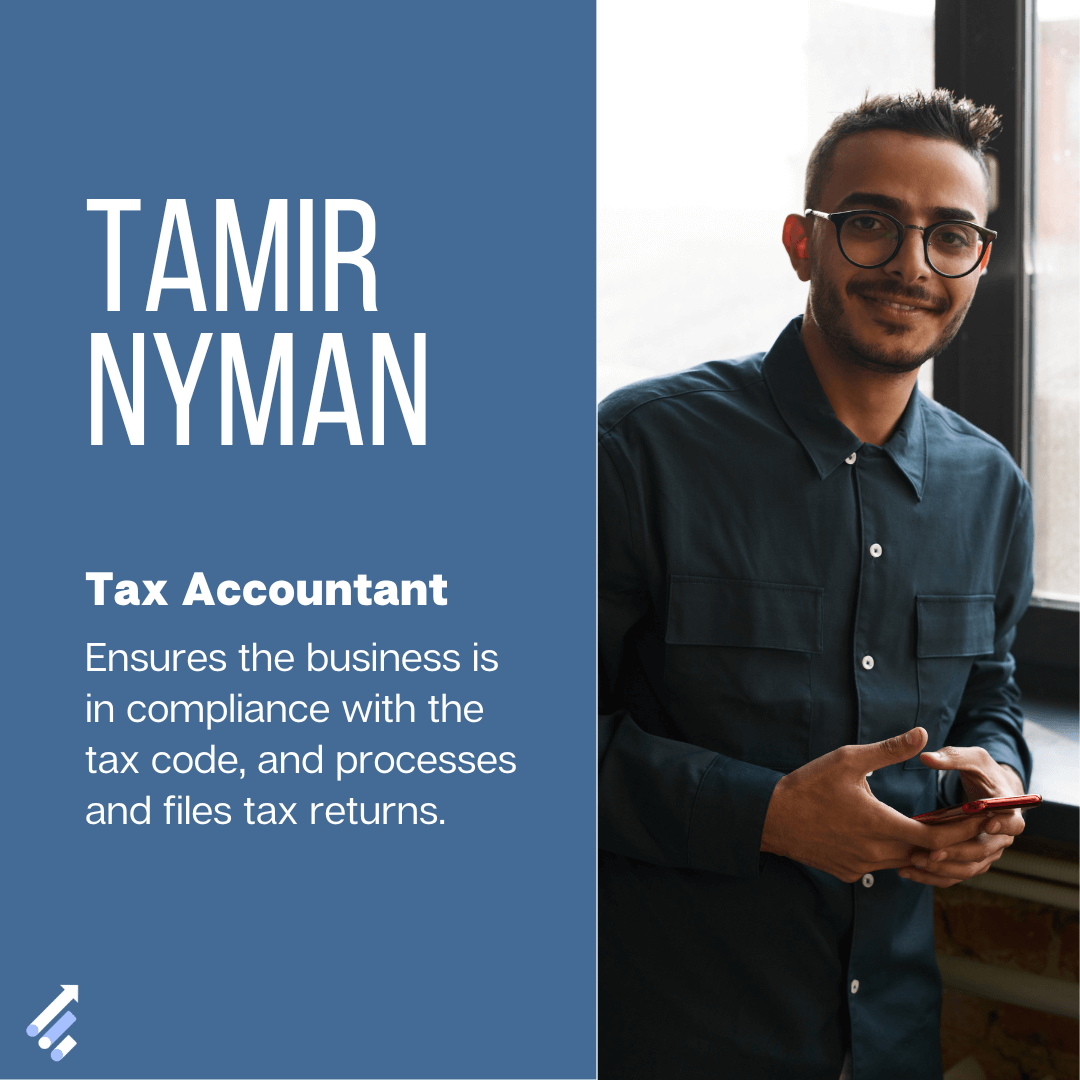 Bookkeeper
Accountants are responsible for creating financial statements. They need the correct information (called "the books") to do this.
A bookkeeper makes sure this information is correct.
They perform bank reconciliations, file invoices and receipts, and work with the accounting team to prepare statements on time.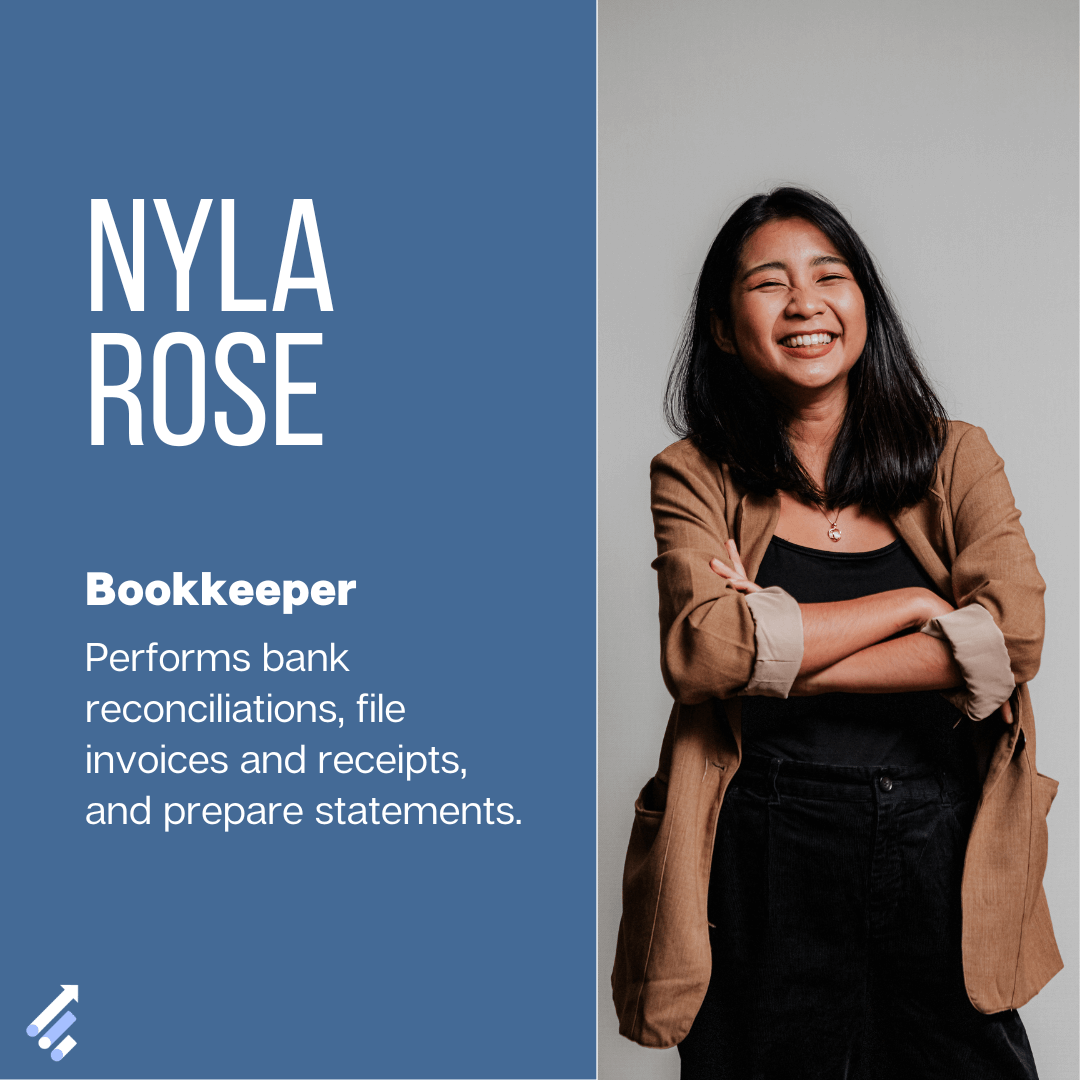 Auditor
The Auditor's job is to make sure your finance team's work is correct.
More specifically, they assess financial statements against generally accepted accounting principles (GAAP).
Some companies hire internal auditors. However, the Securities and Exchange Commission (SEC) requires that every public company has regular reviews conducted by external auditors.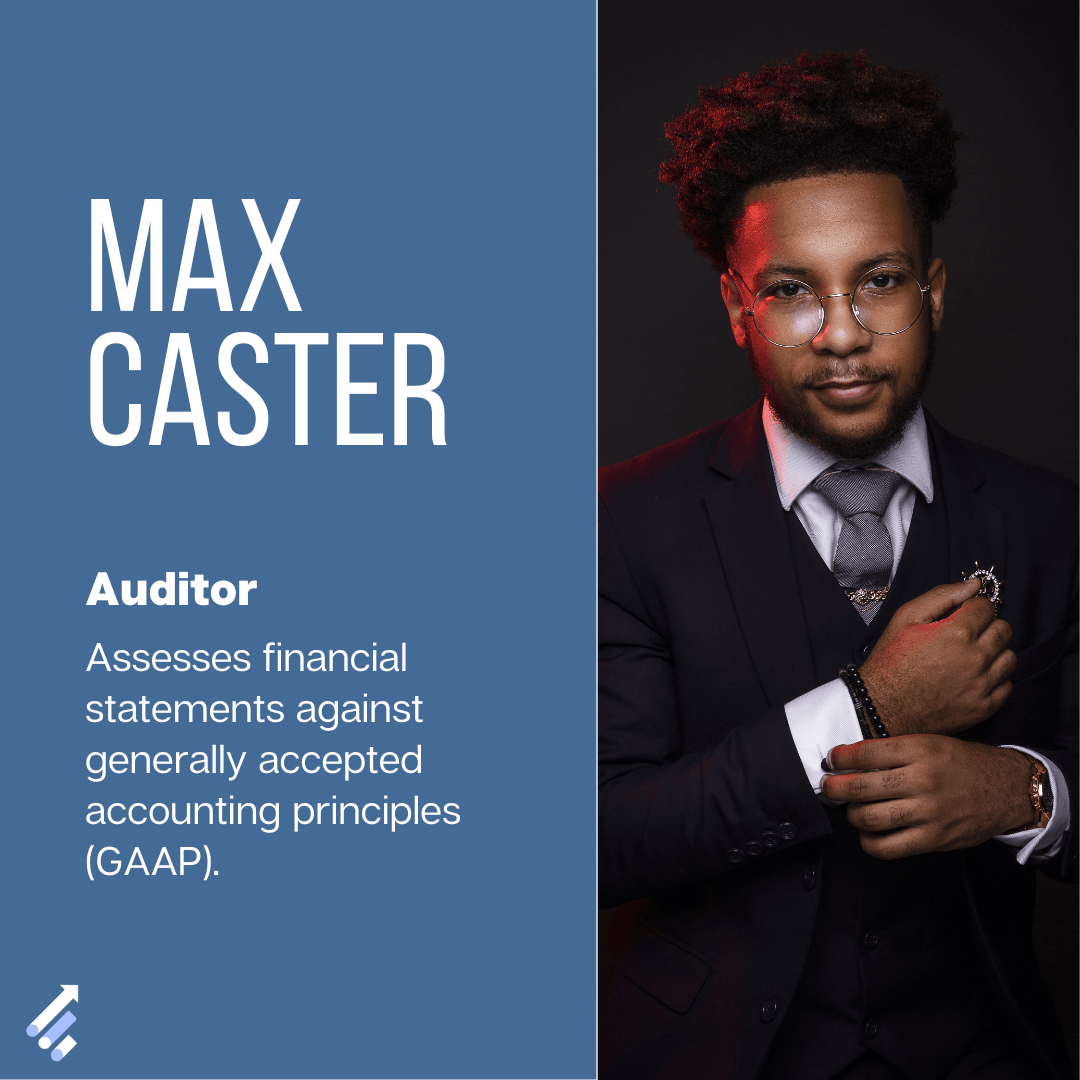 Payroll
Payroll clerks are in charge of getting your employees paid.
This is a crucial hire as your employee headcount grows, as payroll can take a huge chunk of a founder's time (not ideal).
Payroll employees:
Issue payments
Ensure benefits are accounted for correctly
Manage taxation (where relevant)
Handle employee queries about paychecks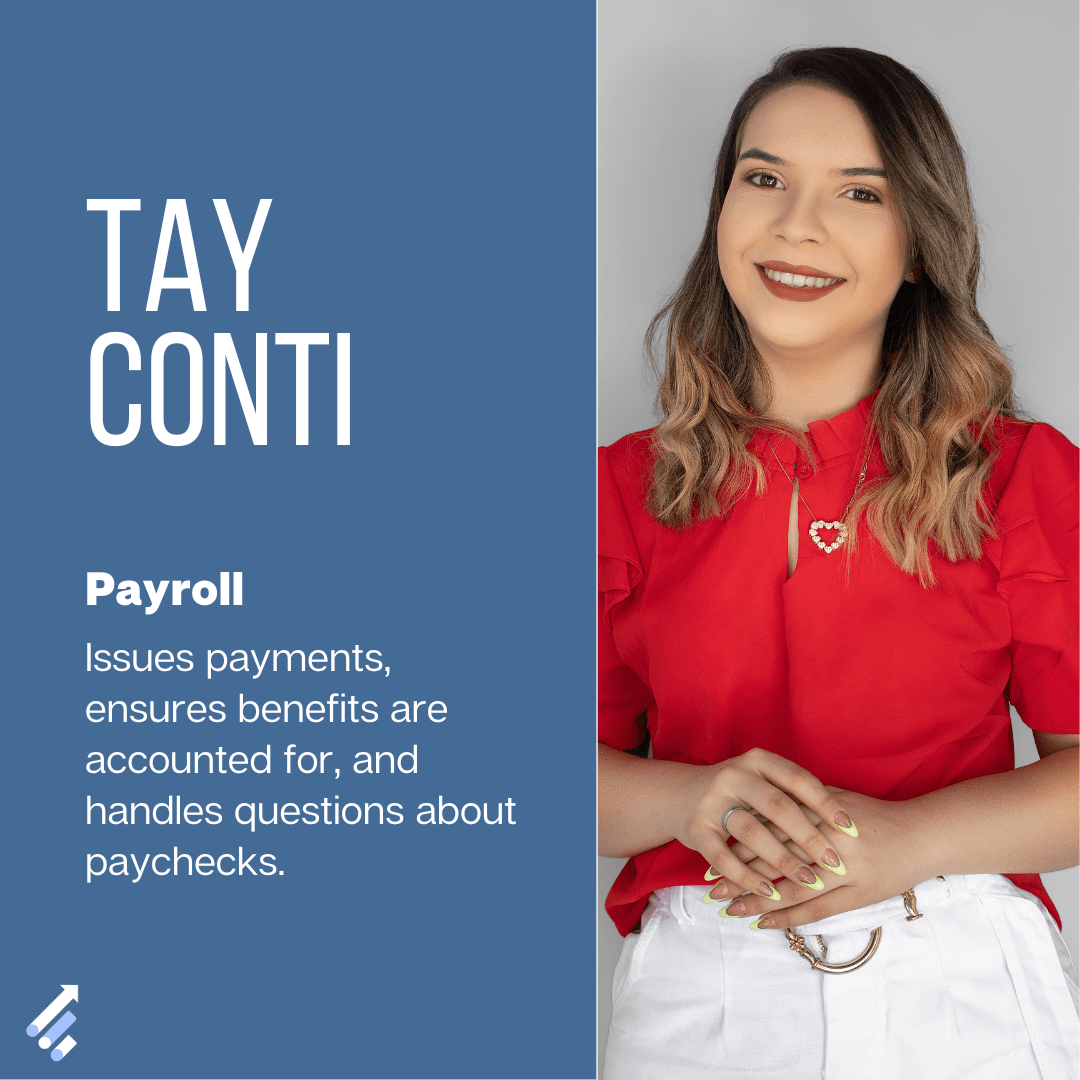 Build Your Dream Finance Team
That's a lot of roles to hire for, right?
Well, remember, you don't need them all at once. Prioritize hiring based on your experience and expertise (that is, fill the gaps).
If you're still in a very early stage of business development, an accounting department might be all you need if you have a good head for numbers.
If spreadsheets and data aren't your thing, and you want to grow quickly, then a good first hire may be a CFO (they can help build the rest of the team for you).
In any case, your finance department will need a robust financial modeling platform to help them analyze data, deliver accurate reports, and provide important advice.
That's us, by the way. Check out our extensive feature set, and then book a demo with the Finnmark team to get started right now.
Josh Krissansen
Contributor